Best Young Players From Premier League To Watch In The 2020-2021 Season
The 2019-20 Premier League season gave us viewers the chance to see a lot of brilliant young players in action. Here are the four Premier League youngsters that you should definitely keep an eye on during the 2020-21 PL season.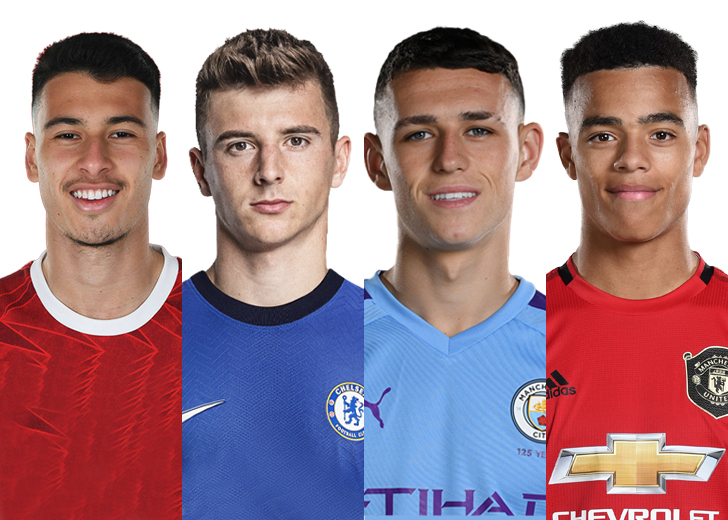 After taking a look at four promising youngsters from La Liga, now it's time to look at the young talents in England.
There were a lot of great performances from many youngsters in the Premier League in the 2019-2020 season. So, here is our list of four young players from the Premier League that you should keep an eye on next season:
Gabriel Martinelli
Forward Gabriel Martinelli's game statistics of the 2019-2020 season look promising. He is one of the most exciting young prospects in the Premier League, and you should definitely follow him next season.
Primarily a right-footed left-winger, Martinelli played in every position across the front three—first under Unai Emery and then under Mikel Arteta during the 2019/20 season. And he impressed under both of them. In total, he played 14 matches in the league and 26 matches in all competitions.
If we talk about the league alone, he was in the starting eleven just six times out of those 14 and played just 663 minutes, according to FBref.
In those minutes, he managed to score three goals from just 12 shots. He even outperformed his xG (expected goals stat), which was 2.2 per 90. All his goals came from the left-wing position even though he played all across the front three, 
His passing stats weren't too bad, either. During the league season, he completed 86 of his 138 passes with a pass accuracy rate of 62.3 percent. He made 11 progressive passes, two key passes, two passes into the final third, six passes into the penalty area, and one cross into the penalty area as well.  
His stats were definitely going to be a lot more impressive had he been able to play till the end of the season. A knee injury ended his season early at the end of June 2020, two matches into the restart of the league. He has bee expected to return from the injury in December of this year. 
He joined Arsenal FC in July of 2019 from Brazillian club Ituano Futebol Clube for a fee of €6.7 million. Since his arrival, Martinelli has had a good debut season at the Emirates.
Phil Foden
Midfielder Phil Foden is not really a new name when it comes to exciting young footballers in the Premier League. He has been playing regularly in the league since last season. However, he really became an important part of the first team under Pep Guardiola in the  2019-2020 season. 
If we look at his performances in the league alone, he has been slowly imposing himself as a real contender for a place in the starting lineup. He made 23 appearances this season, among which only nine came as a starter. Still, he made the most of the 901 minutes that he spent on the pitch; he contributed five goals and two assists.
As a 20-year-old playing behind David Silva, Kevin de Bruyne, and Bernardo Silva in the pecking order, his passing stats were great as well. He had an 84 percent pass completion rate in the league in the 2019-2020 season. He made 37 progressive passes with an average of 3.7 progressive passes per 90. Foden also recorded 18 key passes, 28 passes into the final third, and 13 passes into the penalty box.
In the upcoming season, Foden will be likely in fierce competition with Bernardo Silva for a place in the starting lineup. The two players would be expected to fill in the void left by City legend David Silva's departure at the end of the season. This means that he will get a lot of chances to play in the central midfield role, unlike the 2019-2020 season. It will be fascinating to see how he performs in a more prominent role in the team next season.
Mason Greenwood
Forward Greenwood looks set to be a first-team player and get plenty of playing chances from next season. Keep an eye out for this youngster for the 2019/20 season.
Mason Greenwood had a stellar league season with the Manchester United first team in the 2019-2020 season. A center-forward by trade, Greenwood played mostly in the right-wing position for the Red Devils this season. And playing 31 matches in the league, he scored a massive 10 goals and provided one assist as well. 
Above all, his ability to use both feet almost-equally was one of his most-highlighted aspects this season. This rare attribute also allowed him to play on both flanks as well as become a nightmare for opposition defenders.
This was also one of the reasons why he was able to score so many goals. Even though he scored eight of his 10 goals with his left foot, his ability to finish chances equally well with both feet gave him an edge to dribble past defenders. His expected goals rate of 3.7 in the league was evident in his quality.
In addition to this, he was also very comfortable with the ball at his feet. He completed 21 of his 31 attempted dribbles in the season. 
In conclusion, the 18-year-old academy player put in great performances for a team that was struggling to get into the top four in the initial stages of the 2019-2020 season. That speaks volumes about his character and abilities.
Mason Mount
In the 2019-2020 season, midfielder Mason Mount capitalized on all the opportunities Chelsea manager Frank Lampard awarded him. He made appearances in all but one league game this season, playing 2,867 minutes in 37 appearances. In the time that he spent out on the pitch, he scored seven goals and assisted five.
As an attacking midfielder, his passing and creative stats were good in the season. He had a pass completion rate of 80.9 percent in the league. In addition to this, he also completed 142 progressive passes, overperformed his expected Assist numbers by 0.4, made 53 key passes, 105 passes into the final third, and 35 passes into the penalty box.
Apart from passing, he also possessed the ability to bring the ball forward from deep areas. His 47 successful dribbles out of 77 attempts and progressive carry distance of 4,318 yards supported his playing style.
Overall, Mount had a really good 2019/20 season. Previously, he has had brilliant loan spells at Vitesse and Derby County.