Can Barcelona Replace Ivan Rakitic With Rodrigo Bentancur?
A swap deal is being rumored between Juventus and FC Barcelona. This time, Bentancur and Rakitic are the two players supposed to be swapping teams. Here, we discuss why Barcelona want Bentancur and why he could be the perfect replacement for the Croatian.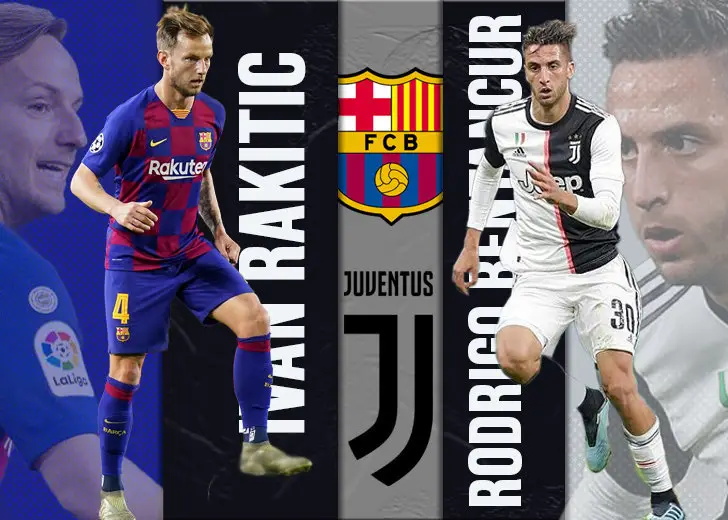 Ivan Rakitic has been a great servant to the club. Ever since he arrived at the Camp Nou in July of 2014, he has been an integral part of the team, whether it be under Luis Enrique or Ernesto Valverde.
A versatile midfielder with the ability to connect plays between the defense and attack with his creativity, Rakitic won the treble during his first season at the club.
Since his arrival, he has won 15 trophies, including UEFA Champions League and FIFA Club World Cup.
However, the famed player is now 32-year-old and no longer the athletic player he used to be. He has become one of the many underperforming players in the Barcelona squad in recent times. 
Therefore, it is natural for the club to try and find a player to replace the Croatian. And it seems as the club have identified a player capable of replacing the Croat's boots in Rodrigo Bentancur.
Rodrigo Bentancur: The Next Rakitic For FC Barcelona?
Rodrigo Bentancur is not a stranger when it comes to links with FC Barcelona. The 23-year-old was previously targeted by Barcelona back in late 2019. However, the rumors died down as the January transfer window closed.
Now, Bentancur is again being linked with a move to Barcelona with the 2019-20 season almost over and the transfer market open.
And this time, he is rumored to be included in a swap deal between Juventus and FC Barcelona in which Barcelona will be getting Bentancur in exchange for none other than Rakitic plus a bit of cash.
This swap deal, if finalized, would be a sweet deal for Barcelona as they will be getting a like-for-like replacement for their aged and high-earning veteran they want to offload.
Similarity Between Rakatic & Bentancur 
Bentancur and Rakitic are heavily similar in how they play. The Uruguayan plays almost like how Rakitic plays when he's at the peak of his powers. Both of them are dynamic, hard-working, and intelligent midfielders.
Similarly, they are both known for their physical strength and the ability to run for the whole 90 minutes.  
In terms of roles on the pitch, both of them can fulfill pretty much every midfield role. Both Rakitic and Bentancur have been deployed in various positions on the pitch in their respective careers.
They both have been deployed as an attacking midfielder, defensive midfielder, and in a box-to-box role as well.
And if we talk about just the ongoing season, Bentancur has played 28 matches as a central midfielder, 13 as a defensive midfielder, and one as an attacking midfielder.
Similarly, Rakitic has also played in versatile roles in this season as he has been doing for many years in Barcelona. He played 34 matches as a central midfielder and six as a defensive midfielder.
However, they both are in their best creative place when they are played in the central midfield role. Bentancur has recorded seven assists from this position this season, whereas Rakitic has registered four.
Why Barcelona Want Bentancur?
Except for the reasons mentioned above regarding their similarities, Bentancur is desirable for FC Barcelona for one more reason. And that is his age.
Bentancur is 23-years-old right now. That means he can be a part of Barcelona's future if he can be brought in for the next season.
If you didn't know, Rakitic was 26 when he arrived at the Camp Nou. That means, Bentancur will be arriving three years younger than him if this deal actually goes through,, and could, therefore, remain at the club for longer than Rakitic.
Conclusion
Rodrigo Bentancur, on paper and on the pitch so far, seems like the perfect player to replace Ivan Rakitic.
The club will be getting the better-off doing an exchange deal if they don't want to lose much like they did in the Arthur-Pjanic swap deal.