Arthur Melo Barcelona Snub: Disciplinary Proceedings To Bartomeu Interview Covered
Here are all the developments since Arthur's refusal to play for FC Barcelona in the Champions League, including disciplinary proceedings, Bartomeu's quotes regarding his absence, and the misrepresentation of the motivation for deal for Arthur with Juventus.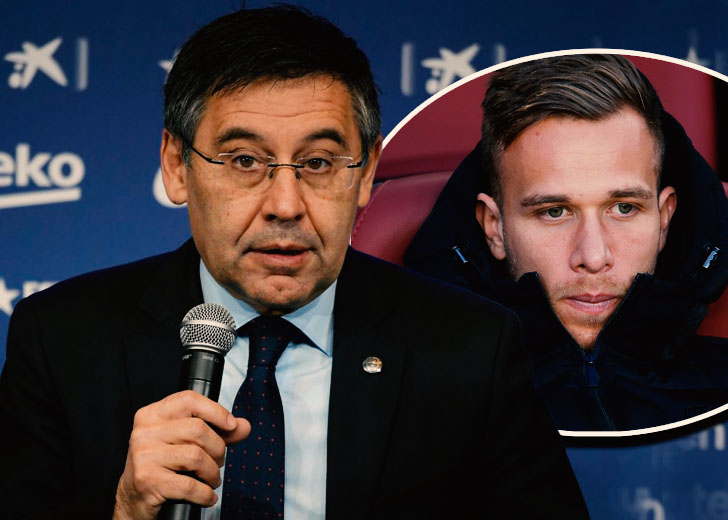 Ever since Arthur declared that he won't play for FC Barcelona again this season and won't take part in the Champions League, there has been a lot of developments on this front.
Both the club and the player have made their moves regarding this unexpected action from the Brazillian—who was basically forced out of the club for financial reasons in an exchange deal for Miralem Pjanic.
Barcelona Requested Arthur To return To Avoid Punishment
Immediately after his absence was noticed at the club, Barcelona reportedly talked to Arthur and his representatives. They urged him to return to avoid punishment from the club.
However, the request fell on deaf ears as he decided to stay in Brazil, just a week before the UCL was scheduled to resume.
Barcelona Opened Disciplinary Proceedings Against Arthur
According to SPORT, the club opened disciplinary proceedings against him soon after he refused to return to Barcelona.
The case was initiated on 28 July, just a day after Arthur was supposed to be at the club premises for COVID tests before the Champions League resumed.
However, SPORT also went on to say that Barcelona were not considering ending Arthur's contract at the time. Instead, they were planning to go through the protocols required for the case.
Arthur's Lawyers To Meet With Barcelona
About two days after the club opened a disciplinary case against Arthur, he also made a move in his defense.
As per a SPORT article published in early August, Arthur's lawyers were set to meet the club a week later to present his version of allegations.
Bartomeu's Dubious Interview 
Around the same time, the club's president Josep Maria Bartomeu gave an interview with SPORT.
During the interview, he spoke about Arthur, the situation regarding him, and the reasons he was sold to Juventus.
When asked about Arthur's absence, Bartomeu said the following words:
We had an agreement with the player that he will continue with the club until the end of the season, that is, in the league as well as Champions League. But the player did not return from his vacations and it is an act of indiscipline, which is unacceptable. That is why we have decided to open a case against him.
Further, he added:
He called Abidal but didn't give any specific reason. In simple words, he decided that his time in Barcelona has come to an end and he doesn't want to return. This forces us to open a disciplinary action because he must play with Barça until the Champions League ends like Pjanic is doing at Juventus. It was a pact between the two clubs.
After that, he talked in detail about the reasons the club sold Arthur. He claimed:
We would have liked to renew Arthur's contract now but due to economic reasons, it was difficult.
Adding further information to this, he said:
Arthur had an offer from a club and this club had a player, Miralem Pjanic, with whom there have been interests from Barcelona for several seasons, hence the agreement was reached.
However, Bartomeu claimed that it was Arthur who finally decided to go to Juventus.
Dissecting The Interview
Bartomeu's quotes regarding Arthur's absence and his unilateral decision to refuse to play for the club are correct. It was a disrespectful move towards the club and the team, and disciplinary proceedings seem to be a valid response to such actions.
However, his words regarding Arthur's sale and the situation surrounding the deal can be called nonsensical.
He said that the club would have liked to renew Arthur's contract, but it was not possible due to economic reasons. But this is no reason to sell him because even if they could not renew his contract, they could have stuck with the current contract since it lasted till 2024.
The club were in no pressure to sell Arthur from a sporting perspective. They could have simply just let his contract run its course, especially when Arthur did not even want to leave before the club forced him out.
Also, bringing in a 30-year-old player and selling a 23-year-old made absolutely no sense from a sporting perspective.
Therefore, this goes to show somehow that the Arthur-Pjanic deal was done for financial reasons and not for sporting ones.
This dubious statements from the club's hierarchies go on to support Arthur's decision to refuse to play for the club. When looked at from this perspective, Arthur's frustration seems legitimate, and his decision to stay in Brazil seems justified.
Barcelona & Arthur Reportedly Meet
On 10 August, El Mundo reported that Barcelona Sporting director Eric Abidal has met with Arthur to discuss the termination of his contract and his absence from the club's training. 
Conclusion
This whole deal between Arthur and FC Barcelona—the transfer fiasco and current absence—seems ridiculous. Both the club and the player are in the wrong regarding this problem, however, in different ways.
When it comes to Arthur, his decision to just announce his refusal without any prior communication with the club seems very unprofessional.
Even if he did not want to play for the club, he could have had a dialogue with the club regarding his wishes and come to a mutual decision. That way, both the club and the player would not be facing this complication right now.
However, Arthur's actions resulted from the treatment he received from the club. He was forced out of the club and frozen out from the first team immediately after his transfer deal was announced.
This was terrible handling of the player. The club shouldn't have mixed unnecessary financial matters with the sporting aspect of the game.
All anyone can hope for now is that this matter comes to its conclusion as soon as possible.