Should You Buy the $1400 Foldable Microsoft Surface Duo?
The Microsoft Surface Duo is all set to hit the shelves by September 10, 2020, and MS demands a premium price of $1399. We still don't have a proper name for this line of hardware but one thing is for sure, it is unlike anything we have on the market today.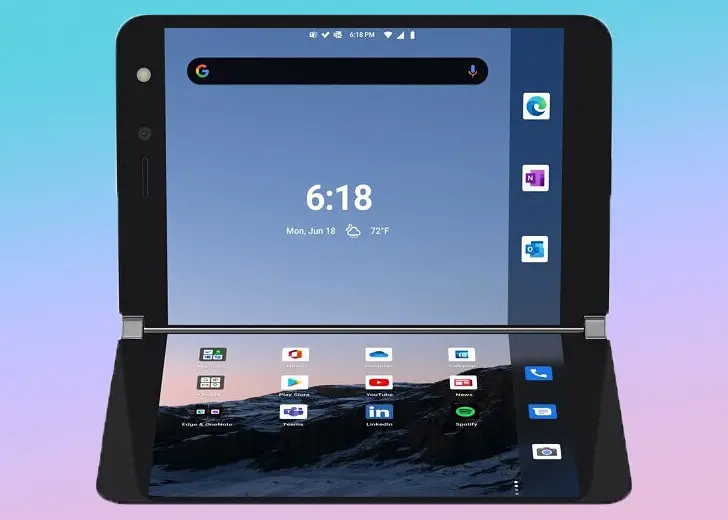 Microsoft's new pseudo-foldable device, the Surface Duo, is to hit the shelves by September 10, 2020. We still don't have a proper name for this line of hardware other than its premium price tag of $1399 and a form factor that is set to be a game-changer in the market today.
Microsoft Surface Duo (Photo Source: Instagram)
The Surface Duo Is A Fresh Perspective
Productivity oriented clamshell devices can be rooted back to the Nokia Communicator series in the mid-2000s. Without proper screen resolution and intuitive user interface, Nokia's attempt at dual-screen was a checklist device at best. And now we see Surface Duo as essentially the same concept, albeit, with a fresh spin using existing technologies.
But what makes the Duo different than other similar devices in the market is its two independent screens instead of the flexible panels found on its Samsung, Motorola, and Huawei counterparts.
Although released under the Surface lineup that features laptops and tablets, the dual-screen device is completely different from its parent lineup—from hardware right down to the software front.
Instead of continuing the Surface's usual inhouse Windows 10X software, Microsoft has opted to release this premium mobile device in Android OS.
Not The Best Hardware Features Available
Although the Android move will provide Duo users to utilize the pre-existing vast app collection of Andoird exo-system, the device mediocre hardware configurations such as huge bezels, single 11 MP camera, and lack of 5G capabilities will make you question the $1400 price tag.
But the plus point for the new phone is its differential attribute from similar devices on the market. The Surface Duo features two identical 5.6'' AMOLED panels adhered by a 360o hinge in between. The two 1,800 x 1,350 panels are housed in a grayish-white housing with the trademark Windows logo at the front.
The device also claims 15 hours of use over a single charge but misses out on features you would expect at this price point—such as water resistance, NFC, and wireless charging. Add to that the Snapdragon 855 chipset, and you have a device that is below flagship standards.
In conversation with Windows Central, Microsoft justified their reasons for not having these features stating that they wanted to focus on the core customer experiences first.
"The role of any first-generation design is to focus on fundamental scenarios that solve customer challenges. Surface Duo is purpose-built for mobile productivity and giving people new ways to complete complex tasks while away from their computer. With this core priority complete, we will listen to customer feedback and apply that lens to future iterations of the product."
Is the Extra Screen Estate helpful?
We'll know more once the device is open for review, but from what we can tell by LG's Velvet and V60's similar dual-screen devices, is that the second screen will come in handy during multitasking.
The dual-screen form factor of Duo allows the second screen to act as a virtual keyboard or even as an extended screen while using internet and surfing apps. And with the stylus support from Surface Slim Pen, Surface Pen, and Surface Hub 2 Pen, you can get a lot done. Sadly, they won't include one in the box.

Microsoft Surface Duo and Surface Earbuds with Stylus (Photo Source: Microsoft)
Buy The Surface Duo Or Look Someplace Else?
Although the Duo does look premium and its dual-screen offers more flexibility in terms of apps usage, we ask that you wait it out until a more balanced product comes out in the future.
In the meantime, you could give LG Velvet or the LG V60 a try. These similar phones are a lot cheaper than what Microsoft is offering, plus they are also great standalone smartphones.
However, if you are someone who likes the idea of having a tablet-sized display in your pocket and doesn't mind spending an extra few bucks, Samsung Galaxy Z Fold 2 comes with all the bells and whistles that you'd expect from a 2020 flagship.
That being said, a major advantage that Microsoft has over these alternatives is that it supports stylus—an accessory that pairs well with a productivity-oriented device. Along with stylus functionality, Microsoft is also marketing this product alongside the Office 365 package, which might be a great deal for a lot of people.
Now it's up to the consumers to decide which form factor makes the most sense to the masses: a foldable flagship like the Galaxy Fold, a detachable screen like the LG Velvet, or the dual-screen Surface Duo.