WWE Host Charly Caruso Wants To Get Married And Have Kids
Even though Charly Caruso said that dating is hard, it seems like she's finally ready to settle down now.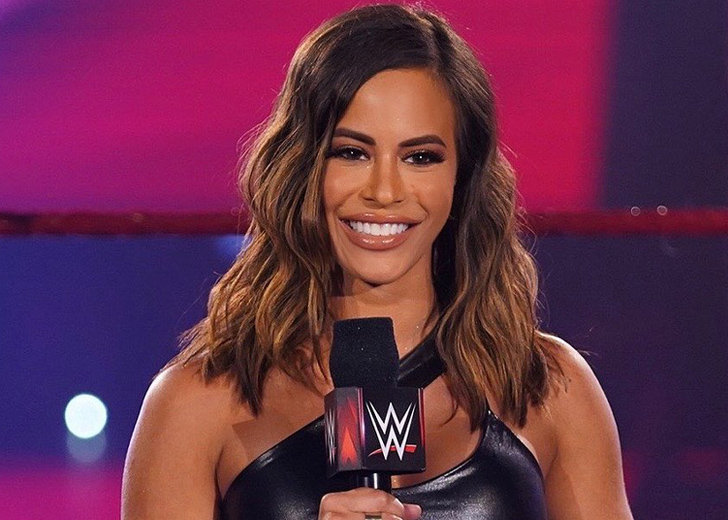 The stunning WWE Reporter Charly Arnolt is looking for a husband as she is finally ready to settle down.
Charly Arnolt, more commonly known as Charly Caruso, is a popular WWE reporter. The 33-year-old reporter has been very busy with work over the last few years and has had no time for romance whatsoever.
However, according to her interviews, even though she has said earlier that dating is hard, it seems like she's finally ready to settle down now. 
Charly Caruso
Found Dating Games Tough
During a podcast Chasing Glory interview, Caruso admitted that dating is troublesome in this day and age with advancements in technology and social media, especially in a city like New York.
She further added that in Middle America, people settle down when they are still young because their values of getting married and having children are ingrained from a young age, whereas, in bigger cities like New York, people choose to settle down much later. 
It's because I think a lot of people in these places are all so focused on ourselves. We're career-driven. We're trying to get to where we want to be so relationships take a backseat.
One thing we know for sure is that Caruso is unquestionably career-driven, and with the amount of time she spends on the road, it makes sense that she doesn't have enough time to date.
It's not like she doesn't ever want to date. In fact, she has confessed that she would very much like to be with someone if only the person could understand her and her lifestyle. 
Rumors Suggest Charly Caruso Dated Angel Garza
Taking a look at her social media, Caruso seems to be very much single at the moment. That may be because she really is single or private enough not to want to share it with the world yet.
While we can't be certain of the present, she has undoubtedly had a couple of rumored relationships in the past.
She was rumored to be dating Angel Garza, a Mexican professional Wrestler, in 2020. Apparently, she caught his eye when he debuted on Raw, and they've been seen flirting on interviews.
We have to admit they look good together, but neither of them has actually said anything about a relationship yet.
Before Garza, Caruso had also been linked with Seth Rollins, the professional American wrestler. The rumors started when he posted a picture on his social media in which only the woman's back could be seen.
Since Caruso had interviewed him multiple times backstage in WWE, fans assumed that she was the woman in the picture and wasted no time in congratulating both of them. However, this too was never addressed by the couple.
Charly Caruso Travels A Lot For Work
Caruso is a television and radio reporter who specializes in the sports and entertainment industry. WWE backstage reporter, Charly Caruso, has moved to ESPN as a full-time sports reporter. She started as a part-timer in 2018, and as of March 2021, shifted to full-time status on the network. 
Before WWE, she was the co-host of a radio show, The Bob and Tom Show, and the host of BackTalk Ball, a self-created show combining sports, entertainment, and comedy. 
She has also worked as a sports anchor and reporter for FOX in Indianapolis & covered multiple sports and news events in Kansas City, Missouri, Huntington, and West Virginia.