Wendy Williams Flaunts Her New-Found Romance With Mike Esterman On Instagram
"Mr. Esterman is in the building!!"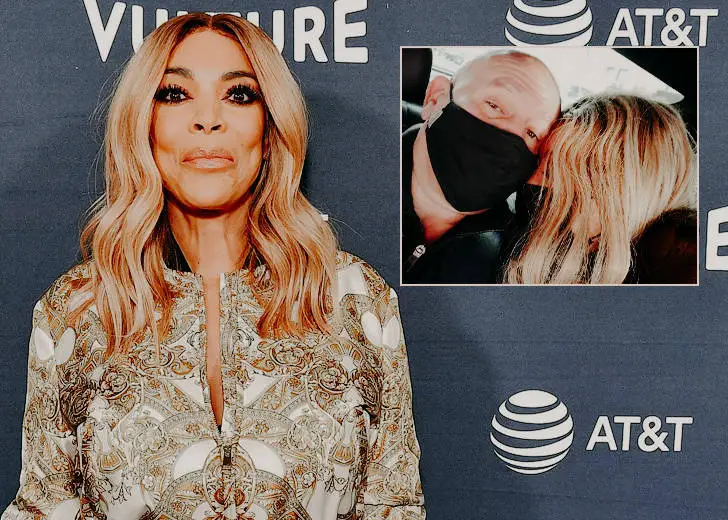 Wendy Williams, the host of her eponymous talk show, has always been outspoken with her viewers, not hesitating to dish dirt about celebrities, which has landed her in trouble more than once.
While the talk show host has always kept her dating life away from the limelight, these days, she is giving fans a glimpse of her happiness with a new man. 
Wendy Williams's New Man
On Wednesday, April 7, the talk show host took to Instagram to share back-to-back selfies with the world as she enjoyed some alone time with her new contractor beau, Mike Esterman.
The 56-year-old posted a photo of her lovingly leaning against her new man, clad in a white pineapple printed shirt, while Williams was wearing studded black sunglasses. "Mr. Esterman is in the building!!" she captioned the photo.
In the second photo, she peered from the side without her glasses as she snapped a candid selfie of Esterman holding a drill while standing outside of the vehicle with two other mechanics. "His car had an appointment. I'm along for the ride. I'm just enjoying my PRIVATE life & the love for our show!" she wrote in the captions.
Williams first featured her new beau on Instagram in the first week of March, and the pair seem to enjoy each other's company. In the picture, the two are seen snuggling with masks on. She even wrote in the captions that she and Mike were having fun and that he is a real gentleman.
The duo first met on her virtual "Date Wendy" competition segment where she crowned handsome Mike the "winner." Shortly after, he flew to New York to take Wendy on a date. The Dog Who Saved Christmas star, Mario Lopez, suggested Esterman to Williams, and he opened up to Lopez that the romance is "all new territory." Esterman also confirmed he just wanted to get to know her for now. 
On her show, Williams confessed that the date went well. The host admitted that they even kissed and that her heart broke when he left. 
William's Highly Publicized Messy Divorce
Before Williams got her groove back, she had to go through a heartbreaking divorce. She was married for over two decades before the host legally finalized her split from ex-husband Kevin Hunter in Jan 2020.
The ex-couple had officially filed for divorce on April 2019 following Hunter's cheating scandal. It was reported that Hunter had gotten another woman pregnant. 
On SiriusXM's The Jess Cagle Show on Monday, January 25, Williams opened up about her husband's affair. She admitted she knew about his mistress from the beginning and that he was a serial cheater. 
While chatting with Entertainment Tonight's Kevin Frazier about her divorce, Williams did not hold back.
"I had P.I.s on him and on her…I had people follow them on vacations outside of the Tri-state area while I was talking to my divorce lawyer and my team of people," she shared. 
In a tell-all memoir, Wendy Williams: The Movie and her documentary, Wendy Williams: What A Mess, Williams uncovered the layers of her rocky 22-year relationship with ex-husband Kevin Hunter. The shows premiered on Lifetime on January 30, 2021.