Torrei Hart Wiki: Post Divorce Status, 'Hart' Kids, Mystery Boyfriend - Explicit Details
Torrei got married to his boyfriend-turned-husband in... The relationship did not last long and the couple divorced... Kevin filled for the divorce in February of 2011, citing... She explained the news as a cause of celebration in an interview with... Despite the divorce, the exes matured into...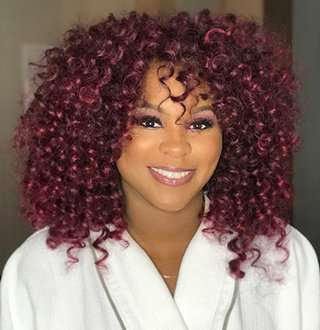 Despite having to go through a divorce with her college sweet-heart and celebrity husband, Torrei Hart has not given up to hardships and has stood tall. She has managed to have a successful career while also being a mother to two wonderful children.
Here are some fascinating wikis about her, covering about her split in 2011, co-parenting kids with her ex, dating numerous men and enjoying colossal net worth:
1. Marriage Ends In Divorce After Eight Years Togetherness
Torrei got married to her boyfriend-turned-husband  Kevin Hart in 2003. The two had met at the Community College of Philadelphia and dropped out together to move to Los Angeles.
However, the relationship did not last long and the couple divorced in 2011 after eight years of marriage sharing two kids. Kevin filled for the divorce in February of 2011, citing irreconcilable differences. It was finalized in November of that same year.
Torrei won the children's custody while Kevin was ordered to pay about $20,000 per month in child support.
2. Post- Divorce: Co-parenting Kids With Her Ex
Torrei and Kevin share two children – a daughter Heaven Leigh, 13, and Hendrix, 10.

Torrie with her children after watching movie Ready Player One in Los Angeles, California (Photo:  Torrie Hart's Instagram)
After their divorce, while Torrei had an unsuccessful run of dating, Kevin married Eniko Parrish in 2014. By 2017, Kevin and Eniko welcomed their first baby named Kenzo Kash Hart. The kid is now one year old.
Naturally everyone expected a foul response from Torrei after hearing about the baby news, but instead, she happily congratulated the pair. She explained the news as a cause of celebration in an interview with Tmz,
"I'm pretty excited because my kids are excited so I'm kind of feeding off my kids' energy. There's only one downside though that I was thinking about. I might have to babysit a little because Eniko has been spending a lot of time with my kids."
Even though their marriage failed, their blended family seems to be doing fine thanks to the maturity and effort put into co-parenting their kids by both Torrei and her ex-husband. The divorce has in no way ruined a wonderful relationship shared by Torrei and Kevin. Although not together as a couple, the two have maintained a healthy relationship while also acting as wonderful parents to their kids.
3. Dates Numerous Boyfriends After Split
It seems the word relationships and Torrei do not go hand in hand together. Unlike her ex-husband, Torrei has had her fair share of failed relationships. For her ex-husband, things worked out well after his divorce with him getting married and welcoming a son to his new family. But for Torrei, relationships haven't faired her as well as she would have liked it too.
Torrei started dating her manager Mareno Rankin after her divorce. He helped boost her career using her ex-husband's last name to get attention. Sadly, the dynamics between them ended in the summer of 2016, having lasted for six years. The reason for the split wasn't revealed, but it was alleged that she left him after finding out he had cancer.
After the bizarre split rumors with Mareno, she started dating American actor Jamal Woolard in late December of 2016. They hit it off as soon as they met on the set of Turnt. However, this one also turned out to be a failed relationship for Torrei.
Her dating life hasn't been as good as her exes'. Maybe that's why she has refused to publicize the person she is dating right now. It seems her fans will have to wait for her wedding to know who she has been dating- if their relationship reaches that stage.
4. Enjoys Net Worth In Millions
Born on 28 February 1978, Torrei, whose height is 1.57 m (5.15 F), was raised in southern New Jersey and grew up in a happy family
She began studying acting and the arts at a very young age. By the time she reached her teens, the ambitious comedienne had impressed classmates at Winslow Township High School, where she had starred in numerous school plays and graduated in 1996.
And now, she enjoys the net worth of $3 million. She profited from VH1 reality series, Atlanta Exes.
In late 2012, Torrei Hart launched the YouTube comedy channel PrettyFunnyFish, which exploded in popularity. The channel's ad revenue also generates an enormous amount of money.
Torrei also added a lump sum of $175,000 to her net worth from her settlement winnings against Kevin Hart, who had an estimated $9 million net worth in 2011.
With all her revenue earning indulgements put aside, Torrei has also served her country as a member of the United States army from where she mentioned she got an honorable discharge and feels proud to have contributed to serving her nation be it in the minute of efforts.