Tony Stewart Announces His Engagement to Leah Pruett via Instagram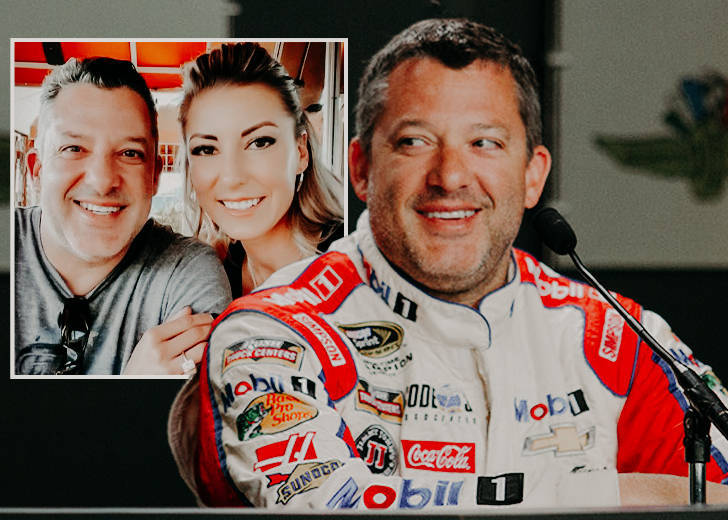 Three-time NASCAR Cup Series champion Tony Stewart took to Twitter to announce his engagement to girlfriend Leah Pruett on March 19, 2021.
The announcement came after a year of officiating their relationship.
A Year-Long Romance
According to TMZ, the recently engaged couple first met in 2019. However, they waited until 2020 to make their relationship 'official.'
Having started the relationship only days before the lockdown, it is reported that the couple spent a majority of their pandemic quarantine together.
On March 10, 2021, Stewart posted an adorable picture of the two on his Instagram.
In the picture, the duo was at a restaurant enjoying their drinks, with Stewart giving a thumbs-up to the camera while Pruett took the photo. 
The couple was dressed in casuals, with Stewart wearing a grey t-shirt and a black cap and Pruett wearing a black jacket. They both had smiles stretching from ear to ear and looked happy in each other's company.
The post marked the completion of a year of togetherness for the couple, as Stewart mentioned in the caption. 
The racer confessed that spending the year with Pruett had been the highlight of his life. Wishing his wife-to-be a happy anniversary, Stewart also mentioned how he looks forward to celebrating many more anniversaries with her.
The Announcement
Nine days after the anniversary post, the 43-year-old racer shocked his fans with his engagement announcement. 
On March 19, 2021, Stewart uploaded a mini gallery of pictures of him and his wife-to-be on his Instagram.
The first picture is a close-up of the couple; Pruett has her hands wrapped around Stewart's arms as the two smile for the camera. What catches the eye is the big and shiny rock on Pruett's ring finger. 
In the pictures that follow, the couple is spotted together as Pruett shows off her big bright rock. 
The couple was dressed in all casuals, with Stewart rocking a light grey t-shirt and gray shorts, while Pruett wore a black tank top with black shorts and slippers.
In the caption, the NASCAR star complimented his fiance along with expressing his excitement towards the thought of spending the rest of his life with her.
On the same day, Pruett also took to her Instagram to post a candid picture of the two.
In the picture, the NASCAR star had his arm around his fiance's waist and looked like they were giggling. Judging by their attire and the setting, the pictures from Stewart Pruett's posts were taken on the same day.
Pruett left a beautiful note for Stewart in the caption, expressing her love and commitment towards him.