Know T.J. Ott's Wife Rumors, Ex-girlfriend, Net Worth, Weight Loss & Age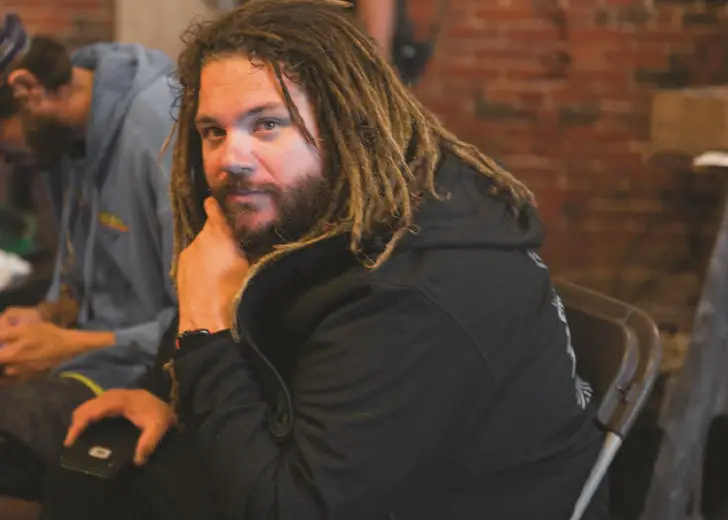 T.J. Ott is an uprising TV personality who has gained recognition through the hit Nat Geo show, Wicked Tuna, as the captain of the tuna-hunting group, Hot Tuna.
The show is a reality series that showcases the competitive hunt for in-demand Atlantic bluefin tuna by commercial fishermen based in Gloucester, Massachusetts while following strict government regulations and quota policy.
But fame isn't the only thing he got from the show. He also found love in Marissa McLaughlin, his rival from the grueling tuna hunting show. 
She is part of Team Pinwheel alongside her brother, Tyler McLaughlin. 
After keeping the relationship on the down low, the tuna hunter (Ott) had revealed he was dating his rival from the show for quite some time.
So, how did their rivalry turn into a sweet relationship?
Read the article in full to not only find out about Ott's relationship with Marissa but also his marital status and dating status plus history.
The article also sheds light on his weight loss and more.  
Does T.J. Ott Have a Wife?
In 2020, rumors circulated stating that the tuna hunter was already married but not to his girlfriend, Marissa McLaughlin.
Instead, it was mentioned that his wife was Kristina Doellman. Also, it mentioned that he exchanged wedding vows with his wife in 2016.
However, as it later turned out, the news was nothing but a case of mistaken identity. The man whom Doellman married had the same name as the Wicked Tuna star.
Is T.J. Ott Married or Dating Marissa McLaughlin?
Regardless of fans hoping for the wedding bells to ring in the lives of Ott and his reported girlfriend, Marissa McLaughlin, the pair have decided to remain silent in regards to their relationship or their respective dating life in general.
Still, we can confirm that the pair aren't married yet.  
The two Wicked Tuna rivals' romantic connection first became news after the show's ninth season came out. In an episode titled 'Band of Brothers' of the 9th season, released on March 15, 2020, Ott finally opened up about his personal life.
While introducing his new pet dog, the reality show star revealed about having a girlfriend. He went on to state that he adopted the dog with his partner, who was his rival from the show.

T.J. Ott (right) with his girlfriend, Marissa McLaughlin (in a black and white striped t-shirt), and fans. (Source: Instagram)
That March reveal was the most that he ever talked about his relationship with the show rival.
Details on his personal life and relationship remain scarce as he is a secretive guy who rarely shares details on his personal life.
Even his social media handles are mostly filled up with pictures of the show and his pet dog.
T.J. Ott Cheered His Girlfriend Back in 2020
Although Ott likes to hide his personal life details, he certainly doesn't shy away from showing his love for McLaughlin.

Ott and his girlfriend, Marissa McLaughlin, with his family. (Photo: Instagram)
In one of the episodes of the show in 2020, the Wicked Tuna star tried to cheer her up when he found out that his partner had missed two big fish.
He directly went to the kitchen and then surprised his girlfriend with a delicious sandwich.
After that, McLaughlin and her crew eventually caught two bluefin tunas that helped them to reach the top of the scoreboard.
In addition to that, the Hot Tuna captain's love for his rival is also reflected during his greenroom interview.
During the confessional, he mentioned that if he and his crew continued to catch big fish and earn healthy money off it, he would be able to buy some lovely gifts for his muse and even take her out for a romantic dinner.
Related: Discovery channel homestead rescue hasn't been canceled after all
How old is T.J. Ott?
Ott is 43 years old as of writing. He was born on 3 December 1979, in Broad Channel Queens, New York, United States to Tim Ott and Debbie Ott.
If you didn't know, both his father and grandfathers were fishermen. They were the ones who taught T.J. the art of fishing when he was a kid. 
They used to fish around New York on their "little" Boston Whaler. They also sometimes took young Ott to the Florida Keys, Key West for the fishing adventure.
"But once I started going bluefin at an early age — 10, 11, 12 years old — once I saw these fish and how strong they were, it was almost like the mountain, the absolute mecca of fishing," he retrospected his euphoric early fishing days to HollywoodSoapbox.
"That's really when I got completely hooked. I love all sorts of fishing — bait-tackle fishing in Key West, bottom fishing for groupers and snappers, sail fishing — the bluefin is just a whole other level. I think unless you've actually done it, you've lived it, it's hard to really understand what I'm talking about. But there's been no one that enjoys fishing that goes blue-finning and sees one of these fish caught, that isn't instantly hooked and infatuated with it."
His current boat, Hot Tuna, which we get to see on his hunting journey on Wicked Tuna is his family boat. He has been the captain of the boat since age 20.
His favorite fishing place is Gloucester. As of May 2023, the experienced tuna hunter is estimated to be worth over $2 million.   
In 2022, he was fined a five-figure fine of $13,500 for selling bluefin tuna in a local fish market in Gloucester without proper permits applied. 
How much Weight did TJ Ott Lose?
Over the years, fans have seen TJ Ott gradually losing weight.
He had an estimated weight loss of 45 kg (100 lbs) from 170 kg (374 lbs) when he first appeared in the series. He now around weighs 274 pounds. 
In 2017, Ott revealed that he had lost around 100 pounds with the help of a strict exercise and diet routine.