T.J. Ott transformed his show rivalry into romance with new partner
Rising TV personality T.J. Ott didn't just get fame from the show Wicked Tuna. He also acquired his newfound love, Marissa McLaughlin, his rival in the grueling tuna hunting show. So, how did their rivalry turned into a sweet relationship? Well, keep reading to find out!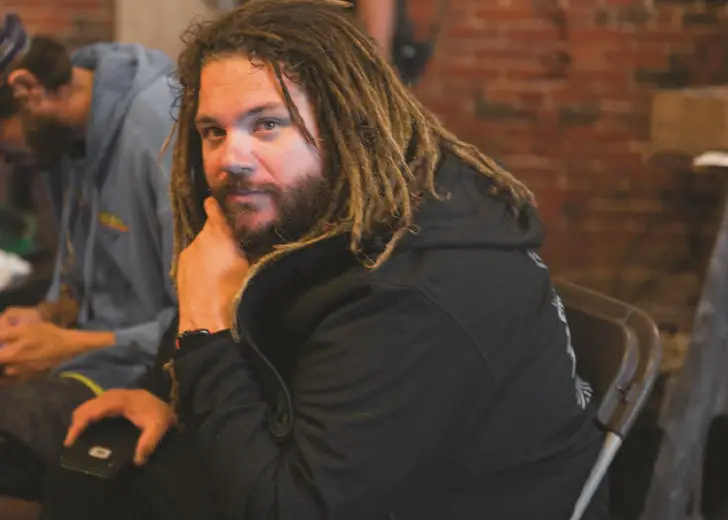 T.J. Ott is an uprising TV personality who gained recognition through the hit Nat Geo show, Wicked Tuna. But fame isn't the only thing he got from the show. He also acquired his newfound love, Marissa McLaughlin, while shooting for the grueling tuna hunting show.
You read that correctly. The tuna hunter revealed that he was dating his rival from the show for quite some time, which came out as quite a shock. So, how did their rivalry turned into a sweet relationship? Well, keep reading to find out!
Ott & Mclaughlin's Romance Came Out in Early 2020
The two Wicked Tuna rivals' romantic connection first became news after the ninth season of the show came out. In an episode titled 'Band of Brothers' of the 9th season, released on March 15, 2020, Ott finally opened up about his personal life.
While introducing his new pet dog, the reality show star revealed about having a girlfriend. He went on to state that, he adopted the dog with his partner who was a fellow rival from the show.

T.J. Ott (Right) captured with his girlfriend, Marissa McLaughlin (in a black and white striped t-shirt), and two fans. (Source: Instagram)
That March reveal was the most that he ever talked about his relationship with the show rival. Details on his personal life and relationship remain scarce as he is a secretive guy who rarely shares details on his personal life.
Even his social media handles are mostly filled up with pictures of the show and his pet dog.
The Habit That Got the Hot Tuna Captain in Mclaughlin's Good Graces
Although Ott likes to hide his personal life details, he certainly doesn't shy away from showing his love for Mclaughlin.

T.J Ott & Marissa with Ott family. (Photo: Instagram)
In one of the episodes of the show, the Wicked Tuna star tried to cheer her up when he found out that his partner missed two big fishes. He directly went to the kitchen and then surprised his girlfriend with a delicious sandwich. After that, McLaughlin and her crew eventually caught two bluefin tunas that helped them to reach the top of the scoreboard.
In addition to that, the Hot Tuna captain's love for his rival also reflected during his greenroom interview. During the interview, he mentioned that if he and his crew continued to catch big fish and earn healthy money off it, he would be able to buy some lovely gifts for his girlfriend and even take her out for a romantic dinner.
Related: Discovery channel homestead rescue hasn't been canceled after all
Is the 'Wicked Tuna: Outer Banks' Star Married?
In 2020, another news was circulating that the tuna hunter was already married but not to Marissa McLaughlin. Instead, it was mentioned that his wife was Kristina Doellman and they shared the wedding vows in 2016.
However, as it later turned out, the news was nothing but the case of mistaken identity. The man whom Kristina Doellman married shared the same name as the Wicked Tuna star.
Regardless, wedding bells might still be just around the corner for the couple given their closeness in their recent posts.