Tate Martell's Mother Once Took to Twitter to Blame Model Kiki Passo for Interfering With Martell's Football Dreams
Tate Martell's fans pointed fingers at Instagram model Kiki Passo as the reason for his mysterious leave from the University of Miami.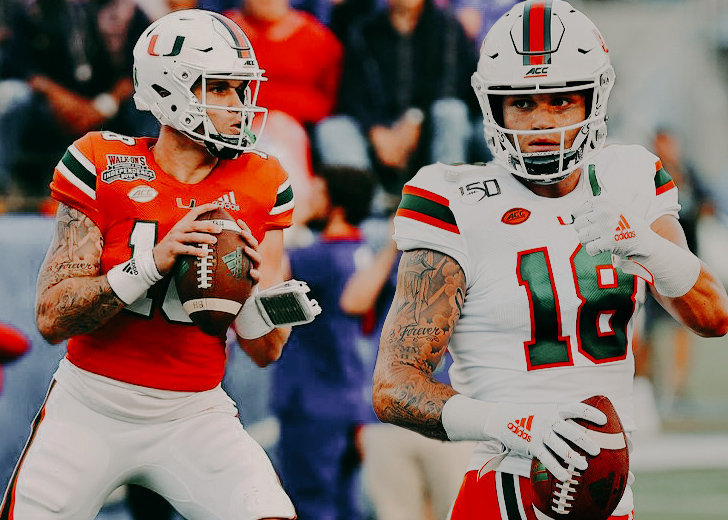 Tate Martell's fans were disappointed to find out that the American football quarterback had decided to take a mysterious leave of absence from the University of Miami back in November 2019.
As the news circulated, many pointed fingers at Instagram model Kiki Passo, who happened to be his girlfriend at that time, calling her out as the reason for his second leave from the University.
Not only the fans but Martell's mother, Tafi Martell, also took to Twitter and bashed the Brazilian model for being a horrible person. In another tweet, Tafi reported that her son had not talked to her for weeks.
Tate Martell and Kiki Passo Are Not Together
As of now, Martell and Passo don't seem to be together. And all the pictures of them together have also been deleted from their respective Instagram handles.
Moreover, the model has been spotted sharing intimate moments with tennis player Tommy Paul on social media, hinting she has moved on from her relationship with the 23-year-old footballer.
In an Instagram post, posted in January 2021, Passo put her arms around Paul as she kissed him on his cheeks. Another picture from the same post had Paul kissing her as she sat on his lap
Regarding Martell, he hasn't been spotted with any woman of late. His Instagram posts suggest that he has been putting more effort into his training and his game than anything else.
An Instagram video showed him speaking his aspiration to become the person everyone wants him to be—that includes his family, friends, city, and team.
The Twitter Riot
On November 28, 2019, a couple of days before Martell announced his unavailability for the University of Miami, Martell's mother tweeted that Passo was a horrible person. Tafi again took to Twitter on December 3, asking for anybody to have her son contact his family since the football player hadn't spoken to his family.
After Tafi posted those details on social media, various outlets and Martell's fans started tagging Passo and speculated she could be the reason for his disappearance. One fan wrote, "Really sad if this young woman is encouraging him to miss football. He worked for this opportunity all his life. Praying it is all resolved for the best."
Passo quickly responded to that fan's tweet. She explained that all the ongoing speculations weren't true, and instead, she pushed him to keep going when Martell had lost his job previously. He also emphasized that she "wholeheartedly" believed in him and saw a bright future ahead of him.
hi there! i appreciate you asking me directly but i'm not going to bring my personal life into social media, there's no need for that. the only thing i will say is that i have never told tate to quit football or kept him from anyone. — kiki passo ♡ (@kiikipasso) December 4, 2019
Meanwhile, Busted Coverage, a sports and entertainment magazine, added a thread to the model's tweet and asked to clear the air of their split. The outlet tweeted, "Kiki, is there a beef between you & Mrs. Martell? Clear the air, if possible."