Twitch Streamers Dyrus and Emiru Were Close to Breaking up in 2020
Twitch streamer Dyrus and Emiru are still together!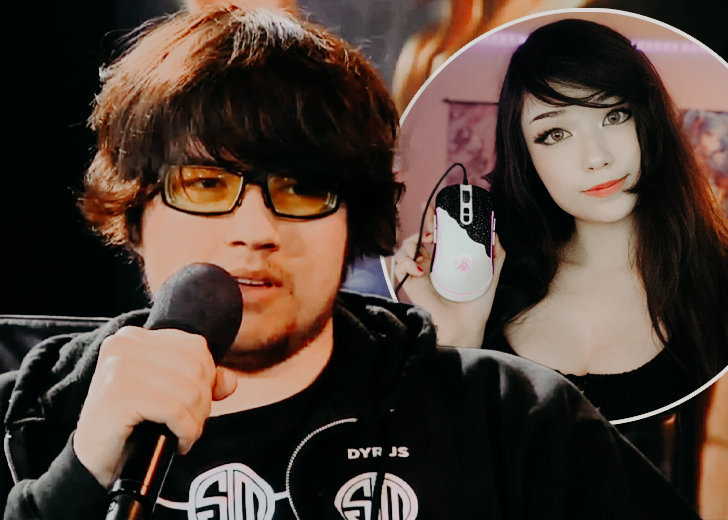 Former professional League of Legends player Dyrus, born Marcus Hill, has been in a relationship with a fellow gamer, Emiru, since 2016. Thanks to their adorable antics on live streams, they are celebrated as the ultimate 'couple goal' in the gaming and streaming community.
However, many of their fans were shocked when they found out that their favorite gaming couple almost had a breakup in 2020.
Emiru Gave Dyrus a Second Chance in Love
Fans of the Twitch streamers were thoroughly enjoying watching their favorite couple play games together. But little did they know that Dyrus and Emiru were on the verge of ending their relationship.
On May 1, 2020, Dyrus took to his Twitter to confess what was going between him and his girlfriend. In the tweet, he mentioned he wanted to be upfront about his relationship. He shared he had emotionally and mentally hurt his girlfriend, due to which they almost broke up.
He continued his statement and said that his girlfriend took a second chance in their relationship and that he was also looking for therapy.
He further asked for forgiveness, apologized to everyone for the trouble, and stated that he should not have tweeted the earlier post — a tweet from April that's now deleted. However, he followed up on the thread and said he made a "really big mistake and said some bad things" and that he was trying to make things better. 
I want to be upfront with what happened. I hurt Emily mentally and we were going to break up.

But now she's giving me a second chance and I am going to look for therapy.

I want to apolgize for causing everyone to worry about me. I shouldn't have tweeted it out. — Marcus (@Dyrus) May 1, 2020
Your guess is as good as ours on what the deleted tweet was. But here's hoping the adorable couple is in a good phase in their relationship.
The Emiru-Dyrus Relationship Timeline
The Twitch streaming couple has been together for over four years. Although they started their relationship in June, the gamer only revealed his girlfriend on December 2, 2016, after posting an adorable picture through Instagram.
Since then, the two have always been together and supported each other in every step of their lives. As both of them are streamers, they are often seen playing games together and featuring each other on their respective channels. Not just that, they do not shy away from posting photos of one another on social media platforms too.
For instance, on Valentine's Day in 2017, Emiru took to Twitter to share some lovely photos of her and Dyrus. The images were accompanied by a heartfelt caption where she thanked him for always loving and supporting her.
On the same day, Dyrus shared a screenshot of his girlfriend's tweet and posted it on his Instagram with a short and cute message that read, "i love @emiru.jpg." 
On June 21, 2019, the former League of Legends player shared an animated picture of two lovers kissing on the third year of their relationship. In the post's caption, he mentioned his girlfriend and revealed that they'd been together for three years.
Since the post, Dyrus has shared nothing new on his girlfriend. But looking at the fact that he has deleted none of the posts with his girlfriend, it is safe to say they are still together. 
Who is Dyrus' Girlfriend Emiru?
Dyrus' girlfriend is a cosplay artist. Her Instagram account that goes by the moniker Emiru.jpg features her art that depicts various anime characters.
Apart from that, she also plays video games. So much so, in a tweet dated October 17, 2019, she revealed she broke up with her high school boyfriend after he forced her to choose between him and League Of Legends. She chose the game over him and moved on.