Stephen Fry and Elliot Spencer's Relationship Suggests Age Is Just a Number
British actor and comedian Stephen Fry married a man 30 years his junior. Because of this, the couple's marriage and relationship garnered a lot of attention and criticism.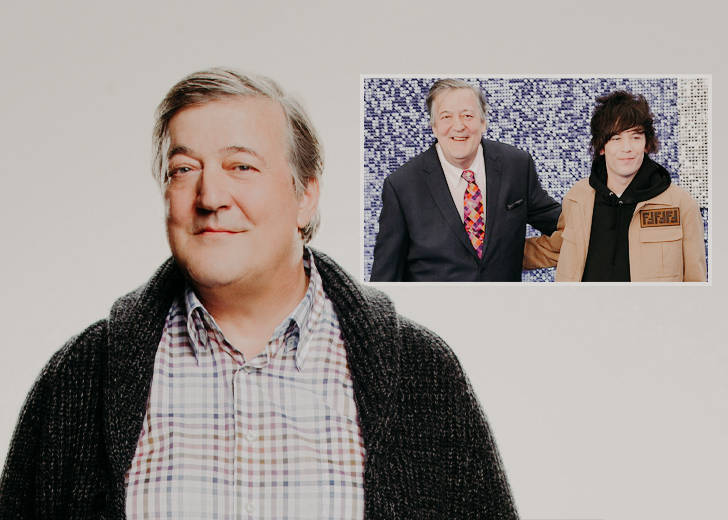 On January 17, 2015, English actor Stephen Fry tied the knot with Elliot Spencer in a private ceremony. Fry and Spencer got married in a meticulously planned private ceremony at Dereham in Norfolk. 
The Wilde actor revealed why they chose Dereham as the wedding venue:
We chose it because it's a small market town, they call it 'the Heart of Norfolk'.
But What made headlines is that the actor's husband is 30 years younger than him. The duo's marriage was much talked about, given their vast age gap. 

Elliott Spencer and Stephen Fry at pre-Bafta Even as married couple for the first time (Source: Independent)
The couple wanted to have a secret wedding without any media snaps and leaks. To that end, they deliberately leaked fallacious wedding information and date to keep the reporters off the radar. 
The British comedian confessed to planning a secret wedding and using fake information to throw the press off. 
The wonderful (registrar) Linda put a false date into the computer in case it was being hacked or in case there was a mole within the borough. It meant that Elliot and I were able to be conjoined without any photographers or journalists which was really nice.
Reflecting on the moment he knew Spencer was the one for him; the actor said the couple met at a friend's house. Fry further added, he knew right away that he wanted to live his life with Spencer.
Their marriage and relationship has encountered a lot of criticism and disapproval because of the 30-year gap. However, this doesn't concern the duo who are very much in love with each other. 

Stephen Fry and Elliott Spencer at the Rocketman premiere in London (Source: Mail online)
In 2015, Spencer summed up his relationship with the Bafta host for the first time. He confessed: 
I don't care what people think. Stephen is the love of my life, the light of my life. It's been incredible. We met at a house party three years ago after we were introduced by friends. The rest is history. 
The comic writer also stated that humor is the key to their successful relationship. Fry's significant other mentioned rejoicing being married. He also clarified his intention to abstain from comedy and focus on his marriage and photography. 
Though the pair are low-key about their love life, they do seem to make some public appearances and share the occasional sweet moment on media outlets. On October 12, 2018, the actor and his husband appeared at the royal wedding of Princess Eugenie.
Moreover, the 63-year-old actor also wished his spouse on their anniversary while addressing him as "most marvelous and miraculous husband."
On May 1, 2020, Fry uploaded a cake embellished on a plate as he wished his husband a happy birthday on his Twitter. The caption suggests Fry baked the cake himself for the special occasion. 
Baked a chocolate cake for my husband's birthday this morning - a variation (the odd substitution being necessary) on a @HairyBikers recipe. Thank you Beary Hikers, and Happy Birthday Elliott pic.twitter.com/f8mFfPKuVe — Stephen Fry (@stephenfry) May 1, 2020