Stella Arroyave and Sir Anthony Hopkins Have Worked Their Magic in Multiple Collaborations
Stella Arroyave has been the perfect partner for the legendary actor Sir Anthony Hopkins. The two have been creating magic with their collaborations, from Hopkin's paintings to Arroyave's new movie.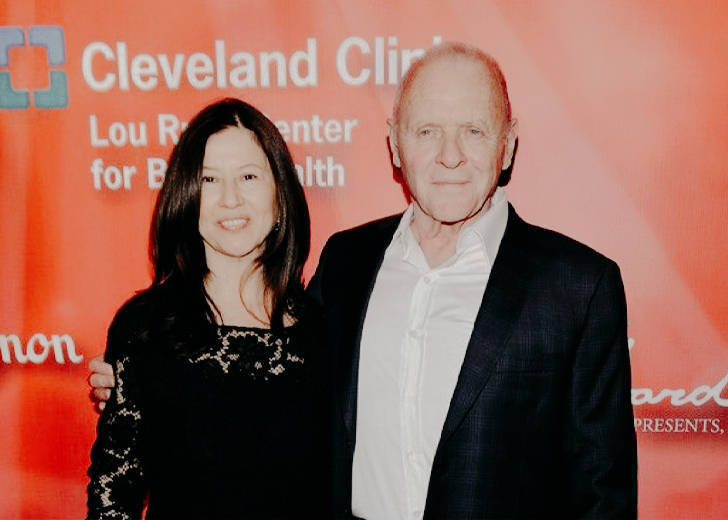 Sometimes meeting the right person changes your life forever. That is exactly what happened with actor/director Stella Arroyave when she met and married her husband, legendary actor Anthony Hopkins. Today, Arroyave has come far away from her life as an antique dealer, and by the looks of it, it was totally worth it. 
According to an article from The Telegraph, the 65-year-old was a mere antique dealer when she first met her husband. She switched her career into acting and has been ever since producing quality content and managing Hopkins social media accounts for him. 
Taking time from her busy schedule, Arroyave has been on to one of her latest projects Elyse, which was released recently on December 4, 2020.
More About Elyse
Talking about her directional debut Elyse, the director, in a virtual interview with CA live on December 6, explained where she derived her inspiration from the movie and why it is so important to her.
Since the movie is based on issues around mental health, the interviewer asked Arroyave why she chose to make a movie around such a vulnerable topic. 
In reply to the question, the actress revealed that growing up, her mother was undiagnosed schizophrenia and the experiences she went through were what inspired the movie. Arroyave stated that the experience of having to live in a house with someone inflicted with mental illness is a challenge.
Further adding, the director told NBCLA that when she first started writing, she did not think it would be a personal story. She expressed that she wanted the movie to be about mental illness, but as she wrote the script, she realized that more and more of her personal life and experiences with her mother came forward in the movie. 
The debut director even admitted that much of her character Elyse is based on her mother and the different moments she witnessed her mother experience.
Since the movie touches home for Arroyave, she made sure that the cast was on point, with her best friend Lisa Pepper playing the main lead and her husband playing the chief psychiatrist Dr. Lewis.
Her husband even composed the film's score, which gives another personal touch to Arroyave's first movie. 
Talking more about the movie, Arroyave expressed that she wanted the movie to be sensitive, accurate, and personal for all the families who have developed mental illness. In addition to that, being her first scriptwriting and directional debut, she also wanted to engrave her creativity into the movie, which she believes she was successful in doing.
She Was Her Husband's Third Wife
Judging the way Hopkins compliments Arroyave on many of his interviews, it is inevitably clear that he has finally found love. After two failed marriages, his third one has turned out to be the one. 
Before marrying Stella Arroyave, Hopkins was a part of two long-lasting marriages. The Oscar winner got married for the first time in 1966 to Petronella Barker, with whom he shares a daughter named Abigail. However, the marriage ended after 5 years in 1972.
Right after his divorce from Barker, Hopkins married his second wife, Jennifer Lynton, in the year 1973. After 29 years of togetherness, the couple finally called it quit in 2002. Before the split, Hopkins reported having separated from his wife some time ago as they had drifted apart.
According to BBC, in 2000, after their separation, the oscar winner became a US citizen, while his wife was still in London. 
All this led the actor to meet with his current wife and the love of his life Stella Arroyave.
Following his separation from his second wife, Hopkins met Arroyave in antique furniture dealing store in 2001. At that time, the actress was a mere antique dealer in L.A, where Hopkins came to shop for furniture.
After two years of dating, Hopkins married Arroyave. The couple tied the knot in March 2003 at Hopkin's mansion in Malibu. According to the Telegraph, the guestlist for their lavish wedding featured big personalities like Nicole Kidman, Steven Spielberg, and Winona Ryder.  
Arroyave helped Hopkins Fight Depression.
In his 2011 interview with the Independent, Sir Anthony Hopkins admitted that he was suffering from Slight depression when he met Arroyave. In the interview, he mentioned that when they first met, he was shut down and had trust issues regarding women. 
She met me ten years ago when I was shut down. Shut down for some years. I didn't feel shut down at that time. I felt I was quite happy. But I was dealing with slight depression. Not trusting anyone. Certainly not trusting women.
Furthermore, Hopkins added that it was Arroyave's happy-go-lucky attitude that saved him. He also explained that his wife has helped him tone down his expectations and taught him to accept everything, which helped him make his life easier. 
She's very positive about everything. I learnt from her just to take life as it comes. So I live my life in non -expectation.
However, this wasn't the first time Hopkins had something good to say about his wife. In his interview with Daily Mail in 2013, The actor complimented Stella for her ability to slow him down for his own good and take care of him.
 She's very good for me, my wife, because she slows me down… because my nature is to do things very fast because I have convinced myself that I am still 45 years old. I walk far too fast and I'm always falling over and she reminds me not to.
They Help Eachother Grow
Recently in her November 2020 interview with Cision PR Newswire, the actress revealed that together the couple had started a fragrance line called "Ah Eau de Parfum," which supports the charity NO KID HUNGRY. Apart from charities and working together, the couple has also encouraged and helped each other on their journeys.
In his 2017 interview with W magazine, when asked how he got into painting, Hopkins stated that his wife encouraged him to paint. Reminiscing, Hopkins said that when Arroyave saw his drawings for the first time, she asked him why he didn't paint them, to which he replied he couldn't do it. As casual as ever, Arroyave asked him to start painting without thinking about judgment and taking up her advice treated him well.
Once he started painting, he expresses that it worked out so well that she wanted to do several shows and exhibitions of his paintings, and the rest is history.
Not only did Arroyave encourage Hopkins to pursue art, but she also is the social media manager for him.
However, Arroyave has been on the receiving end of the help as well. 
From the biggest career switch to entering new ventures, Arroyave has had her husband backing her up in every instance.
Recently the debut director received a lot of help from her husband in her latest venture. In many of her interviews, she talks proudly about her husband's scores that fit perfectly with the melancholy of the movie and the overall vibe that the movie is trying to portray. 
Sharing her experience and awe for her husband's work, in an interview with Roger Ebert, Arroyave mentioned that her husband just did a fantastic job and created the perfect score for the Movie. 
Working with Tony on the score was one of the most rewarding experiences in creating the film. His score helped to set the pace of the film, and he masterly interpreted the lullaby I heard in my mind for Elyse.
Her net worth
Recently, Arroyave made news when she donated $2K to the aid of a flood-hit animal hospice. 
According to Celebrity Net Worth, her husband stands at a Networth of $160 Million. However, her exact net worth is still not exclusive.
Although her net worth is yet not published by the site, considering she was the scriptwriter and the director for Elyse, it can be assumed that she might be on to building her own lavish earnings. According to Payscale, it is estimated that the average salary of a writer is $50K/year, and as for a director, it is $69k/year.  
This means her Net Worth is already above a million, and if she decides to continue on her journey, it is only increasing.