Both Song Joong-ki and Song Hye-kyo Got Surrounded by Extra-Marital Affair Rumors Following Their Divorce
Ever since Song Joong Ki and Song Hye Kyo announced their divorce, netizens have been fuming news that the former couple had an extra-marital affair. The reason for the divorce was cited as "differences in their personalities."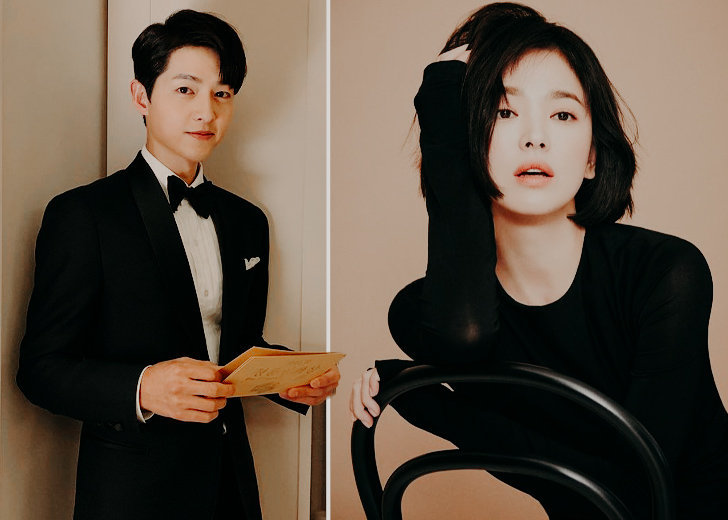 Korea's most celebrated ex-couple, Song Joong-ki and Song Hye-kyo, married on October 31, 2017, ended their wedding within two years of marriage. The reason for the divorce was cited as "differences in their personalities."
The statement released by actress Hye-kyo's agency UAA Korea explained: "Song Hye Kyo has decided to proceed with divorce procedures after a lengthy debate. The reason for their separation is the differences in their personalities, and the two ultimately came to this decision as they were, unfortunately, unable to overcome their differences."
Ever since the divorce was announced on June 27, 2019, netizens have been fuming news that both Joong-ki and Hye-kyo had an extra-marital affair which led to the divorce. 
Joong-ki's Extra-Marital Affair Rumor with Hye-kyo's Make-up Artist
Amidst the statement from the former couple stating the "differences in their personalities" as the reason for their separation, many media outlets and netizens reported that the statement does not recount the whole truth.
In doing so, the Taiwanese outlet Apple Daily reported that Joong-ki was having an extra-marital affair with Kim Hyun-Kyung, his ex-wife Hye-kyo's make-up artist/stylist. The report further stated that the Arthdal Chronicles actor dated Hyun-Kyung for a while before his wife found out.
The Autumn in My Heart actress and her stylist had worked together for over 10 years, with Hyun-Kyung assisting Hye-kyo on various movies, television shows, and magazine shootings.
However, the report has no substantial evidence backing it. So, the rumors are not to be believed.
Hye-kyo's Dating Rumor with Co-Star Park Bo-Gum
Much like her husband, Hye-kyo was also linked with dating rumors following her divorce. The diva allegedly had an affair with actor Park Bo-gum after they co-starred in 2018's South Korean series Encounter.
The rumors suggested that the actress and Bo-gum relished an affair from the time Hye-kyo was married to her ex-husband, and the Encounter pair's "inappropriate relationship" inspired the ex-couple's separation.
Since all these rumors were impacting the young actor's image, Bo-gum's agency, Blossom Entertainment, denied all rumors and released an official statement that read: "Rumors are totally groundless. We won't tolerate those spreading such malicious rumors."
The Former Couple First Got Introduced in 2013
The former couple met each other for the first time back in 2013. However, they were introduced on-screen as "The Song Couple" only in 2016 through the Korean drama series, Descendants of the Sun.
Joong-ki and Hye-kyo started working together in 2015, after they were cast as Yoo Si Jin and Kang Moyeon, respectively, in the above-mentioned drama. They filmed their first scene together on June 12, 2015, in Seoul.
Following their on-screen romance, they started seeing each other in real life, too. In early 2016, they were spotted together in New York; however, their agencies denied the dating rumors. But, in July 2017, they officially revealed their relationship and mentioned that they had been together since mid-2015. Further, Joong-ki had also proposed to Hye-kyo in the winter of 2016 in Japan.