Scott Yoo And Flutist Wife Spent Their Longest Time Together During The Pandemic
As the pandemic hit, Conductor Scott Yoo's married life has changed, possibly for the better. In this article, we will explore Scott and his wife's marriage, and how the pandemic helped them grow closer.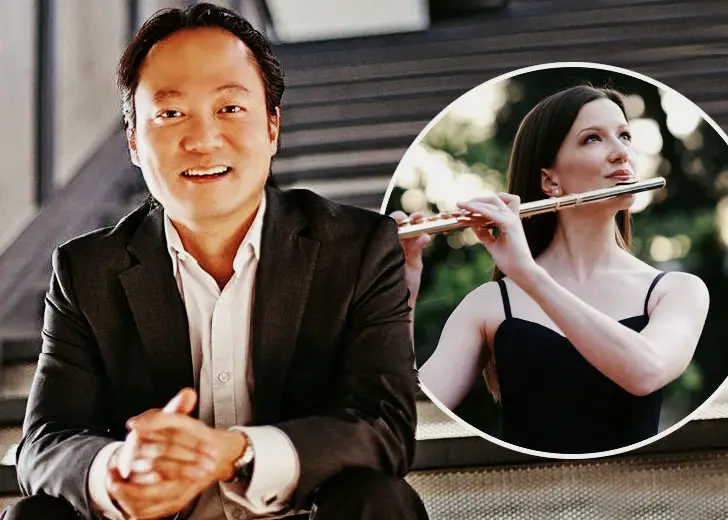 Accomplished conductor Scott Yoo's Festival Mosaic is well-known in the classical music scene, and he is in high demand. He constantly tours the world as a part of his thriving career, which understandably took its toll on his marriage. Since he was away from home most of the time, the husband and wife could not spend much time with each other during normal times.
As the pandemic hit, though, their married life has changed, possibly for the better. This article will explore Scott and his wife's marriage and how the pandemic helped them grow closer.
Scott Yoo Is Married To An Accomplished Flutist/ Professor
Yoo's wife, Alice K Dade, who he married in 2014, is an accomplished musician. She plays the flute and works at the Missouri School Of Music as an Associate Professor.
Professor Dade attended The Julliard School Of Music, just like Scott, and has worked for well-known colleges around the US like Vanderbilt, Penn State, UKentucky, to name a few. Her performances around the globe range from the New York Philharmonic to Moscow Chamber Orchestra.
Scott's Frequent Travels Prohibited Him From Being With His Wife
As a musician, Yoo has been doing tours ever since he was 11. The travels just never stopped, even after he got married. Since he spent so much time touring, the musical genius couple never really got time together. Even when he was home, Scott's life seems like it mostly just worked. He claims to spend more than 10 hours on music alone, as he told PBS.
"I'm often spending upwards of 10 hours a day on orchestral music."
The workload and travel definitely kept him and his wife at a fair distance, especially because Dade has her own tours to attend to.
The Couple Only Got Time Together During Joint Performances
Even with a busy schedule, Yoo and Dade did find ways to be together—by blending their work. They have performed together several times, especially on Festival Mosaic. Dade's album Living Music was assisted by the Festival Mosaic team, which included Scott.
The couple mostly does violin/ flute duets together and has been featured in 2015 and 2017 Festival Mosaic shows. They also performed a Piano Trio together at Colorado College back in 2014 after their marriage.  Working together in shows like these had probably kept the strain off their marriage.
The Pandemic Enabled Them To Spend More Time Together
As the pandemic arrived in 2020, the pair found themselves away from their normal traveling schedules and were forced to stay home. Festival Mosaic got canceled, and the flutist's classes went virtual.
This meant the husband and wife were suddenly always home, giving them lots of time together, and they even did a virtual interview. Yoo has been giving virtual performances and practicing as usual, all from the comfort of his home, which his wife seems to be enjoying.
"This is the most I've seen him since we got married in 2014 … it's been awesome."