Malaysian Comedian Ronny Chieng Married His Wife Hanna Thrice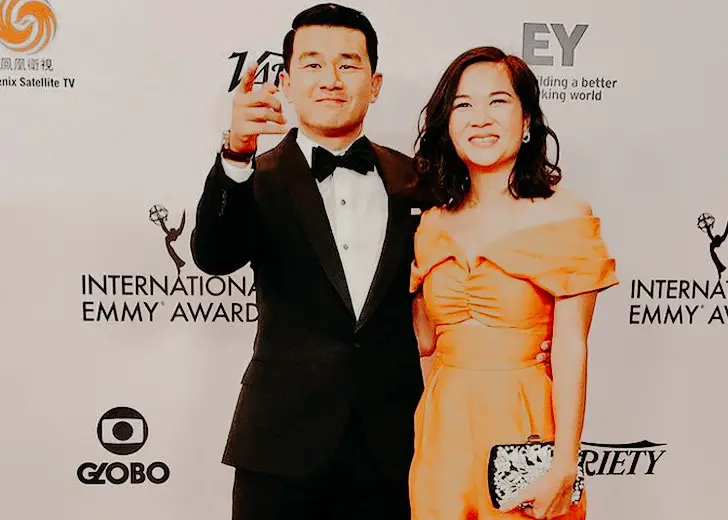 Comedian Ronny Chieng has been married to Hanna Pham since 2016.
Chieng married his wife, not just once or twice but three times! So, what's the true story behind him getting married thrice to the same woman?
Ronny Chieng and His Wife Got Married In Three Places
Four and a half years after tying the knot, Chieng and his wife are still going strong. The couple got married in three different places in three wedding ceremonies. 
As shared by the Asian Comedian Destroys America star, the couple exchanged their vows for the first time in Melbourne, Australia, where Pham comes from.
The first wedding has a funny story behind it — Chieng almost missed it because of flight delays!

Comedian Ronny Chieng and his wife, Hannah Pham, on their wedding day in New York City. (Source: Facebook)
For the second time, the comedian and his girlfriend got married in Kuala Lumpur, Malaysia, his original hometown. The third time Chieng and Pham got married was in a wedding in New York, which was for the green card process. 
We had to get married three times. The first wedding we had in Melbourne, Australia. Then we got married in Kuala Lumpur, Malaysia. Thirdly, we got married in New York.
Ronny Chieng and His Wife Are College Sweethearts
The world-renowned comedian who makes politics, the digital age, America, and capitalism the primary subject matter for his jokes got engaged to his girlfriend in December 2015.
The duo got married almost a year later, on September 9, 2016.
The Crazy Rich Asians actor is not vocal about his marriage and personal life. He doesn't open up much about his wife.
However, it is known that she has a YouTube channel, Pham Bam Kitchen, where she talks about Asian food recipes. 
The famous comedian's spouse shares a common trait with her husband — she also keeps her relationship with him under wraps. 
The Australia-based Malaysian actor and his wife first met when they attended the University of Melbourne, where Pham graduated in commerce and law.
Likewise, Chieng was set to become a lawyer but eventually picked up comedy in his last year of college.
Having met over a decade ago, the couple is still very much in love. They spend ample time together when he is not out touring for comedy gigs.
In an interview with The New York Times, Chieng revealed what his typical Sundays and extra days looked like. As per his accounts, he would wake up late at 10 or 11 am.
Then he would love to go for a brunch with his spouse. After eating, they would go for a Chinese massage.
"It's very unpretentious, very clean, brightly lit ambiance, very affordable way to de-stress," he explained. After that, they would finally go grocery shopping, buying fruits from the street vendors. 
"They sell stuff from home — durian, rambutan, and lychee. Sometimes we crave it and buy durian," he added. The married pair would then take a short tea break and enjoy a maintenance day. 
At the end of the day, they would watch a movie and cook food.
"Ever since we left Australia, we've been really into cooking Chinese food," he shared, clarifying his spouse would be the one in the kitchen. He remarked, "I could lie to make myself sound good, but she's really cooking."