Rick Rubin and longtime partner Mourielle welcomed a baby boy in 2017
Legendary Record Producer is a very busy man with never-ending professional commitments and hasn't been able to maintain a work-life balance between his private and business life. While Rick is yet to turn his long time girlfriend Mourielle Hurtado Herrera into his beloved wife, the couple was ready for parental responsibilities.

When one decides to enter the entertainment world, personal-life boundaries get jeopardized and private matters often become a media headline.
However, some celebrities manage to keep their family and personal issues away from the spotlight. Former co-president of Columbia Records, Fredrick Jay Rubin, aka Rick Rubin, is one of them. The eight-time Grammy winner has a girlfriend and a son, but they barely make it to the tabloids.
Rubin G

ot His First Fatherhood Experience at 54

The legendary record producer is a very busy man with never-ending professional commitments. He has had a hard time maintaining a work-life balance. But he has a pretty decent love life with girlfriend Mourielle Hurtado Herrera. Herrera is a former model/actress who is now practicing farming in Malibu.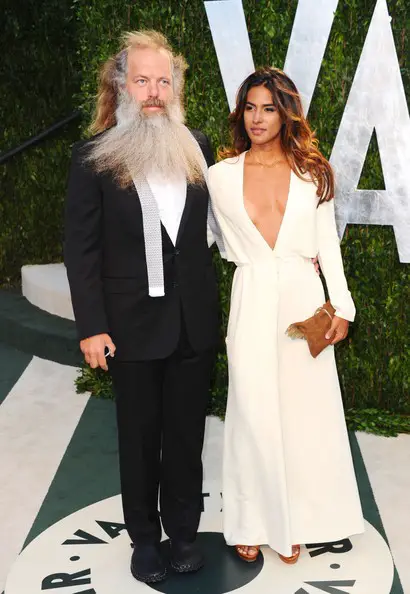 The lovebirds, who have been together since 2010, welcomed their first child, a baby boy, in February 2017. They are yet to disclose the baby's name.
Even though we don't know much about the baby, we at least got to see his adorable face when Rubin and his family were spotted catching a flight together out of LAX in July the same year.
Rubin

 Resides in Malibu with His Fiancée and Son

The iconic artist and his family currently reside in his mansion, which he calls "Malibu Oasis." Built in 1965, the mid-century ranch-style residence was once owned by a non-famous family. But since Rubin has acquired it, the property has been one of the most talked-about celebrity houses. The 2298 sq ft mansion is worth a whopping $ 8.1 million.

After purchasing the property in 2011, Rubin spent a decade perfecting every detail of his family home. He needed to maintain a homely environment for his family, and especially for their growing toddler. The house has a perfect domestic chill environment and calmness so that his 'celebrity wife' partner and their toddler can have a homely place to stay.

Besides family retreat, they also host luncheons and gatherings with their close friends at their home.

But how did a busy record producer build a homely environment for himself and his family?

In the 90s, Rubin made regular trips to Malibu, staying in the house he rented for more than a decade. Later, he decided to live in the area permanently as he fell in love with the ambiance. In 2005, he bought his own 1-acre property after his rental was over and decided to make the city his forever home. 
It's fine if you're single and your entire life is focused on the studio. But there is something really healthy, creatively, about having separation.
Besides this property, he had bought two possessions nearby in Malibu, which unfortunately got burnt down to the ground to Woolsey's unforgiving fire in 2018. According to reports, one of his staff named Sean G stayed on-site and saved the residing house from any damage by watering the surroundings.