Rhonda Walker & Husband's Dream Wedding In Sunny Californian Wine County
American news personality Rhonda Walker recently walked down the aisle with lover Jason Drumheller. Learn in-depth details about the WDIV-Local 4 News anchor's dream wedding, including first meet and engagement story.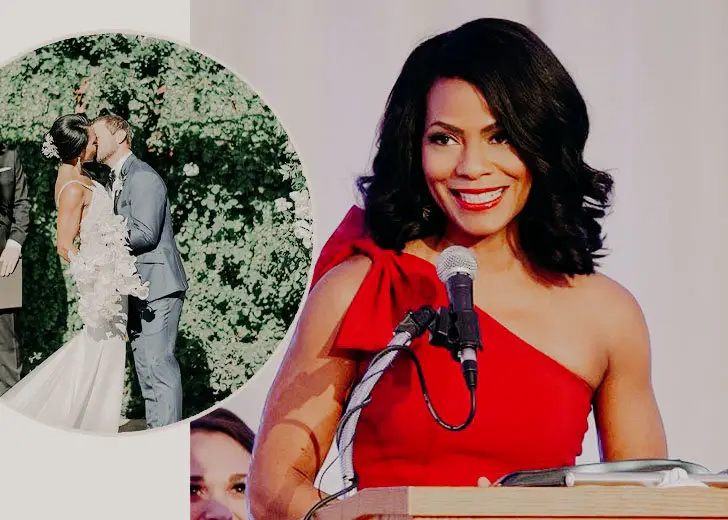 Rhonda Walker, the co-anchor of the weekday morning newscast at WDIV-Local 4 News, walked down the aisle with the love of her life Jason Drumheller in the fall of 2019. Their wedding was a beautiful ceremony that was straight out of a romantic movie.
Not only that, even their relationship journey is like a movie script. Read on to know in-depth details about the WDIV-Local 4 News anchor's personal life, including a fairytale wedding with the love of her life.
Rhonda Had A Dream Wedding At Chateau St. Jean Winery in Sonoma
The Detroit, Michigan based anchor had always dreamt of getting married in California's wine country ever since she was in awe of the beauty and the gorgeous weather of that place.
Keeping her fantasy in mind, Walker and Drumheller exchanged the wedding vows at Chateau St. Jean, one of the most romantic and charming wineries located in California's wine country in Sonoma.
The wedding date was scheduled for the Labor Day weekend on August 31, 2019, where the couple's close friends and family marked their presence.
On that very auspicious day, the beautiful news anchor wore a sleeveless, fitted gown with a lace bodice. Simultaneously, her husband donned a custom navy tuxedo as they took their wedding vows over an archway of white roses, lilies, orchids, and hydrangeas.
After the ceremony, the couple danced to John Legend's "All Of Me" as the sun set above the horizon. The guests enjoyed the atmosphere while also enjoying their fine wine. 
It was an amazing moment for both of us and such an incredible surprise.  - Walker on her wedding with Drumheller
The Couple Knew Each Other Since 2014
The lovers met for the first time in 2014. It was during an annual Whistler tournament party at the Detriot Golf Club that Drumheller first spotted the news anchor and immediately fell in love with her. The Bloomfield Hills-based financial advisor then asked his friend (who also happened to be Walker's friend) to introduce him to her.
After they got to know each other, they started enjoying each other's companionship and decided to continue their blooming bond. Very soon, they met again at a golf club, but this time for a date.
Our first date was a round of golf, so needless to say the club holds a special place in our hearts where we have tons of memories and lots of amazing friends who have supported and witnessed our love story. - Walker wrote on her Instagram
Their golf date led them to be lovers, after which they decided to move in together in Oakland County. Eventually, Drumheller proposed to his girlfriend during a trip to Miami in 2018. She happily accepted, and just like that, the couple was engaged.
 
Rhonda Was Previously Married To Derrick Walker
Jason Drumheller actually is Walker's second husband. She was previously married to famous American footballer Derrick Walker.
Her first marriage details never really surfaced on the media because of her secrecy around her personal life. In October 2012, Walker herself revealed that she had gone through a painful divorce at a women's luncheon.
Even though she had a failed first marriage, Walker now manages a delighted and healthy married life with her husband.