Peter Gadiot Has Dated Both Celebrities & Non-Celebrities — Know His Personal Life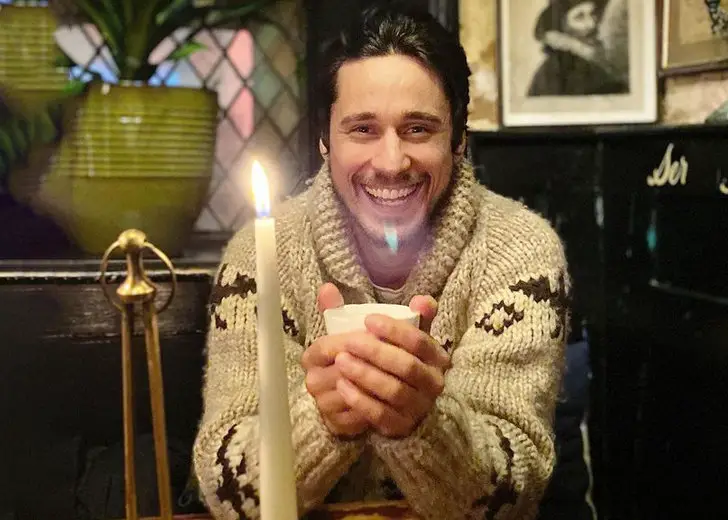 British actor Peter Gadiot seems to be good at portraying a romantic relationship in front of the camera, but what about his love life behind the scenes?
The 35-year-old actor prefers to keep his personal life details private; however, he has left some clues now and then on his Instagram about him possibly being in relationships.
Reveals Crumbs of Details about His Former Girlfriend on His Social Media
As per an Express article, in 2014, Gadiot took to Twitter encouraging fans to ask him any questions they like, using the #AskPeter hashtag. Among dozens of questions he received that day, one fan, in particular, inquired if he had a girlfriend.
The actor answered by explaining that he 'sadly' didn't have one but hoped it would change soon. 
The same year, the Once Upon a Time in Wonderland star posted a picture on Instagram of the woman's back in a bikini enjoying a rainbow, seemingly hinting at another one of his girlfriends.
Her face wasn't visible, and it could not be concluded if he was dating that girl in the picture or not. 
Once again, in 2018, he spoke a little about his love life when a woman tweeted: "I don't think anyone would pretend to be a ginger in their profile pic, so mine is definitely me #justiceforgingers."
The actor replied to the tweet exclaiming that his ex-girlfriend was a 'ginger' and accompanied it with an OK emoji. The woman's identity in the picture was never revealed, and his viewers were left guessing whether she could have been his ex-girlfriend.
Likewise, in September 2020, the London-born actor posted a silhouette picture with a woman along with a beautiful poem that looked like his attempt at being romantic — a poem probably dedicated to the woman in the picture.
However, again, nothing conclusive could be further said on the matter.
Has Dated both Celebrities and Non-Celebrities
If the above details were acquired from his social media posts, there are a few more details about his personal life obtained from his Instagram Stories highlight.
In one of his highlights, he has featured his Q&A stories where he has revealed his throughs on love and his past relationship details.
The first story in the highlight reveals that for Gadiot, love is 'oneness,' whereas his next story features a fan question where the fan asks which celebrities would he chose to have three partner intercourse.
In reply, the actor revealed that he hadn't had such an experience before but could think of keeping it on his bucket list.
Likewise, in another story, he shared that he had dated both celebrities and non-celebrities — and for him, everyone is equal. 
He further disclosed that a woman with "an adventurous spirit" attracts him the most.

Peter Gadiot shares he likes women with an adventurous spirit. (Photo: Instagram Stories)
Interestingly, the actor even talked about his liking towards kids and wished to have some children of his own in the future.
Gadiot's on-Screen and off-Screen Chemistry with Co-Star Alice Braga
Gadiot portrays James Valdez in Queen of the South, an American crime drama series. His character is a potential love interest opposite Alice Braga, who portrays Teresa Mendoza in the series.
The duo's characters progress from friends to lovers in the show.  And it is also apparent that Gadiot and Braga share excellent chemistry in the series, which has resulted in fans shipping them.
In 2018, the Brazilian actress took part in a Facebook Live Q&A where a fan asked if she could say something about her on-screen kiss with Gadiot. In reply, she said, "Peter Gadiot could kiss. Girls, sorry that happened."
The Dutch and Mexican descent actor was not happy with her reply, as he replied to the video stating, "Over three years of working together and she pronounced my name wrong! Haha."
He also shared an emoji of a man shrugging and a hear-no-evil-monkey. This was clearly a satirical comment, but the fact that she doesn't know how to pronounce his surname after working together for three long years could suggest that their off-camera chemistry could be totally off.
Going through their social media accounts, they don't have anything related to each other but often post about other co-stars.
These may indicate that both the actors don't have a close relationship with each other but make up for it in front of the camera. 
Despite some tad bit teasers on his relationship, Gadiot remains very private about his personal life, and there are no reports of him having a girlfriend or a wife.
He Has Put Philanthropic Efforts against Human Trafficking and Slavery
Gadiot is an active campaigner against human trafficking and slavery.
He rowed across the Atlantic Ocean as a part of a twelve crew team to raise awareness for Anti- Slavery International and the Fairtrade foundation.