Pete Davidson's Keeping His Relationship a Secret but Says 'I'm with My Celebrity Crush'
Pete Davidson, increasing the interest around his alleged romance with Bridgerton star Phoebe Dynevor.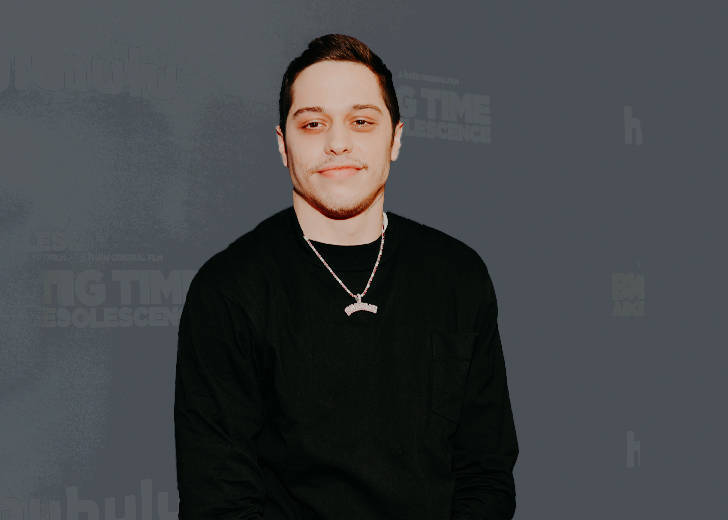 Saturday Night Live star Pete Davidson is generating buzz around his alleged romance with Bridgerton star Phoebe Dynevor.
While fans wondered if the pair were officially dating or not, Davidson has seemingly confirmed his romance in the latest interview.
The SNL star was recently asked to reveal his celebrity crush during a Zoom Q&A with Marquette University students on April 11, 2021. He remained evasive in his response. "I'm with my celebrity crush," he said with a cheeky grin.
Though Davidson didn't elaborate and take Dynevor's name, his response has undoubtedly ignited rumors about the couple circulating for several weeks.
Recently, both stars have been spotted wearing the same silver necklace with a small "PD" pendant representing their initials. Davidson wore the latest piece of jewelry with a dark grey tie-dyed sweatshirt on The Tonight Show Starring Jimmy Fallon on April 6. Fans noticed Dynevor's matching necklace, which was perfectly framed by the V-neck sweater, during a YouTube Q&A.
Dating Rumors Started in March
As per reports, the two young talents were rumored to be dating since March when they were seen out and about in the UK and the US. Tilly Wag, one local teenager, told Page Six in early April that they were "holding hands and hugging each other" in Caverswall, Staffordshire.
The eyewitness also said it looked like they were in a relationship and seemed happy together. "They walked past our house and I recognized him immediately… I hadn't seen anything written about Pete being in a relationship with Phoebe, but once I saw them together I thought, 'Maybe they are?" Wag added.
According to March 2021 reports of The Sun, Davidson and Dynevor had become close, and they were flying back and forth to spend time together. A source told The Sun that the couple had enjoyed each other's company, although they have only known each other for a short time.
The Couple Is Apparently in a "Not So Serious" Relationship
Sources have reported to Page Six that the actors are taking their new relationship slowly and aren't taking it too seriously because of their professional commitments.
Since Davidson, 27, is committed to shooting SNL in New York and Dynevor, 25, is in England "for basically the rest of the year" as she films Season 2 of the hit Netflix show, they are "not too serious," according to an insider.  
Meanwhile, according to Us Weekly earlier this month, the two could not physically spend time together due to work. They are still going strong. They communicate through text and FaceTime. The source also unveiled Dynevor enjoys his company and makes her laugh.
They're just seeing where their relationship goes and trying to make long-distance work.
Despite the circumstances, both the Bridgerton actress and the comedian continue to see each other whenever they can. In fact, Davidson is planning a trip to England to see his girlfriend soon, as he hopes to celebrate Dynevor's 26th birthday together.