Aliko Dangote Hints To Be On The Lookout For A New Wife
Africa's richest man Aliko Dangote is at the age of 63 now. But, don't let his age make you think that he has kept aside his romantic interests. The self-made billionaire seems on a quest to find a new bride. He has already been married and divorced twice. He has four children.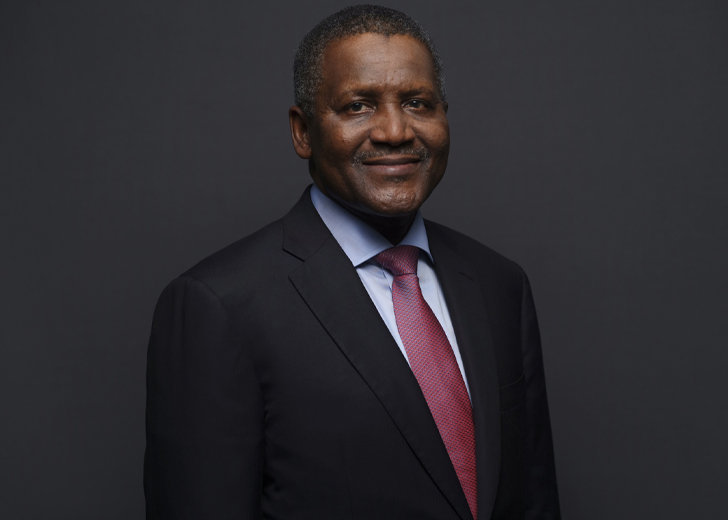 Africa's richest man Aliko Dangote is at the age of 63 now. But, don't let his age make you think that he has kept aside his romantic interests. He is on the lookout for a new bride, or so it seems.
The self-made billionaire has already been married and divorced twice. He has three daughters from his previous two marriages and an adopted son, all of whom are successful in their own rights.
Aliko Dangote's Famous Alleged Relationship With Sylvia Nduka
In 2012, the rumor of Dangote being romantically involved with the 2011 Most Beautiful Girl in Nigeria, Slyvia Nduka, surfaced. Sylvia further flamed the rumors by updating her Instagram name to Sylvia Nduka AD, which many people suspected to mean Aliko Dangote.
However, none of the parties commented on the rumors.
Still, there was no lack of speculations. According to Encomium.ng, an insider concluded the rumors as false while discrediting some of the bases for the hearsay. The source called the gossip "figments of fertile mind" and said that both Dangote and Sylvia had never met and were not even friends.
Aliko Dangote On A Lookout For New Partner
While Dangote's romance with Sylvia has not been confirmed, the billionaire has expressed his desire to find a partner and settle down, or that is what it seems. In an interview with Financial Times, Dangote said that his work schedule was hindering his romantic life. He said he found it senseless to commit to someone while being busy with projects.
I'm not getting younger. Sixty years is no joke. But it doesn't make sense to go out and get somebody if you don't have the time. Right now, things are really, really very busy, because we have the refinery, we have the petrochemicals, we have the fertiliser, we have the gas pipeline.
Then, he hinted at desires to delegate his responsibilities to focus on his romantic life as:
I need to calm down a bit. I'm trying to step back from some of the boards.
It does seem like the richest man in Africa wants to settle down with a new partner soon.
Dangote Has Three Daughters And An Adopted Son From Previous Marriages
There are rumors that Dangote has married four times and has fifteen children. However, the stories are baseless.
The business mogul has been only married twice and has three daughters, along with one adopted son.
His first wife is Zainab, a bride that his parents selected as per the local custom. Dangote married her at the age of 20 in 1977. Together, they have two daughters, Mariya and Halima.
After his first divorce, he married Mariya Muhammad Rufai, daughter of former Commissioner for Woman Affairs and Human Services in Bauchi state. They have one daughter together, Fatima.
Dangote also adopted a son named Abdulrahman Fasasi.

Aliko Dangote (first from top left) with family (Photo: Nairaland)
Apart from his two marriages, it is reported that the billionaire fell in love with Nafisat Yar'Adua, daughter of the late President Umaru Musa Yar'Adua. But, she reportedly refused to marry Dangote because she was friends with his daughter.
Aliko Dangote's Children Are Also Into Business
All of Dangote's three daughters studied abroad, and they all own a stake in the Dangote Group. His daughter Mariya Dangote is a businesswoman and holds the position of top manager in the group.
Halima Dangote is the executive director at Dangote Industry Limited. A strong supporter of women empowerment, she is the President of the Board of the Africa Centre in New York, a board member of Endeavor Nigeria, and a Women Corporate Directors(WCD) member.
His youngest daughter Fatima is the founder of Cupcake Factory Lagos. In 2018, she married Jamil Abubakar, a pilot and the son of former Inspector General of Police.
Alike his daughters, Dangote's adopted son, Abdulrahman Fasasi, is also a successful businessman.
Aliko Dangote Says He Will Buy Arsenal Football Club
The billionaire is an avid and loyal supporter of Arsenal Football Club.
He has claimed year after year that he will take over the football club and even marked 2020 as the year he would follow through with his plan. He mentioned that he would take on football after finishing with the refinery project Dangote Refinery (It is expected to be one of the world's largest oil refineries once completed).
But, the plan, for now, is reportedly delayed due to Dangote's business priorities.