Maya Erskine And Michael Angarano Welcome Their First Child — A Look Into Their Relationship
It's a boy!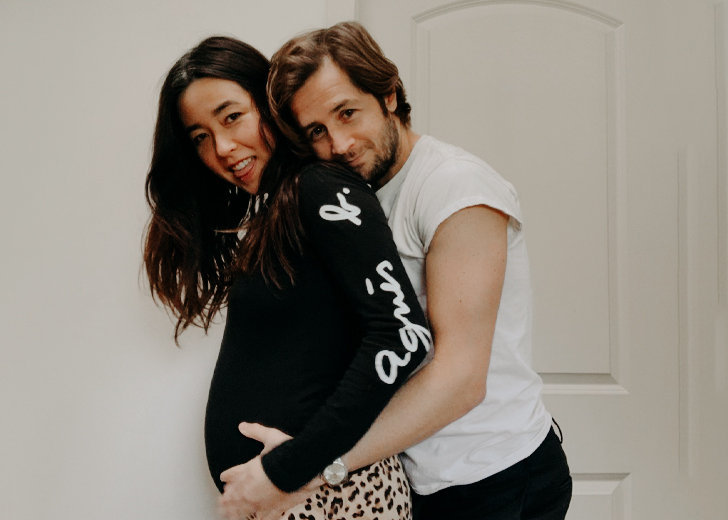 Maya Erskine and Michael Angarano are parents! They welcomed their first child together, a son named Leon Frederick.
The This Is Us star announced in November that the PEN15 actress was pregnant with their first child. "And then there were three," the actor wrote in the caption on an Instagram photo of himself hugging Erskine's baby bump. "Also, we're engaged," he added. 
The actress posted a similar shot, modeling her pregnant belly in a black tee and animal-print leggings, while Angarano posed cheekily for the camera. "When two becomes three," she wrote before encouraging her followers to vote for the election.
Their comment section was flooded with congratulatory messages. This Is Us star pregnant co-star Mandy Moore wrote, "Yay!!!! Congrats, friend!!! So exciting!" while Pen15 co-creator and co-star Anna Konkle shared her support, writing, "I'm aunt anna, please?! Love you both so much. Can't wait to love u nugget. I already do."
Erskine and Her Pregnancy Journey
Erskine opened up about her pregnancy journey in a joint Vogue interview with her co-star Konkle who was also pregnant with her fiancé Alex Anfanger's baby. The longtime friends were ultimate BFF Goals with their overlapping pregnancies.
She told the outlet that she found out about her pregnancy in late July last year at Angarano's parents' house and told Konkle in August once she went to the doctor and confirmed it. According to her, announcing the news to her friends was really dramatic. 
Both women continued working through the end of 2020 but were grateful for the much-needed break they got when plans to go immediately into the production of season 3 of Pen15 were dashed because of covid. Erskine touched on how she spent quarantine sharing she thrived in the beginning, keeping herself preoccupied doing all kinds of activities. 
In the beginning, I was thriving—But now I'm lucky if I don't do takeout 5 days in a row watching 90 Day Fiancé, physically rolling from point A to point B. Point A is usually my couch, and point B is the freezer where I retrieve my ice cream.
Shortly after the interview aired, Erskine gave birth. 
Erskine and Angarano Were Instagram Official In 2019
Although It is unclear when exactly the actors started dating, their romance became Instagram official in September 2019 when Angarano shared their picture on his account. "Ohhh look who it is sitting right behind me completely randomly at an awards show in which we were both nominated who I also happen to be in love with 😭❤️💨," he wrote. 
They were at the Emmy Awards, where they were both nominated. Angarano won Outstanding Guest Actor in a drama for playing Nick Pearson in This Is Us, while Erskine was recognized for Outstanding Writing For a Comedy Series for PEN15.
After their Instagram relationship debut, Angarano frequently gave fans glimpses of their love life. He even appeared on the second season of Pen15 as the play director and wrote a lovey-dovey message on Instagram about it and Maya.