Power Couple Luiza Barros and Captain Jimmy Nelson's Marriage Fortified by Common Fishing Passion
Luiza Barros and her husband Jimmy Nelson's married life is filled with thrills from their fishing adventure.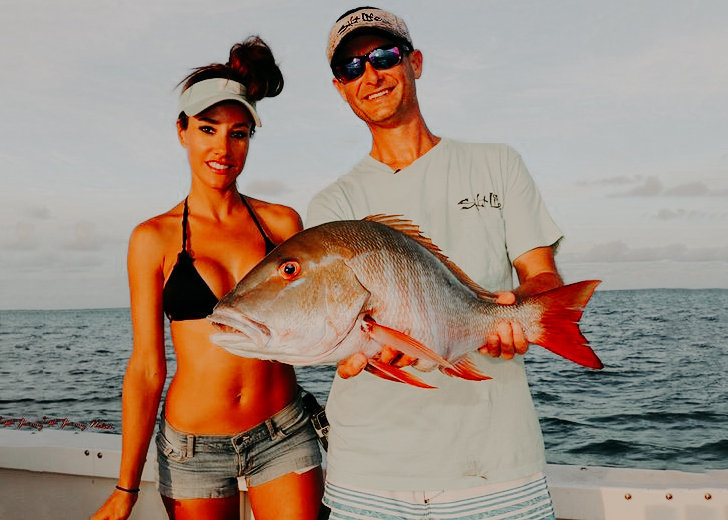 With all the heavy fishes they catch every day, it seems fair that Luiza Barros and her partner, Captain Jimmy Nelson, use the 'power couple' hashtag in every picture they share on their Instagram handles.
The angler couple is relishing their marriage on and off the boat with the common passion for fishing. 
Together since the Early 2010s
Barros and her husband have never disclosed since when they began dating, but going by the fish catcher's social media handle, the duo has been together from as far as 2014. The fisherwoman had uploaded her first picture with Captain Nelson back in February 2014. 
Since then, she has consistently posted pictures with him while mentioning him as her man and life partner.
The regular uploads, however, are void of the couple's wedding date and details. So much so, their marriage could only be confirmed when Nelson Instagrammed a picture with her on April 3, 2021, and referred to her as his beautiful wife. 
Barros Says Common Interest Fortifies Relationship
Barros shed light on her relationship with her husband during an exclusive interview with the Boating World on November 16, 2017.
She claimed she had a healthy bond with her partner. Saying her partner was very supportive, she stated it was a blessing to fish and live with the Captain.
When the interviewer asked if fishing helped couples, she said yes and affirmed that having a common interest allowed a pair to have extra time to communicate and strengthen the bond.
The spearfishing lady shared that when she and her partner are catching fish, they remain on the same page, which also translates to the times they are not fishing.
Her statement rings true when going through the couple's social media. They repeatedly and unhesitantly post pictures of each other and give glimpses of their happy marriage and wonderful fishing adventures. 
The Power Couple Travels Around the World
To catch different species of fishes, the fisher pair travels to different places in the world. Their fishing moments worldwide are often captured and featured on Barros' YouTube channel Fishing with Luiza. 
Besides, the adventures are telecasted in the Sportsman Channel's show titled Livin' the Dream with Captain Jimmy Nelson. The show started airing in January 2018. 
The pair have been to various exotic places like the Caribbean, Grand Cayman, Costa Rica, Florida, Bahamas, and Mexico and have done offshore, inshore fishing, lobstering, scalloping, spearfishing, and many more adventures.