Lucas Congdon Struggles To Find Work-Life Balance With Wife
The constant deadlines and traveling take away from Lucas Congdon's quality family time. So, what does he do? Well, he takes his family to work with him, of course! Together with his potter wife, master stonemason mother, and handy mechanic father-in-law, Lucas is well on his way to finding the right balance that he so rightly deserves.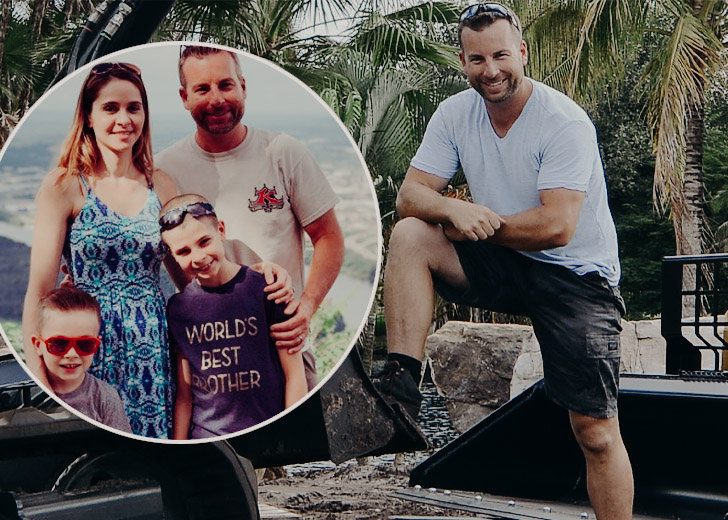 As one of the world's most-sought-after landscaping maestros, Lucas Congdon's hands are full, which has led him to a perennial struggle towards finding a proper work-life balance. The Award-winning outdoor designer is constantly at work landscaping backyards and pools. Add to this the pressure of running the reality TV show Lucas Lagoons, and the exterior designer hardly seems to find time for family.
But Lucas appears to have found a perfect remedy to address the issue. What is it, do you ask?
Well, the expert builder takes the entire family along for the ride. Together with his potter wife, master stonemason mother, and handy mechanic father-in-law, the reality star has been able to find the right equilibrium between career and personal life. 
Lucas Struggles To Find The Sweet Spot Between Work And Life
As it is apparent in the show Lucas Lagoons, Congdon is always hard at work tending to the task at hand without a moments' rest. 
In the entirety of the show's run, the Lucas Lagoons founder has created many fantastic showpieces from morphing drab backyards into a tropical escape to creating pools with cascading waterfalls. 
The celebrity designer has to accomplish all such magnificent feats with various clients in various places ​— all too with a tight deadline, which at times ruin personal plans with family and friends. 
During an interview with Sarasota Magazine, the genius pool maker talked about hurrying through breakfast with family because of a busy schedule.
However, Lucas makes sure to prepare breakfast for his wife and two young boys before heading off to start the show but ends up with no more than half an hour to have the quality breakfast time. Likewise, most of the time, the TV personality is either on the phone making deals or behind the steering wheel going places. 
Because of the reality show's requirements, a single cameraman is constantly tailing him and capturing every move. At the same time, other crew members and producers drop by during key points of the day. 
All in all, the landscaper starts work at eight in the morning and ends at six in the evening; after which, it's family time.

Lucas Congdon with Wife and Sons (photo: Sarasota)
The family lives on a two-and-a-half acre land, which the landscaper also turned into a beautiful Eden replete with sprawling pond, pool, waterfalls, and playing equipment for children. 
However, the time that Lucas spends with family is not enough, and he confessed to the magazine about finding it hard to strike the right balance between family time and business.
Lucas' Wife Galen Is A Potter, Blogger, And A Beauty Junkie
While Lucas Congdon's wife Galen can sometimes be seen in the show trending to housework and taking care of her two boys, she is not just a housewife. Much like the talented husband, Galen also has a flair for artistic pursuits.
Mrs. Congdon is a part-time potter who also runs a pottery blog. The self-proclaimed "beauty junkie" also makes time to run a small entrepreneurial venture, Little Fire Pottery—an online store selling hand-made pottery and customized dishes. 
The creative wife's hand-made creations can also be seen in the shop's Instagram profile, replete with wonderful designs and artwork. 
Despite being a talented artist, the pottery maker identifies as being a mom, first and foremost going by Twitter bio. Other than these, the mother of two is also involved in helping Lucas Lagoons in his work.
Lucas Involves His Family In the Business:
Lucas' mom Jane "Woman" Werley is also one of the main crew members at Lucas Lagoons Inc. Initially, she lived in Vermont with Senior Congdon but moved to Sarasota to work with her son. 
Jane is a master stonemason and is also regarded as the inspiration behind Lucas's stride to landscaping and outdoor design. 
Accompanying the Award-winning maker sometimes during work is also wife Galen. Being a potter, she undoubtedly provides valuable insights and expertise on the clay molding aspects of the landscaping work. The lovely partner provides expertise and gets to make decisions in Lucas Lagoons Inc. as the Vice President.
In addition to that, the landscaper's father-in-law Alain is also involved in the business in a rather significant role as the go-to mechanic. Alain was an aircraft mechanic and now helps out with the business by tending to all the equipment. As if that wasn't enough, the father-in-law also does babysitting work when both daughter and son-in-law aren't available. 
It sounds like Lucas has it all. A good family with whom the exterior artificer not only shares relations but also a passion for the business. We can't see what he is complaining about!