Larry Fitzgerald had a couple of controversial relationships
The star wide receiver, Larry Fitzgerald of Arizona Cardinals has been involved with two women publically, both being the mother of his child. Both relationships have seen their fair share of controversies.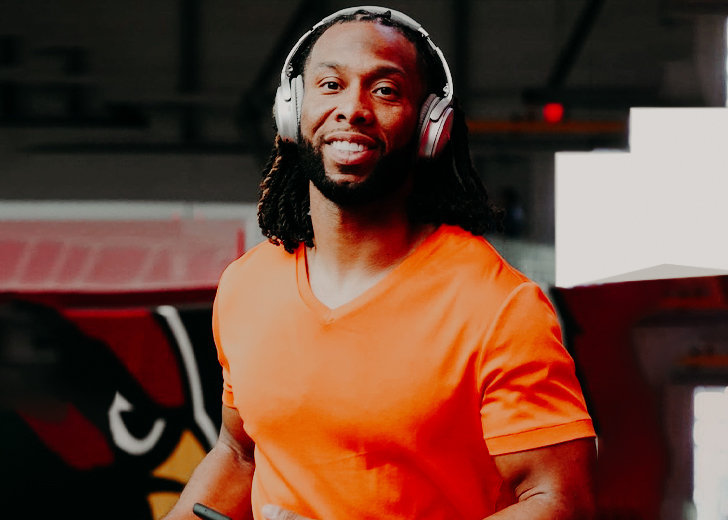 American Footballer Larry Fitzgerald's antics in the field as the wide receiver for Arizona Cardinals have enamored fans for a long time. But the star athlete's life off-the-field has been equally intriguing, particularly the details concerning his love life.
The NFL player was once involved in a rather controversial relationship with a former Raiderette cheerleader, Angela Nazario. The relationship didn't end well, which further culminated in domestic violence and paternal lawsuit. His more recent relationship with girlfriend Melissa Blakesley, with whom he has a child, is also a bit murky, with their present status unclear. 
Read on to know more about Fitzgerald's rocky relationships!
Fitzerald Was Accused of Domestic Violence
The footballer has been into plenty of trouble with his ex-girlfriend Nazario, who is also his first son's mother. The news of them having a kid together hit the tabloids in a terrible light when the cheerleader filed a parental suit against Fitzgerald, asking for child support.
They were not in a relationship even during the pregnancy and after the birth of their child, Devin. Later, the couple gained highlights again when the footballer was accused of domestic violence. The couple finally called it off in 2008.
TMZ had even run a story alleging the Phoenix-based athlete of physically abusing the mother of his child. However, as Washington Post points out, the issue was swept under the rugs, and since the debacle, Fitzgerald has gone on to add several achievements to his sports repertoire. 
While it's unclear what the lawsuit's repercussions were, the footballer aims to be a good father to his son, Devin. 
In a segment with FanNation, the NFL legend talked about taking an honest approach to raising his 12-year-old son. 
He's curious. I take the honest approach; I never try to sugarcoat or downplay anything. I just tell him exactly what I see, how I perceive it and I let him kind of digest it the way he wants to. I think the better he's equipped at a young age to be able to see things the way they are, but also to understand that things can be different and need to be different will help him in the conversations that he has with his friends.
Moreover, in the same interview, the proud father revealed going to the Black Lives Matter rally and participating against police brutality following George Floyd's unfortunate murder with his son, Devine. 
When we got back home (to Minneapolis), he was like, 'Dad, I really want to go to the protest.' I was really moved about that, so we went to downtown Minneapolis and participated. I was really proud of him and his views.
He also Has a Child with Girlfriend Melissa
Not long after his tragic breakup, the star NFL player started dating Melissa Blakesley.
It is stated that the two began their relationship back in 2010. Things looked pretty good between the two as Melissa often shared photos of the two with heartwarming captions. 
On April 23, 2013, the couple also welcomed their son, Apollo Fitzgerald. But don't be mistaken, because they weren't and still aren't husband and wife despite being parents. 
Aside from Apollo, the beautiful Blakesley also has another son named Darion Dylan Blakesley from her previous relationship. Perhaps this is why Fitzgerald has referred himself to be the father of three in his official website, counting Darion. However, this is only mere speculation on our part.
His Relationship With Blakesley Is Rocky 
Fitzerald and Blakesley have known each other since 2010. However, their relationship has been a talk because of their on-and-off fling. 
On February 14, 2020, Valentines Day screenshots from Blakesley's Instagram story surfaced, where she explicitly called boyfriend Fitzerald toxic. 
In reply, the footballer wrote to his lover, and in those messages, it is clear that he was trying to win back his girlfriend. The NFL star also shared his eagerness to marry her in those texts. 

Larry Fitzgerald's ex-girlfriend shares a screenshot of their messages on her Instagram story. (Source: Sportgossip)
Also, note that Blakesley hasn't shared a photo of them together since February 2019. While both the parties haven't confirmed anything regarding separation, we can't go around making assumptions. 
Fitzgerald Runs a Charity
Apart from his romantic indulgence and his career, the famous wide receiver has a different side. According to his official website, the star footballer identifies himself as an entrepreneur and philanthropist for being involved in charity works and mentoring programs.
After losing his mother to breast cancer, the Arizona Cardinal player has been very active in charity works. He founded the Larry Fitzgerald foundation to honor his mother's death. 
The 37-year-old also provides grants that promote reading and technology literacy to K-12 youth through the Larry Fitzgerald First Down Fund. His other charity work focuses on breast cancer research and support.
The NFL player also takes pride in mentoring young footballers. 
He has been running the Larry Fitzgerald youth football pro-camp annually for over 7 years now. The footballer actively posts pictures of his pro camp on his Instagram handle.