Lamar Jackson Taught Girlfriend Jaime Taylor How to Handle Criticism — A Look into His Dating Life
Lamar Jackson prefers to keep his relationship out of the spotlight; here's what we know.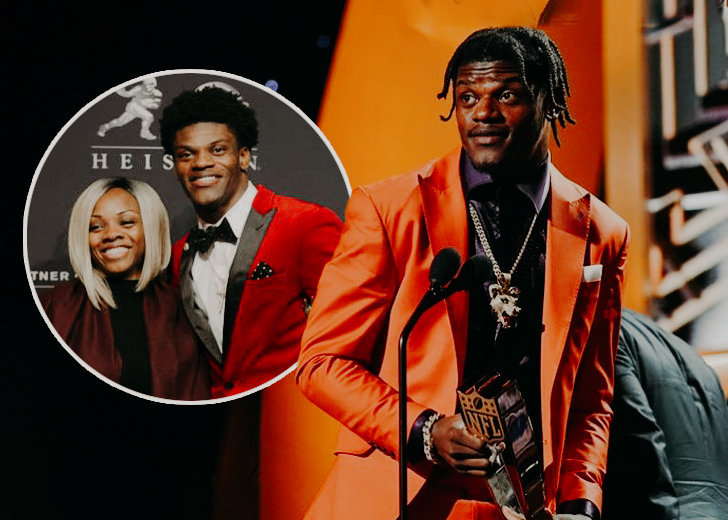 Lamar Jackson likes to keep his personal life, especially his relationship with his girlfriend Jaime Taylor, away from the spotlight. Photos and reports on any couple sightings are rare, and Jackson seldom mentions her in interviews.
The couple reportedly met during Jackson's last days at Louisville and have been together for four years since then.
Just before the start of Jackson's second NFL season in 2019, the NFL star's girlfriend went on the record with the Ravens team website to provide insight on her boyfriend rather than details about them dating. She mentioned that he had been a good influence on her.
The 24-year-old has received plenty of criticism in the national sports limelight. Some people have even called him a "running back" pretending to be a quarterback. Despite his incredible career, he almost let the criticism get to him — almost. 
But somehow, despite everything, Jackson manages to stay positive and keep other people around him positive too. In an extensive profile about him on the Ravens official website, Clifton Brown talks to Taylor about how he handles everything coming his way.
Taylor is ever so awed at Jackson's consistently upbeat perspective. She let us in on how he never let the noise get to him and define how he felt about himself.
"He's taught me how to handle criticism," Taylor said in the exclusive interview.
She said that she used to get mad when she would read mean comments or remarks. But then she would look at her unbothered boyfriend and try to follow suit.
Taylor shared the piece of advice from the NFL star that we ought to let others do the talking. We are not obligated to say anything; we just need to show them.
Even though the Baltimore Ravens quarterback prefers to keep his personal life out of the limelight, that doesn't stop his fans from wanting details.
Despite Jackson using his social media mostly for promotion, there are clues about his love life slowly unfolding in the public eye.
For example, Taylor has a geeky tendency that has affected Jackson. In 2019, he appeared in a candid picture dressed as Harry Potter for Halloween. 
Jackson revealed that he dressed up as 'The Boy Who Lived' in a press conference. He thought it was "pretty cool." 
Evidently, Taylor wanted to do a Harry Potter theme which Jackson agreed to. He had a little coat on, and he felt like he was back at the wizard's place. Although he enjoyed the dress-up, he wouldn't call himself a fan.
The 2019 MVP winner admitted to watching a few movies, but since they're pretty long, he tends to get sleepy.
"I'll be watching it for like a good hour then I fall asleep." he professed at the conference.
Jackson may not be a die-hard fan, but at least we know that he's a supportive boyfriend.