Kristina Wandzilak Tragic Past — From Husband's Suicide and Drug Addiction to Rape Trauma
Drug and substance use interventionist Kristina Wandzilak has had her fair share of dark times.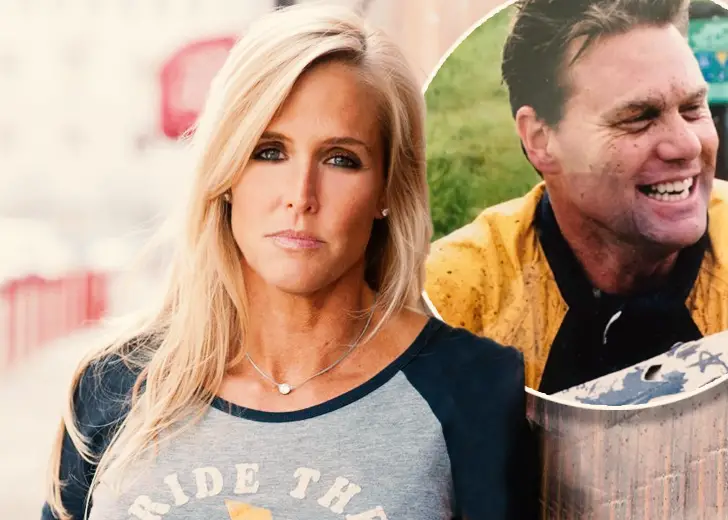 Kristina Wandzilac is a successful substance use interventionist specializing in family rehabilitation. Sober since 1993, she has helped thousands of people get over their addictions and lead a normal and drug-free lifestyle through her organization called Full Circle Intervention.
However, her success comes from her horrific experiences in life which contributed to her becoming what she is today.
In this piece, we discuss the dark side of her drug-addiction; the death of her husband; and how all those experiences have inspired her through the years.
Wandzilac was Raped When She was Struggling with Drug Addiction

Kristina Wandzilac on the set of Good Morning America (Source: Kristina Wandzilac's Instagram)
Kristina Wandzilac has had an intense struggle with drug addiction. She had her first drink at 13 years of age, tried cocaine at age 15, and added methamphetamines to the mix when she was only 16. By the age of 18, she was fully addicted to drugs and alcohol.
It was then that her life started to take a wrong turn. Her mother kicked her out of the house in light of her addiction, advising her to clean up her act. "If I never see you alive again, I hope you know how much you are loved," Wandzilac's mother had told her when she was 18.
Homeless and addicted, she spent the next three years of her life chasing drugs doing "anything and everything to get high and stay high". More so, she held people at gunpoint, engaged in petty crime, prostitution, robbed people's homes, and even stole food in her pursuit of intoxication.
In an interview with ABC News, Wandzilac revealed that it was in those trying times that she was raped in an alley. She remembered, "I don't know how or when that happened, but it did, and it took me to my knees … I question it myself! Like, how did I slip from a million-dollar neighborhood to this?"
She went on to describe the feeling of darkness she felt after she was assaulted. "The darkest time I think I had, was when I was raped in an alley. And I was left there … Nowhere to wash myself, no warmth, nowhere to go. That was, bar none, the loneliest and emptiest, painful time of my life," she added.
It was after that incident she went into rehab and battled her drug addiction. She gradually put herself through college and made amends with her family.
Husband's Tragic Suicide
John Michael Wandzilac came into Kristina's life as a husband. Together, they gave birth to two children: Sebastian and Savannah.
However, Kristina's happiness soon turned into tragedy as John ended his life in 2012, leaving two young children in the care of Kristina.
In one of her Instagram posts on April 30, 2017, Kristina spoke about the death of her husband and how she got out of such a big loss.
Similar to her mother, Savannah (Kristina's daughter) wrote about her struggles after losing her father in a heartfelt letter, published on Kristina's official website.
Savannah wrote,
"Suicide is a crazy thing to wrap your head around. It makes no sense. No one knew how much my dad was suffering. On the outside, he seemed happy... No one would have guessed that on the inside was a deep dark secret of depression and twisted thoughts that took him over."
This was a letter to all the children of parents who lost the war with their mental health issues.
Even after what she has been through, Kristina Wandzilac has continued to power on, with her two beautiful children and the new addition to her family, a gorgeous granddaughter.
Taking these events as inspiration, she has developed her own method of intervention for people going through drug addiction.
She helps people addicted to drugs and alcohol by involving their families and help them through self-realization eventually giving way to treatment.
Kristina Wandzilak Remarried Roy Giorgi
Kristina Wandzilak and Roy Giorgi were engaged in May 2018. In a post from back then, Wandzilak iterated that Roy brought a sense of family to their lives.
They got married after nearly two years in February 2020. The wedding was held in California.
On June 1, 2021, Wandzilak took to Instagram to express her gratitude to all the veterans for their service.
Her husband is a US Marine and her father and grandfather served the country as well. 
In May 2021, she celebrated her 50th birthday with a heartfelt post on her Instagram. The picture framed Giorgi and Wandzilak embraced in a slow dance posture, gazing into each other's eyes with love. 
Despite the many hardships she has had to overcome in her life, Wandzilak still finds time to look at the silver lining and push through headfirst.
She is surrounded by a loving husband, wonderful children, and supportive family and friends in her endeavor to be the best substance use interventionist out there.