Who Is Korean Actor Kim Soo-Hyun Dating? Once Revealed His Ideal Girlfriend
Although Kim Soo-Hyun has never publicly been dating anyone, he has been seen with women in the past. He even discussed his ideal girlfriend.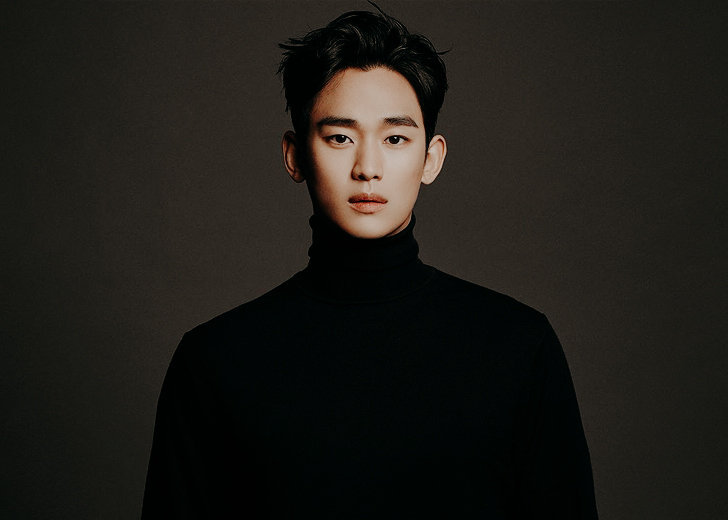 The South-Korean Actor Kim Soo-Hyun seems to be as romantic in real life as he is in reel life. 
Although Soo-Hyun has never publicly accepted being romantically involved with any woman in real life, he has undoubtedly been seen with quite a few women in the past. Moreover, he does seem to have a good idea of the kind of woman he would date. 
Kim Soo-Hyun's Latest Rumored Girlfriend 
Soo-Hyun made his comeback with It's Okay To Be Not Okay with Seo Ye-Ji in 2020. Due to the intense chemistry, rumors started flying around that the reel-life couple was dating in real life.
In addition to that, the Korean outlet Zapzee reported that Soo-Hyun and his girlfriend Ye-Ji were dating at one point; however, they were not together by the end of 2020. The outlet also added that the girlfriend went on to date Soo-Hyun's cousin, director Lee-Lo Ve.
Moreover, the fact that even off-screen Soo-Hyun and Ye-Ji look very comfortable around each other added fuel to the rumor. 

Kim Soo-Hyun with Seo Ye-Ji at the premiere of 'It's Okay To Not Be Okay' in 2020
Not only that, during an interview with the Her World magazine in June 2020, both of them were all praises for each other. They admitted that they had been comfortable around each other since they first started shooting the show— and that sense of comfort was the reason behind their intense chemistry.
The rumors of their relationship, however, didn't seem to have impacted their friendship. The actress even took to Instagram on February 15, 2021, to wish Soo-Hyun a happy birthday. She posted an adorable picture of them while writing, "Happy Birthday @soohyun_k216," in the caption.
Kim Soo-Hyun's Alleged Girlfriends from the Past
Before Ye-Ji, Soo-Hyun was rumored to be in a relationship with IU. Even though the duo had first met in 2011 when they were shooting for Dream High, they only got closer when they were cast as a couple in the drama The Producer in 2015.
They have been very supportive of each other since then. For instance, IU asked him to be the model for one of her music videos in 2017 and a cameo in the drama Hotel del Luna in 2019. All that being said, they have always maintained that the relationship is only of friendship and nothing more. 
Likewise, the Dream High star was also rumored to have dated Ahn So-hee, a former 'Wonder Girls' member. The rumor first emerged in 2015 when they allegedly had been dating for a year.
According to one of So-hee's neighbors, Soo-Hyun would often visit her apartment and even recommended her his agency when she wanted to pursue a career in acting. 
In fact, when rumors of them planning to get married came out, KeyEast Entertainment, the agency that managed both the celebrities, had to release an official statement denying the dating rumors. 

Kim Soo-Hyun with Ahn So-Hee. (Source: HanCinema)
Another name on the list of women Soo-Hyun has allegedly dated was that of Nana, who rose to fame with After School. However, she too denied dating Soo-Hyun and clarified that since she had previously mentioned his name as her ideal type, people had mistakenly considered it to be something more.
Back when Soo-Hyun was shooting for Dream High, he was particularly close to one of his female co-stars Suzy. The rumors started circulating a couple of years after the show ended. However, Suzy denied the rumors and clarified that they were only friends. 
Soo-Hyun also allegedly dated Yoona for about a year around 2012-2013, but neither of them spoke of these rumors. 
Kim Soo-Hyun Talks About the Woman He Would Date
While he doesn't want the world to know if he does have a girlfriend, he did once reveal what his ideal girlfriend would be like. Even though it was a joke, and long before he became a world-famous actor, he wrote a post online about his future girlfriend. 
In the post, he described certain qualities that his ideal girlfriend should have to be more compatible with him. Let's have a look at a few sentences from that post:
You have to be sad because of me, want to die because of me, and feel regret because of me. You have to think about me no matter who you look at, and most importantly, you can't be suspicious of me. You can't meddle in my life either, because that's annoying. But when I need you, you always have to be there. I lack affection in my life.
"You also have to be quick-witted because I have a hot temper. And if you try to teach me, you're dead. Oh yeah… and buy me medicine. I get sick frequently. I have an irregular heartbeat, too. I need surgery. Okay, now try to love me. If you can't, just give up. So that I can ball my eyes out," the post further read.
Additionally, in an interview with E! News, when he was asked the kind of present he would give to his girlfriend, he answered that he would be the present.