'Succession' Star Kieran Culkin and Wife Jazz Are Expecting Second Baby
After celebrating their first daughter's 18-month milestone in March, Kieran Culkin and Wife Jazz Are making room for baby number two.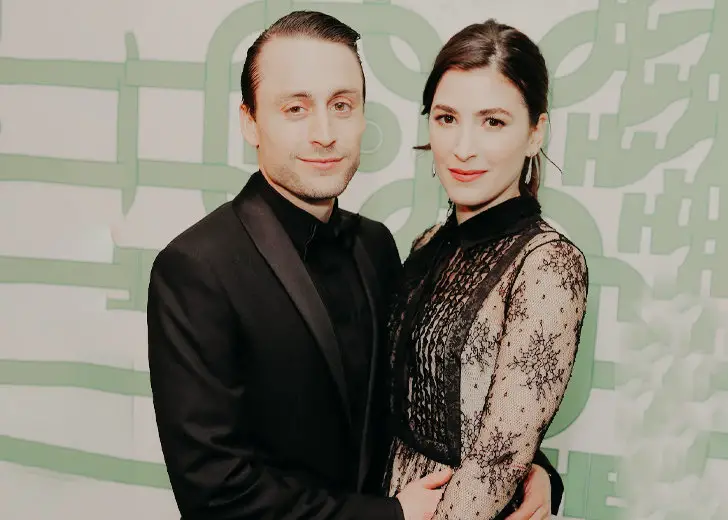 Kieran Culkin is expecting baby number two with his wife of seven years, Jazz Charton.
May 20, 2021, was a dual celebration for the couple's fans as they announced the joyous news on what just so happened to be Charton's 34th birthday. 
The mother-of-one took to Instagram to share a couple of snaps of herself and her 20-month-old daughter, Kinsey Sioux.
Celebrations Are in Order
The photos captured the mother-daughter duo traversing the city streets while flaunting matching dresses and sneakers.
Culkin donned a black flowing dress with floral motifs while her daughter looked cute in a black spring dress with heavily laid out floral patterns.
The caption simply read, "34," followed by a cake emoji and a chick hatching emoji, letting fans know that it was her birthday. 
The mini-photoshoot celebrated more than just Culkin's birthday as her pronounced baby bump was clearly visible in the photos. 
Becoming a First-Time Mother
Culkin and Charton had their first baby on September 13, 2019. The then-new mother took to her Instagram a week after the birth of their daughter to share her joy with the world. 
On September 19, 2019, Charton shared a snap of herself holding her baby daughter close to her heart, and in the caption, she chronicled the day she became a mother. 
Culkin had to go through a 25-hour long labor at home before they arrived at the hospital, and by the time they did, it was already too late for any pain meds. 
She was already dilated and ready to push. Within an hour of arriving at the hospital, she welcomed her beautiful baby girl into the world. 
Also in the caption, she wrote, "If I ever do this again I want ALL THE DRUGS, all of them!"
Her Daughter's 18-Month Milestone
She has kept her followers in the loop since. Culkin also celebrated her daughter hitting the 18-month mark back in March with a special Instagram post.
Apart from the obviously adorable mother-daughter photo, the post featured a caption that only a new parent could write. The caption began with her celebrating 18 months with the greatest love she'd ever known. She wrote: 
And the greatest appreciation for how much I took sleep, napping, reading, watching a movie in one sitting, eating hot food, being bored, day drinking and not breastfeeding a blood thirsty toddler for granted.
A Recent Addition To The Culkins
The little one on the way is not the only recent addition to the Culkin family, though. 
Keiran's elder brother, Macaulay Culkin, welcomed his first child in April with his partner Brenda Song. The couple has named their baby boy Dakota Song Culkin after the late Culkin sister, who died in a car accident in 2008. 
Keiran and Macaulay have six other siblings.