Is Kevin Schiele Married To His Fiancee? Details About Personal & Professional Life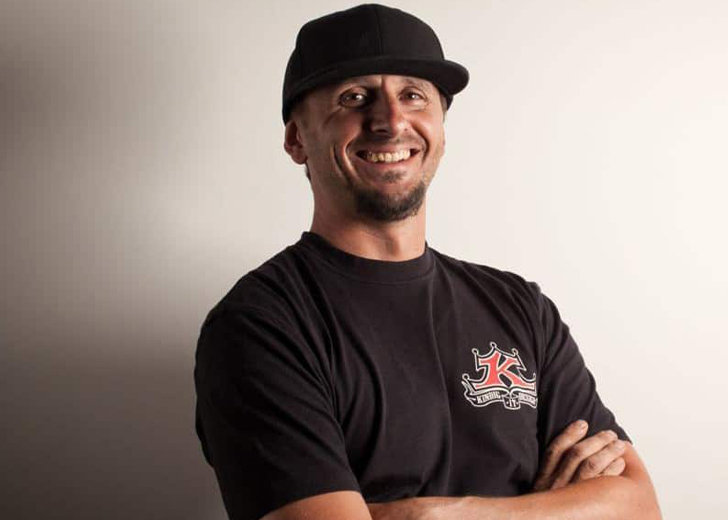 Bitchin' Rides shop foreman Kevin Schiele got engaged to a lady named Melanie on the eve of November 1, 2018.
It has been years since Schiele made the big move to make his girlfriend his wife. So are the television personality and his fiancée married now?
Below find information related to Schiele's personal life and also career!
Kevin Schiele's Engagement with Girlfriend
Schiele got engaged to his girlfriend in November 2018. But, he didn't announce the news himself. His boss and best friend Dave Kindig, whose wife is the famous Charity Kindig, announced the engagement.
Kindig took to Facebook to congratulate the newly engaged couple a day after the celebration on November 1, 2018. 
He posted a picture where he and his wife drank a toast with Schiele and his to-be wife.
"I would like to congratulate my BEST friends Kevin and Melanie on their recent engagement!" he wrote in the caption. He also revealed that the duo had gotten engaged at The SEMA Show. 

Kevin Schiele (left) and Melanie (second from left) with Dave Kindig and his wife, Charity Kindig. (Photo: Dave Kindig/ Facebook)
Although his friend made the announcement, Schiele did not share any information about his engagement or girlfriend. 
Kevin Schiele's Fiancee Was Close to Best Friend's Wife
Not much is known about Melanie except that she and Schiele shared the rings at The SEMA Show.
Nevertheless, she seemed to be close to his friend's wife, Charity. That is because Melanie was often pictured together with the two of them.
In May 2019, the four went on a double date at the Old Mill Golf Course. Just a year before, they had traveled together to Sacramento.
Schiele Is Vocal about Friends, but Fiancee?
A glance into Schiele's Instagram account clarifies that he prefers to go out with his friends, especially boys, and have fun.
For instance, the shop foreman celebrated 2020 Thanksgiving with his friends while sitting around the bonfire.
He even posted a picture of the moment on his Instagram on November 27, 2020, and wrote: "Happy thanksgiving!!!!! Hope it's as good as it can be."
In another similar occurrence, Schiele spent quality time with his friends on Labor Day in Lake Havasu. He posted his holiday pictures on Instagram, where he even posed shirtless. In the caption, he wrote, 
Always a amazing time in Havasu, Labor Day was lit can't wait to get back and see all of my friends...to many photos to share.
While Schiele is vocal about how he celebrates his holidays with friends, he is tight-lipped regarding mentioning his partner in his social media posts.
Has Kevin Schiele Married Melanie?
Well, since before and after the engagement, Schiele has not publicly talked about his fiancée or his relationship status to date. It is only known that they started dating at least in late 2015. 
But it is still unclear whether he has married his fiancée or is relishing his relationship as an engaged person.
On the other side of the story, it can also be possible that they might have separated some time ago.
However, conclusions can't be made through assumptions until an official confirmation comes from either Schiele or his allies.
Was Kevin Schiele on Gas Monkey Garage?
Schiele presently works at an auto restoration service, Kindig-it Design, as a shop foreman and mother trucker. He has been working there since 2004 and runs the institute's 27,000 sq ft shop.
According to Kindig-it Design's official website, he holds an unparalleled passion for motor designing and specializes in chassis and suspension.
He has personally built four over-the-top custom sports trucks. The site also reports that he is a proud member of the club Severed Ties Truck Club, the Salt Lake Chapter.
Besides that, the Utah native has appeared on the shows such as Bitchin' Boot Camp and Bitchin' Rides, where he has shown his skills as an experienced shop foreman.
However, he has never been on Fast N' Loud, a show that filmed the endeavors from The Gas Monkey Garage. He has also never mentioned being part of the Gas Monkey crew.