Coach Katie Sowers' Girlfriend is a Yoga Teacher ━ Know More about the Lesbian Pair's Love Life
American sports personality Katie Sowers has been dating Cara, a yoga teacher, since 2019.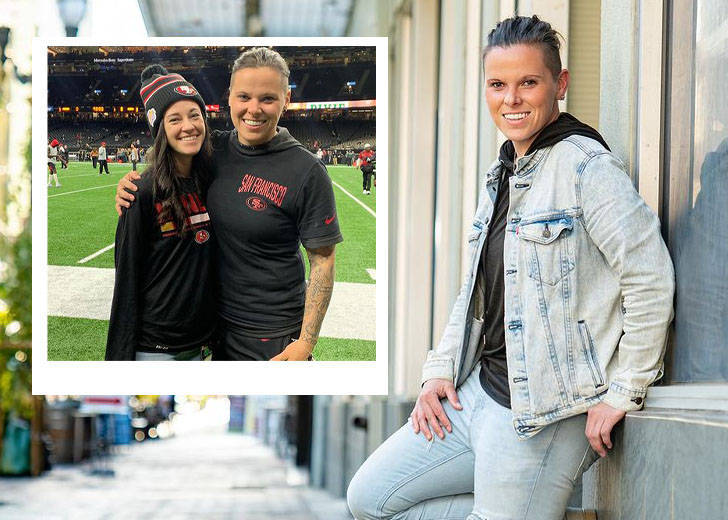 The first openly LGBTQ+ coach in the NFL, Katie Sowers, officially came out as a lesbian in August 2017. Currently, she is dating a yoga teacher, Cara. 
Sowers And Her Girlfriend, Cara 
The NFL Coach and the yoga teacher have been dating since 2019 before Cara officially came out.
In September 2019, after Cara officially came out, Sowers posted a handwritten note from Cara's grandmother on Instagram and Twitter. 
In the letter, Cara's grandmother accepted the yoga teacher for who she was and encouraged her to be a good and happy person. Her grandmother had also shown interest in meeting Sowers —  saying that she sounds like a wonderful person.
The coach shared the happiness of acceptance and unconditional love with the world and reminded them that this was everything one should want for their children and grandchildren. 
Since then, Sowers has been posting pictures of her partner and sharing their love with the world. 
The American sports personality has always proclaimed her love to her girl. She called Cara her support system and a blessing. 
Cara is a yoga teacher and has her own studio —   Ahimsa Yoga, in Weston, Missouri. She frequently posts about her classes and journey on Instagram. 
Sowers' Coming Out Journey
The coach came out publicly as a lesbian in an interview with Outsports in 2017. When asked about her step, she gave her insight into the struggles faced by the LGBTQ+ community. 
She claimed that many people in the NFL identified themselves as a part of the LGBTQ+ community. Still, they do not come out since they are not comfortable being public about their sexual orientation. She said that one of the most important things to do is to be true to oneself, and that could only happen if an environment to welcome all types of people is created.
The more we can create an environment that welcomes all types of people, no matter their race, gender, sexual orientation, religion, the more we can help ease the pain and burden that many carry every day.
Being public about her sexual orientation made Sowers the first openly LGBTQ+ coach, not just in the NFL but the history of male pro-team sports.