Justin Hartley and Sofia Pernas Are Married, Made Red Carpet Debut with Wedding Rings
Justin Hartley and his girlfriend Sofia Pernas' marriage got confirmed soon after the pair made their red carpet debut with wedding rings.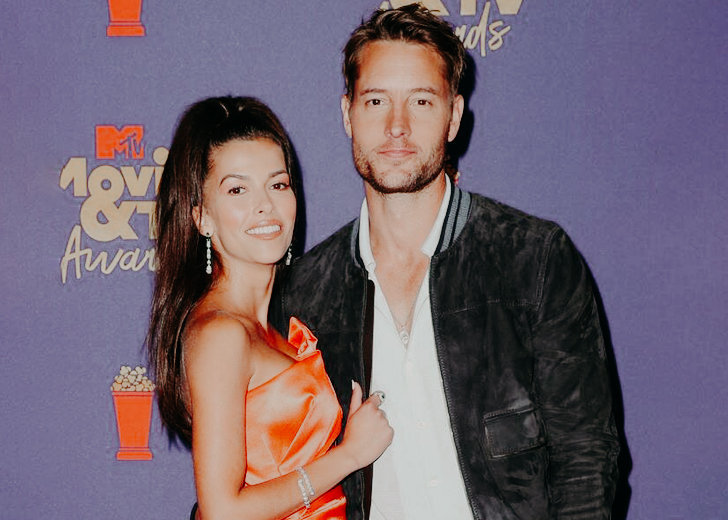 Justin Hartley and girlfriend Sofia Pernas have officially tied the knot!
The pair sparked marriage speculation in early May 2021, when they were spotted with bands at the beach in Malibu.
The speculation fortified as they made a red carpet debut at the 2021 MTV Movie & TV Awards on May 16, 2021. Hartley donned a light blue shirt and dark blue pants paired with a suede jacket, while Sofia was clad in an orange gown.
But what really caught everyone's attention was not just their looks but the matching wedding rings.
Right after the event, a source close to the pair confirmed their marriage, saying they "recently" tied the knot. 
The Young and The Restless co-stars were rumored to be dating since May 2020 and went Instagram official on 2020 New Year's Eve. Hartley shared a black-and-white picture of him and Pernas to mark the occassion.
Likewise, Pernas shared a selfie of her and Hartley, saying goodbye to 2020. She wrote, "Sayonara 2020, it's been real. Happy New Year from our quarantine den to yours."
The two first met in 2015 when Pernas joined The Young and The Restless as Marisa Sierras, the girlfriend of Adam's (Hartley's character) nephew. They remained friends even after their time on the series and often interacted online by liking each other's posts.
After Hartley filed for divorce with his wife Chriselle Stause towards the end of 2019, he was spotted kissing Pernas in May 2020 as she dropped him off at a doctor's appointment in Southern California. Soon, the duo started dating.
Hartley Was Previously Married To Chriselle Stause
Before hitting it off with Pernas, Hartley was married to Selling Sunset star Chriselle Stause. The two began dating in 2014 and tied the knot in 2017. It later came to light that the married couple had communication issues and were in therapy. 
Hartley filed for divorce on November 22, 2019, where he listed their date of separation as July 8, 2019. Their divorce was finalized in January 2021.
Stause opened up about her split with her husband of roughly four years in her Netflix reality series, comparing the experience to being knocked over by a wave and not knowing where to go.
I'm trying to keep it together. It's a lot at once because everyone in the whole world knows at the same time that I knew. I found out because he texted me that we were filed. Forty-five minutes later, the world knew.
Season 3 trailer of Selling Sunset also showed the exact moment when Stause and her fellow cast members learned of Hartley's divorce filing.
Hartley was reportedly unhappy with how open Stause was about their relationship in her reality show. There was reportedly more to their story than what was being shown in the series.
Before Stause, the Smallville actor was married to Lindsay Hartley from May 2004 to 2012. The pair has a daughter named Isabella Hartley (born July 3, 2004).