Is Julio Macias Married To Shannon Schotter? Everything We Know About Their Relationship
Julio Macias is pretty private about his personal life.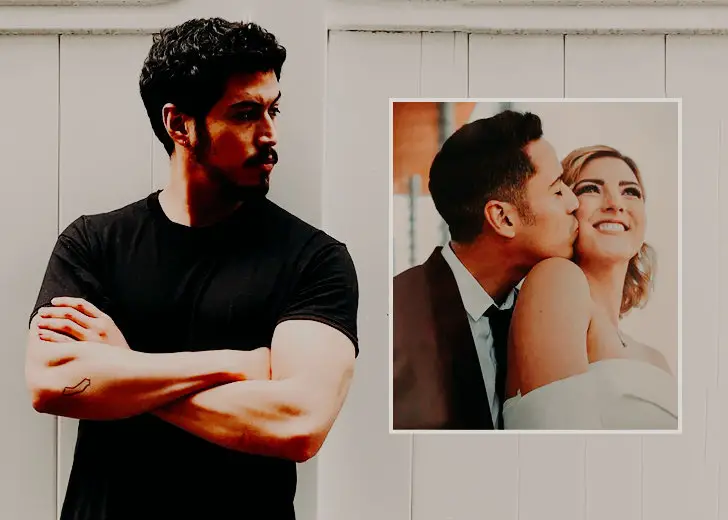 SPOILER WARNING: Plot and ending details for On My Block follow
Julio Macias has been around for a decade. His major break came in 2018 when he was cast as the tatted gang leader Oscar 'Spooky' Diaz in the Netflix series On My Block. He is the older brother of Cesar Diaz, one of the show's protagonists.
But by season 3, Spooky found himself out of the gang life and with a girl and baby on the way, while Cesar, who was kicked out from home because he refused to follow in his brother's footsteps, became the new head of the Santos gang.
The show quickly became a hit and catapulted Macias into superstardom.
Even though On My Block is gearing up for its fourth and final season, Macias already has new gigs lined up. Keep reading to learn about what he's working on, including his marital life.
Is Julio Macias Married?
We all know that actors have to go through uncanny makeup transformations and Macias, who transformed into Spooky, looks nothing like the character he plays.
Without the massive neck and face tattoo, facial hair, and shaved head, one can barely recognize the actor behind the role.
When fans see Macias in his normal everyday appearance on Instagram, they often do double-takes. The actor keeps his account relatively professional with work photos and does not post much about his private life.

So does Julio Macias have a wife?
Although the actor has never talked about his personal life, he once mentioned that his wife grew up in Orange County in an interview with Hollywood Life.
Details on his marriage are scarce, but we know that he has been in a decade-long relationship with Shannon Schotter. 
Unlike Macias, his wife often shares photos with her husband from their dates, vacations, and trips. In 2015, Schotter celebrated their fourth anniversary on her Instagram, writing, "Every day I'm thankful for four years of adventures together!"
Schotter is a professionally trained makeup and FX artist, and hairstylist with a cosmetology license. With over 10 years of experience, Schotter's works as a freelance makeup artist include commercials, film, television, music videos, and web content.
Julio Macias as Pete Astudillo
Apart from having a wife that works in the same industry as him and claims to fame as Spooky, Macias is also well known for his portrayal as Selena Quintanilla's backup vocalist Pete Astudillo in Netflix's Selena: The Series. Netflix released season 2 of the series on May 4.
The Mexican-American actor has spoken about how his passions for music helped him relate to the band member of Selena's band, Los Dinos. During an interview with People, he said:
I write music, but I don't share it. I wasn't expecting to do so much dancing and I don't know if I can dance like Pete. 
Macias took it as a fun challenge and started hitting the gym to work on his two-step. The actor revealed that he practiced his cumbia while cooking and showering and waiting his turn at the grocery store to make it look natural because Astudillo was a terrific dancer.