Former NFL Tight End Jordan Cameron and Elin Nordegren Now Parents to Four Kids — inside Their Secretive Family Life
Legendary golf player Tiger Woods's ex-wife Elin Nordegren, and the NFL tight end Jordan Cameron became parents to their first child together on October 4, 2019.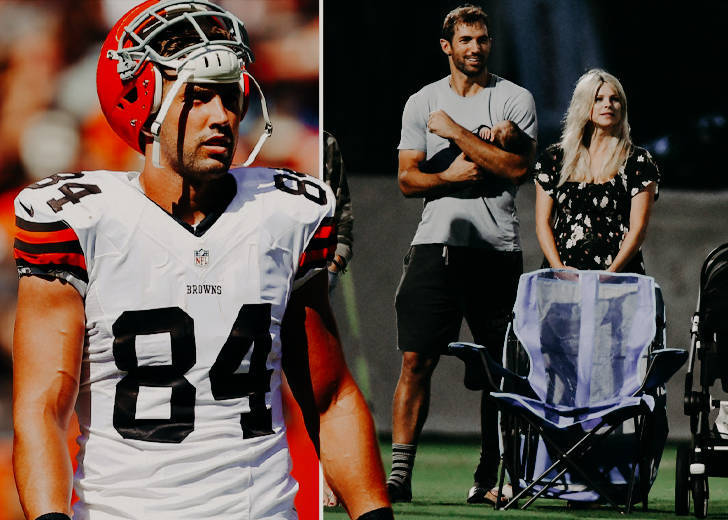 The ex-wife of legendary golf player Tiger Woods Elin Nordegren and the NFL tight end Jordan Cameron became parents to their first child together on October 4, 2019. Apart from that, the couple is proud parents to three children from their previous relationships.
Cameron and Nordegren Are Parents of Four Children
The former model and Cameron have named their son Arthur Nordegren Cameron. However, the infant was previously named Filip Nordegren Cameron before they filed the petition to change his name in December 2019.
Even though it's their first baby as a couple, Nordegren has two children – daughter Sam, 14, and son Charlie, 12, from her previous marriage with Woods.  Also, Cameron has a 12-year-old son, Tristan, from his past relationship.
The pregnancy news surfaced worldwide after the Nordegren was seen flaunting her baby bump for the first time in June 2019.  She wore a form-fitting black tank top and matching leggings and a baseball cap as she cheered her elder son, Charlie, at his flag football game with other parents on the field sidelines. At the time, the baby's father was kept a secret, but later it was revealed that the baby daddy was a former NFL player.
Nordegren and her boyfriend, Cameron, who is nine years younger than her, were then seen together at Charlie's soccer tournament in October 2019. The couple also brought along the newborn for the family outing. The baby mamma was seen wearing a black floral printed maxi dress and white sandals. The handsome athlete, on the other hand, held the baby as they chatted on the sidelines.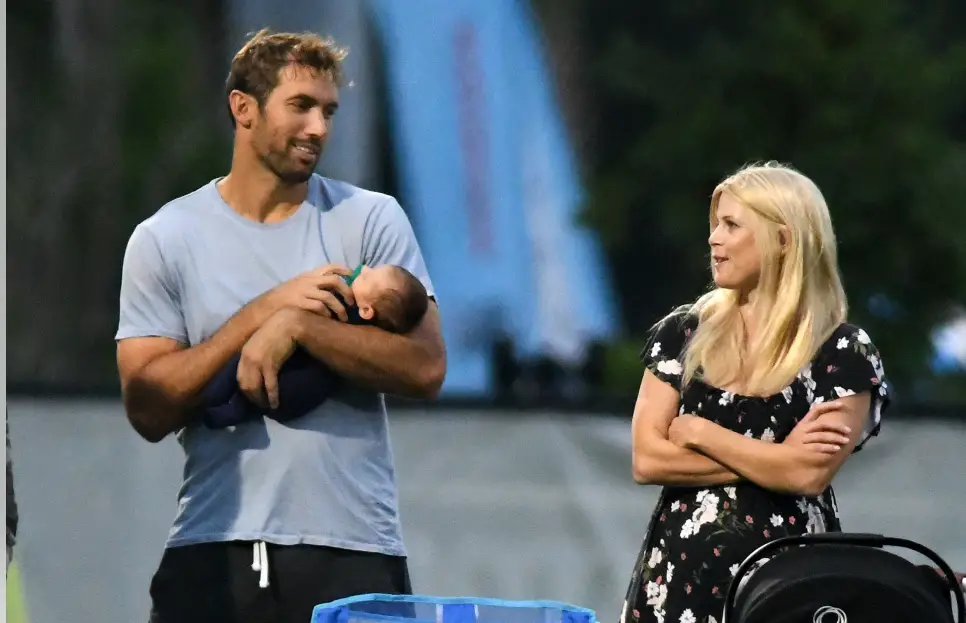 Elin Nordegren and  Jordan Cameron with baby Arthur (Source: The Sun)
According to Radar Online, the couple had been dating for over a year before they became parents to Arthur. The lovebirds met through mutual friends in Florida. 
Not only that, but it was also reported that the former Miami Dolphins player moved into Nordegren's West Palm Beach mansion. Nordegren, 41, bought the villa at $12.25 million after her $100 million divorce settlement with Woods in 2010.
Nordegren and Woods Are Now on Good Terms
Woods and his ex-spouse Nordegren were in a conjugal relationship for six years from 2004 to 2010. After becoming parents to two children, Sam and Charlie, eventually, the pair split after Woods' infidelities were discovered in 2009.
However, the ex-couple is now on good terms and shares the custody of their two children. In a 2016 interview with Jimmy Fallon, Woods referred to Nordegren as one of his best friends to whom he talked about different things, and she does the same. 
The two now communicate much better, and Woods wished they could have found that bond earlier on. Moreover, he revealed that both of them would do whatever it takes to keep their children happy.
We have Sam and we have Charlie. And we love them so much that we are going to do whatever it takes to make that work," Woods explained at the time. "[Elin has] been one of my best friends and I've talked to her about so many different things and she does the same thing with me back and forth. We communicate so much better now, it's incredible. I wish we would have done that earlier on.  
Nordegren dated billionaire Chris Cline before finding love with Cameron. The couple was on-and-off for a while before they officially broke up in 2014. Cline passed away in a terrible helicopter crash in Grand Cay in July 2019 at the age of 60.