Is 'Stranger Things' Star Joe Keery Still Dating Maika Monroe?
Joe Keery met his girlfriend on the sets of a comedy-drama film and the beautiful pair ended up falling in love.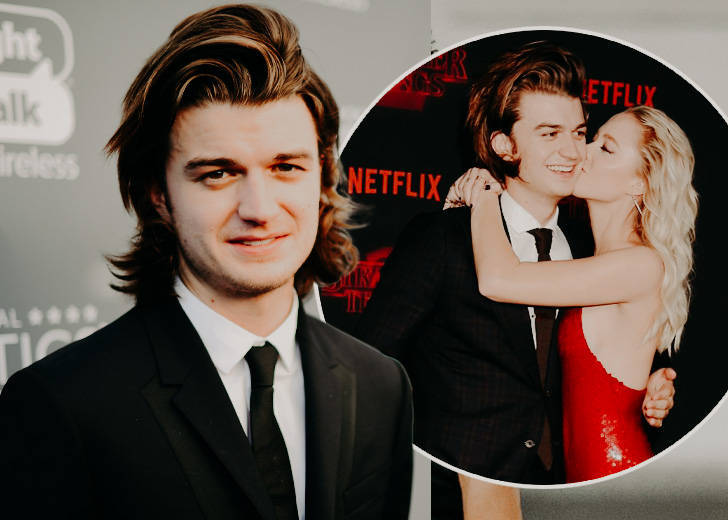 Joe Keery met his girlfriend Maika Monroe on the sets of a comedy-drama film, and even though they did not star opposite each other, the pair ended up falling in love.
Unlike Keery's character Steve Harrington on Netflix's Stranger Things, the actor seems to have a happy dating life. 
Relationship History With Girlfriend
Keery has been dating 27-year-old actress Monroe for almost four years now. The couple met on the set of their film After Everything in 2017.
The movie is based on a young couple's story where Monroe's character is trying to cope with her boyfriend's illness, whereas Keery plays the role of a friend to the couple. 
After four years of being together, the couple appears to be happy. In fact, Keery even brought his girlfriend to the season 3 premiere of Stranger Things. 

Joe Keery and Maika Monroe at the premiere of Stranger Things season 3 (Source: Popsugar)
Joe Keery and Maika Monroe's Relationship
Keery is a lucky man as his girlfriend loves taking his pictures and flaunting them to the world. 
In August 2020, she did a photoshoot of him for a magazine and posted it on her Instagram account.
In fact, she does that quite often. In September 2020, she took some incredible pictures of him and posted them on her social media. 
Not only that, but Keery too seems like an ideal boyfriend. Like a proud boyfriend, he loves posting pictures of his girlfriend on social media and displays his love for her to the world. 
Joe Keery and Maika Monroe Are Often Papped Together 
The charming couple likes to keep it pretty low-key regarding their relationship in public, but they do not seem to care much about getting clicked whenever they head out. 
The paparazzi certainly like to follow the young couple around when they are out and about. For instance, the 28-year-old actor was seen hanging out with his girlfirned as they grabbed beverages in April 2020.
Before that, pictures of them while on a romantic outing in New York City were circulating on the internet back in 2019. The couple was seen shopping around SoHo and did not seem to pay attention to cameras. Their sole focus was on each other. 

Joe Keery with girlfriend on a romantic outing in New York City in 2019 (Source: Dailymail)
As of 2021, the two seem to be doing just fine together. In a conversation with GQ, Keery mentioned how being quarantined together with his girlfriend over the COVID pandemic had been a good experience because both of them rarely got the chance to spend a lot of time with each other.
Details About Joe Keery's Girlfriend 
Monroe shot to fame through her breakthrough performance in the horror movie It Follows. Since then, she has appeared in the likes of Independence Day: Resurgence and Honey Boy. 
Earlier, she had made her debut with the 2012 thriller film At Any Price, which also starred Zac Efron. Later, she did movies like The Guest, and because of her proclivity to star in the horror genre, she has earned the moniker of "scream queen."
She has also been a part of several other movies, including Villains, Greta, The Education of Fredrick Fitzell, and others.
Apart from acting, the 27-year-old actress is also a professional kiteboarder and loves to kiteboard in the Dominican Republic any chance she gets.
In 2013, Monroe was even ranked No. 32 in the world as a professional freestyle kiteboarder.