Who Is Jodie Foster Married To; Jodie Foster's Family & Partner: All You Need To Know About Her
Jodie Foster is an actress who earned two Academy Awards for her roles in 'The Accused' and 'The Silence of the Lambs'.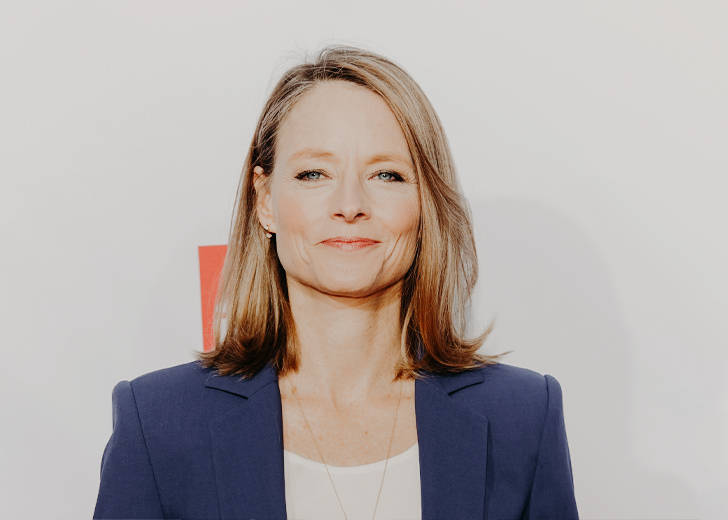 Jodie Foster has portrayed some of the most iconic characters in television history. From a child prostitute in Martin Scorsese's 1976 movie Taxi Driver to FBI agent Clarice Starling in the 1991 cult classic, The Silence of the Lambs, the actress has breathed life into some of the most memorable characters.
Foster has been nominated for the Academy Awards a total of four times, out of which, she bagged two. Putting her accomplishments as an actress aside, she is also a director and producer known for her works in Little Man Tate (1991) and The Beaver (2011).
Jodie Foster Parents
Born on November 9, 1962, in Los Angeles, California, as Alicia Christian Foster, she was the youngest of the four children family. Her parents, Lucius Fisher Foster III and Evelyn Brandy Ella separated before she was born. 
Later nicknamed Jodie, Foster began her career at the age of 3 with her role as the Coppertone Girl in a television commercial for suntan lotion. Her debut as an actress came in 1968 when she was cast in the TV series Mayberry R.F.D. She appeared in The Doris Day Show (1969), Julia (1969), Menace on the Mountain (1970), and Disneyland (1970) among many others during her first few years as a child actress. During the time, her mother doubled as her manager.
Foster shot to stardom in 1976 after playing the role of Iris, a 12-year-old prostitute in Taxi Driver. Her character Iris becomes the obsession of Travis Bickle (Robert De Niro). De Niro was impressed by Foster's acting and took her under his wing during filming. The actress credits him for teaching her about the craft of acting.
De Niro wasn't the only one impressed by her talent. Foster's performance shined through and she earned much praise as well as an academy award nomination as the best supporting actress for the role.
The same role won her Most Promising Newcomer to Leading Film Roles and Best Supporting Actress in the 1977 BAFTA Film Award. It also earned her awards in David di Donatello Awards, Kansas City Film Critics Circle Awards, Los Angeles Film Critics Association Awards, and National Society of Film Critics Awards, USA.
John Hinckley Jr.'s Assassination Attempt on U.S. President Ronald Reagan
Taxi Driver solidified Foster's position as the next up and rising star in Hollywood. Her performances continued receiving praise and the numbers of her fans grew. One of her admirers named John Hinckley Jr. started stalking her when she was studying at Yale. He grew obsessed with her, writing love letters to her and calling her on the phone. John Hinckley's greatest crime was the confusion of love and obsession.
In 1981, Hinckley Jr. attempted to assassinate U.S. President Ronald Reagan. He said his reason for the attempted assassination was to impress Foster. She testified during Hinckley's trial, admitting she was badly disturbed by the experience.
The Accused & The Silence Of The Lambs
Another one of the defining works of Foster's acting career is the 1988 movie The Accused. She plays Sarah Tobias, a rape victim who alongside her district attorney Kathryn (played by Kelly McGills) set out to prosecute the rapists.
Her performance garnered a lot of attention and won her an Academy Award as well as a Golden Globe for best actress. 
While The Accused earned Foster the first Oscar of her life, she wasn't done. Her role as Clarice Starling, an FBI agent in the 1991 movie The Silence of the Lambs earned her another Academy Awards for Best Actress in a Leading Role. 
Her co-star Anthony Hopkins who played Dr. Hannibal Lecter also won an Academy Award for Best Actor.
Foster also won the Golden Globe for Best Performance by an Actress in a Motion Picture for the same role.
Foster Is Also A Director
Foster was nominated for an Academy Award for the fourth time for the 1994 movie Nell starring Liam Neeson, Natasha Richardson, and Foster. 
Having won an Academy Award twice and being nominated for a total of four times, Foster is considered one of the best in the craft. But aside from acting, the Nell star has also tried her hands at directing.
She directed the 1991 movie Little Man Tate. The movie is about a single mother who, after discovering that her son is a genius, tries to ensure that he gets all the opportunity he needs.
In an interview with The Guardian, Foster said that Little Man Tate felt autobiographical to her as her talent was discovered from a very young age and her mother doubled as her manager.
Another movie that Foster directed is The Beaver (2011) starring Mel Gibson. On top of directing the movie, she also starred in it.
The Beaver earned her a nomination for Best Director - International Competition in the 2012 CinEuphoria Awards.
Foster has also directed episodes of House of Cards (2014), Orange Is The New Black (2013-2014), Black Mirror (2017), and Tales from the Loop (2020)
The latest feature film that The Silence Of The Lambs star has directed is Money Monster (2016) starring George Clooney, Julia Roberts, and Jack O'Connell.
The Mauritanian
After starring alongside Matt Damon in the 2013 sci-fi/action movie Elysium, Foster took a break from acting for five years. She made her return playing the nurse in the 2018 crime drama Hotel Artemis.
Her most recent work as an actress is The Mauritanian. The movie tells the story of Mohamedou Ould Salahi, a suspected 9/11 terrorist who was imprisoned at Guantanamo Bay, Cuba for six years.
The movie is based on 'Guantanamo Diary', a memoir by Salahi which recounts his experience of being held in Guantanamo Bay detention camp for fourteen years without charge. Foster plays a defense attorney who is opposed by Stuart Couch (Benedict Cumberbatch), a military prosecutor. 
Foster won the Golden Globe for Best Performance by an Actress in a Supporting Role in a Motion Picture for The Mauritanian.
Cecil B. DeMille Award
Foster was awarded Cecil B. DeMille Award in January 2013 by the Hollywood Foreign Press Association as recognition for her contribution to the world of entertainment. During her acceptance speech, she addressed the rumors about her sexuality, publicly coming out as a lesbian. Foster thanked her former partner Cydney Bernard.
There is no way I could ever stand here without acknowledging one of the deepest loves of my life, my heroic co-parent, my ex-partner in love but righteous soul sister in life. My confessor, ski buddy, consigliere, most beloved BFF of 20 years, Cydney Bernard.
Foster raised two sons with Cydney Bernard, Charlie Bernard Foster, and Kit Bernard Foster. The actress said that she kept her sons away from the spotlight as a "conscious decision". She also said that her older son, Charlie was showing interest in acting. Who is Jodie Foster married to?
My older son is getting more interested in acting now, and I'm glad he discovered it late. My younger son is really shy and I can promise you he will never be an actor.
Jodie Foster Alexandra Hedison Power Couple
Jodie Foster is married to photographer and actress Alexandra Hedison since April 20, 2014. The two had been dating since October 2013. Jodie Foster and wife now lead a happy married life. 
Hedison took to Instagram to congratulate Foster on winning the best-supporting actress prize in the Golden Globes. 
Hedison Was Previously In A Relationship With Ellen DeGeneres
Hedison was previously dating Ellen DeGeneres. The two met in 2000 when DeGeneres was still dating actress Anne Heche.
Hedison and DeGeneres started going out in 2001 after Heche split with the comedian. The two dated for three years until their breakup in 2004 which reportedly came about after DeGeneres and her now-wife Portia de Rossi met at the VH1 Awards in 2004.
Like DeGeneres, Rossi also broke off her relationship with her then-partner Francesca to be with each other. They married in 2008.
Hedison focused on her photography and only paid attention to romance after she started dating Foster in 2014. They have a dog named Ziggy who was together with them when Foster accepted her win at the Golden Globe for The Mauritanian.
Net Worth
Foster is an acclaimed actress, director, and producer. Throughout her career, she has played in more than 70 movies and TV productions and won more than 50 awards.
According to Celebrity Net Worth, Foster has a net worth of $100 million. Today, Foster is an accomplished actress, director, and producer. who is to receive the Cannes' Honorary Palme d'Or during the Opening Ceremony.