Jinger Duggar and Husband Jeremy Vuolo Share Deep Relationship Secrets in Their New Book 'The Hope We Hold'
Jinger Duggar and Jeremy Vuolo give their fans a deeper look into their seemingly perfect relationship.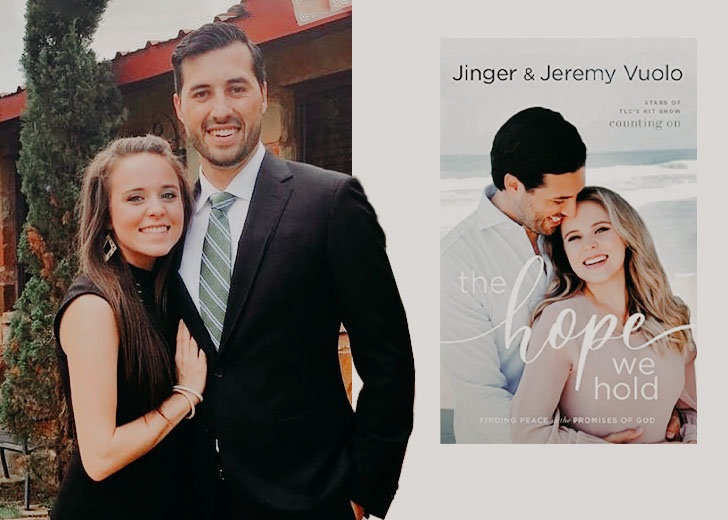 Jinger Duggar and her husband Jeremy Vuolo recently released their new book, The Hope We Hold, a treat to their fans who want to take a deeper dive into their relationship. It recounts everything from their time before meeting each other to their romance and journey together.
The couple shared that their reasoning for writing the book was the same as why they do their show Counting On — to share hope during hard times.
Aside from depecting much of Duggar and Vuolo's journey together, the book also provides an insight into their relationship and experiences, including Duggar's past insecurities, extreme dieting, and miscarriage.
Duggar Once Lost Feeling For Vuolo
The Hope We Hold tells of Duggar and Vuolo's relationship in detail, even the ugly bits. It also recounts the time when Duggar lost feelings for her husband.
Five months into their courtship, Duggar suddenly stopped wanting to start a relationship with Vuolo. She shares in her book that the conflicting opinions regarding their compatibility made her feel like she would divide her family and friends if she started the relationship.
The exclusive excerpt from the book shared by People contained Vuolo's reaction after learning of Duggar's sudden change through her father. He also writes about his decision to stick around after learning about her change of heart from Jessa Seewald.
I made up my mind right then that I wasn't leaving… to hear that she was confused and couldn't do it told me there was hope. If there was some kind of misunderstanding, it was nothing that we couldn't overcome.
Duggar's Extreme Dieting
One revelation in the book was about Duggar's one month of extreme dieting. As she rose to fame after 17 Kids and Counting debuted in 2008, she was suddenly exposed to the public eye and a lot of pressure to maintain her image as "the perfect Christian."
Duggar felt she had to be skinny and went through a month of grueling diet where she skipped breakfast and dinner, going as far as to heading to bed before her body could protest.
She eventually opened up about it to her mother after a month.
Jinger Once Suffered a Miscarriage
Duggar and Vuolo married in front of nearly 1,000 guests in November 2016. Since their televised wedding, the couple has welcomed two daughters to their family — Felicity and Evangeline Jo. 
After having her first daughter, Duggar had suffered a miscarriage. She shared the sad news with her fans in May 2020. The book sheds more light on the matter, including how she hadn't expected to have a miscarriage.
I'd heard of people having miscarriages. My mom and sisters-in-law had experienced that tragedy, but naively, I never thought it would happen to me. How could this be real?
Vuolo called the miscarriage their "greatest trial" but didn't lose hope. Rather, it only made their faith stronger and helped them overcome the grief. The couple welcomed their daughter Evangeline in November 2020.