Hezekiah Walker's Alleged Homosexuality Led to Bitter Divorce with Wife
The world-renowned gospel singer Hezekiah Walker's wife seeks divorce over his alleged homosexuality. But he denies all the allegations.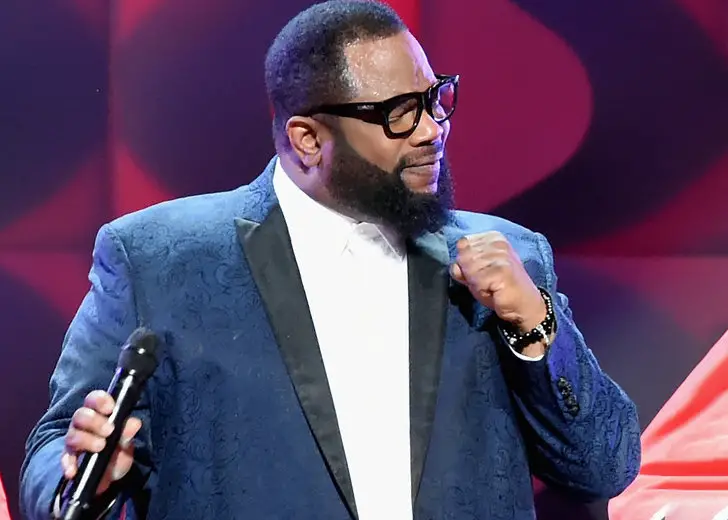 58-year-old gospel singer Hezekiah Walker has inspired people from all socio-economic sections of society in the US.
He is a visionary founder and senior pastor of the Love Fellowship Tabernacle Churches in Brooklyn, New York, and Bensalem. His inspiring personality leads people to flock to his ministries to hear him speak about God.
His complete dedication to the Lord and intense determination to guide people on the path of goodness has made him one of the most revered pastors of our times, but the tide has changed with many a speculation about his homosexuality!
Early Years and the Word of God Beckons
Born in a family where religion took precedence over everything else, Hezekiah found his calling in music. At the age of eight, he joined a choir, and by age 14, he had taken to song-writing.
While still in his mid-twenties, he formed the 'Love Fellowship Crusade Choir,' his first-ever gospel group. This pioneer of gospel music, also known as the hip-hop pastor, has many eminent hip-hop artists attending his ministry.
With 14 music albums under his belt, his song 'Every Praise' from his album Azuca was named the 'Gospel Song of the Decade' by Billboard Magazine and was certified Platinum by RIAA.
The song was an ode to a young, kidnapped boy who sang it non-stop for three long hours while shoved in the back seat of a car, leading him to be set free.
At the zenith of his soulful career, Walker's life was disrupted when his wife Monique Williams walked away from their marriage.
Pastor's Wife Calls It Quits on the Grounds of His Homosexuality
Hezekiah married Monique in 1992. Monique was a natural at singing and, even as a child, sang in the Church choir. In the early part of the 80s, she joined 'The Soul Stirrers Crusade choir,' where she met her would-be husband.
Parents to a beautiful daughter, Kyasia Monet, Monique also co-starred alongside Morgan Freeman and Carl Lumby in the stage play Coriolanus.
People were enchanted by her musical abilities after she joined the Love Fellowship Crusade choir and has been applauded for being largely responsible for LFCC winning Grammy & Stellar Awards.
But Monique decided to call it quits with Hezekiah after publicly announcing that her husband had infected her with a sexually transmitted disease. This came as a big shocker to the pastor's parish.
He has always denounced homosexual lifestyles, but rumor has it that he did, eventually, admit to having a lover and forced Monique and his daughter to leave their home.
He Denied Homosexuality Rumors
After separating from his wife, Hezekiah came out to deny that all the rumors of him being homosexual were false.
With the help of his management, the gospel music artist published an official statement in February 2006, which stated, "It's all lies."
The statement further read, "It's completely false and not even remotely true."
Besides the statement, Hezekiah had also issued a personal statement in which he expressed, "The enemy seeks to steal, kill and destroy. Character assassination is one of the oldest weapons."
People weak in mind believe the worst about everyone.
After he released the statement, many magazines and outlets, who had questioned his sexuality, apologized for their false reporting.
Daughter Wishes His Ex-Wife on Mother's Day
Despite the riot between Hezekiah and his ex-wife Monique, the former couple's daughter Kyasia Monet Walker has managed a good relationship with both her parents.
Expressing her love for her mother, Kyasia wished Monique Mother's Day on May 9, 2021, through Facebook.
The daughter posted a couple of pictures with her mother, citing her as her "best friend" in the caption.
"Thanks for being the greatest mother & friend to me. There's nothing in this world I can't ask you for," she wrote.
"Big or small you will break your neck to get it just to see me happy. I appreciate & love you to the moon. Happy Mother's Day."
A Bitter Divorce but the Music Plays
Defamation came down harshly on this globally-acclaimed gospel artist though the truth about the bitter divorce is still hazy.
The accusations did not stop even as he tried pleading not guilty on his social media pages, where he enjoys a massive fan following. Evangelism aside, Hezekiah is appreciated for his philanthropic initiatives.
Last year's Thanksgiving Day saw Hezekiah arrange food for 1,000 families. A three-hour activity that he says he would love to indulge in as often as possible. He also had a heartfelt performance with his song Every Praise at George Floyd's private memorial.
Tarnished by a bitter divorce on the grounds of homosexuality, he continues to sing the glories of God. The new year will see his daughter getting married, and he can't stop talking about it. This pastor always lends a helping hand wherever required, even if it means playing Godfather to some kids.
Fame is no stranger to the award-winning Hip-Hop pastor. A radio show, podcasts, choirs, and churches, his music has adorned the Billboard Charts for weeks. His Grammy awards are there for all to see, but his personal life has been impacted, and it may take some time before healing sets in.