Hannah Gadsby Gets Secretly Married To Producer Wife Jenny Shamash
Comedian Hannah Gadsby and her wife Jenny Shamash secretly tied the knot in January.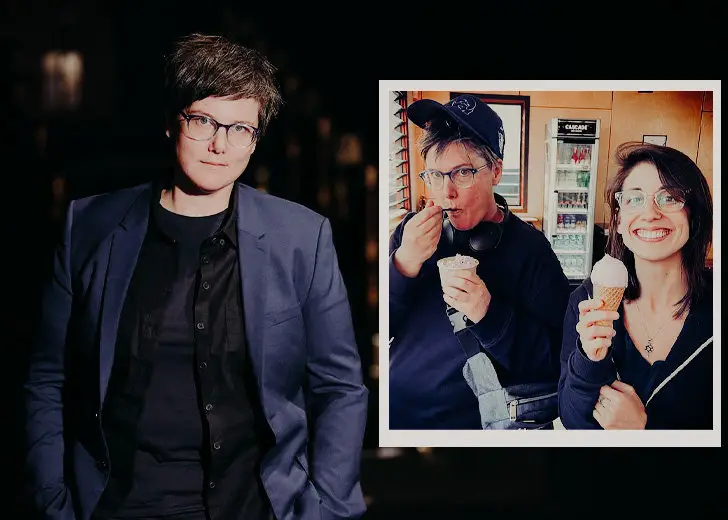 Comedian Hannah Gadsby, who is popular for her Netflix specials like Nanette and Douglas, announced her marriage to "producer extraordinaire" Jenny Shamash via Instagram. 
Gadsby posted a cutesy picture of herself and her wife Shamash eating ice cream together, along with a short video of what appears to be a funny answering machine message.
There is a possibiity that they got married in Australia, as the television presenter lives in Australia where marriage equality's initiative was only passed in late 2017.
Gadsby's reference to voting for marriage equality suggests she got married to the producer of her show in Australia. The country legalized same-sex marriage in December 2017 which took an overwhelming amount of votes for the motion to pass. 
At the time, many activists including Gadsby talked about the dangers of putting up such an issue for public debate. She also thanked the massive amount of voters for their support. 
In 2018, the Australian comedian's unconventional comedy special Nanette aired on Netflix. In the special she covers the topics ranging from from gender, art, trauma, to the #metoo movement, which in turn made it win critical acclaims.
Gadsby is now known as the comedian who wonderfully shattered the rules of stand-up comedy. She is praised for her dry wit and refusal to hesitate when taking on difficult topics.
In her 2020 special Douglas, which was named after one of her dogs, Gadsby talked about being diagnosed with autism and her quiet struggle along with body image issues. She also praises the word "y,'all," which she used in her marriage announcement.
Shamash was also a producer on Gadsby's comedy special Douglas, the follow-up to her comedy Netflix hit Nanette. It was filmed in Los Angeles in February.
Gadsby and Shamash were both nominated for Primetime Emmy in 2020 for Douglas. The official rundown describes the show as the actress taking Douglas or a walk across the planet, finishing up in Los Angeles, and recorded her second stand-up special.
Gadsby also won an Emmy in the Outstanding Writing category for a Variety Special and a prestigious Peabody award, both for Nanette, in 2019. She has also been nominated for a Critics' Choice Award for Douglas.
Gadsby and her wife Shamash are now happy together, after a succession of sour dates and relationships. Congratulations to the newlyweds!