'Summer House' Star Hannah Berner Engaged to Des Bishop — A Look into Their Relationship
Hannah Berner and Des Bishop got engaged on February 14.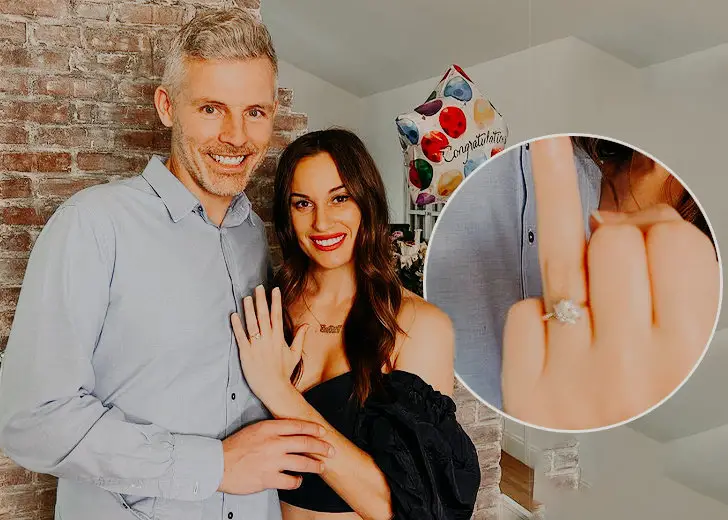 While covid might have brough the world to a screeching halt, it certainly did not stop some people from finding love. 
Summer House star Hannah Berner started dating 44-year-old Irish-American comedian Des Bishop in the middle of a global pandemic.
The couple hit it off, and 8 months later on Valentine's day, Bishop popped the big question. They got engaged. The comedian told People he knew Berner was the one on their first date because of how fun she was. 
Berner took to Instagram to celebrate the news of her engagement, posting sweet photos of her and Bishop from after he proposed with the caption, "Thanks for the engagement shoot mom! Love you @desbishop." The couple has no plans of slowing down. 
We want to get married sooner than later. He's my best friend. Why wait?
Berner and Bishop Had An Immediate Connection
During an appearance on a podcast episode of Amanda Hirsch's Not Skinny But Not Fat, the Bravo star dished on her new relationship. She recalled that she saw Bishop five years at Comedy Cellar and found him attractive, but he lived in Ireland. 
But Bishop was born and raised in Queens, New York, but during his teenage years, he moved to Ireland. He now splits his time between the two countries. In 2019, the comedian followed Berner on Instagram, and she followed him back. 
He then messaged her and asked her out for coffee. She was hesitant because of the pandemic, but agreed and gave her number because she thought that date would be interesting and he was going to make her laugh. 
Berner was right. The date was a success, Bishop's impressive sense of humor was like a cherry on top. The two ended up hanging out again, and the rest is history. 
Berner's fiancé even visited her on the sets of her show, and they moved in together a month later. Although some may feel it was too fast, the comedian gushed during an interview with RTE Radio 1 that he had never felt this way and was confident Berner was the one. 
Berner Almost Found Love in the Summer House
It wasn't so long ago that viewers watched Berner cry over Luke Gulbranson's reluctance to take their fling to the next level. Before finding love with Bishop, Berner was linked with Gulbranson in season 4 of Summer House. 
The two spent their entire summer of season 4 flirting with each other. Berner claimed that they even dated for a few months and wanted to go official, but Gulbranson alleged that their relationship was only a fling and preferred a "friends with benefits" arrangement.
Gulbranson eventually brought a newcomer, Ciara Miller, into the house, and Berner realized Gulbranson was not worth it and accused him of toying with her feelings. 
In fact, Gulbranson iterated that Berner got mixed signals because the producers meddled in their relationship. He claimed he was forced by them to take Berner on a home visit in Minnesota with him after season 4 was filmed, and as a result, Berner developed deeper feelings for him than she should have.
Berner was heartbroken upon learning the truth.