Gaten Matarazzo Celebrates Three Year Anniversary with Girlfriend — Insights into His Love Life
'Stranger Things' star, Gaten Matarazzo and girlfriend Lizzy Yu celebrated their 3rd anniversary on March 5, 2021.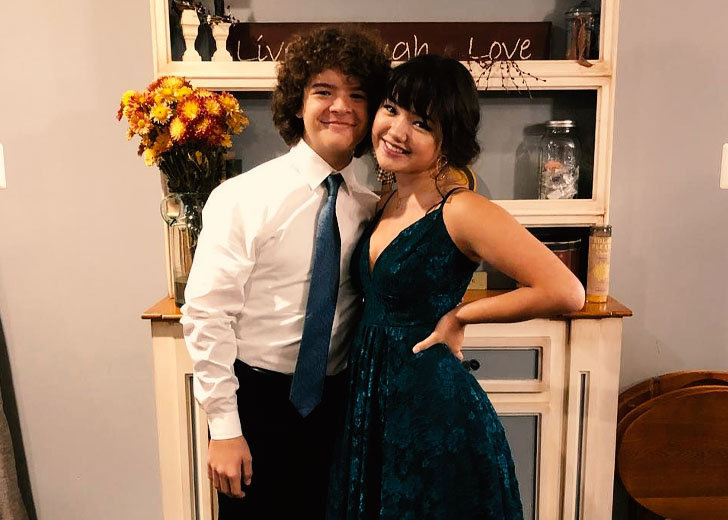 Stranger Things star Gaten Matarazzo has been dating girlfriend Lizzy Yu for three years now. As they celebrated their third anniversary on March 5, 2021, they fondly remembered their moments together. 
Matarazzo Calls Yu His Sunshine
In the past two anniversaries, Matarazzo would take to Instagram and wish Yu with elaborately heartfelt thoughts.
He would talk about how he couldn't "believe that I've been with this gorgeous girl for an entire year." And how he couldn't "believe it's been two years with this nugget!"
This year, however, he took a more casual approach and said, "3 years? That's pretty cool, I guess. Happy anniversary sunshine." 
The pictures he posted this year, too, are quite candid - a demonstration of just how comfortable they have grown to be with one another. 
Three pictures were posted this time. Progressively decreasing in their degree of formality, the first one is a sun-kissed selfie of Yu, then her shying away from a cheeky snap while eating, and then finally a goofy one of them together laying down with some clay mask on his face.
Yu also posted an adorable picture of her in Matarazzo's arm and laughing for the camera while he is looking at her and grinning. She called her boyfriend her favorite person and thanked him for the last three years.

Gaten and his girlfriend Lizzy Yu. (Source: Lizzy Yu's Instagram)
He also has been posting pictures of her and wishing her all the best on her birthdays. Needless to say that the couple has remained adorable and has maintained their romance.
Yu Is Getting into Acting as Well
Yu was born on October 5, 2002, making her an 18-year-old libra. She and Matarazzo attended the same high school and went to prom together.
Much like Matarazzo, she too is an aspiring musical theater performer. She has been commended for her performance with the troupe called Pinelands Thespians. With their stellar performance, they won a drama competition held on the stage of Montclair State University. 

Lizzy Yu (Source: Lizzy Yu's Instagram)
Further, Matarazzo's family adores Yu. The actor commented that his brother and sister all get along with her perfectly.
Matarazzo is best known as the loveable Dustin from Netflix's Stranger Things. More seasoned fans know him for his significant role as Gavroche in the 2nd Broadway Revival of Les Miserables.
The 18-year-old also sings, uses his platform to speak out on cleidocranial dysplasia, and even started an organization to help children suffering from it, all of which make him a promising figure many know and admire.