Love, Kids And Shared Ethnicity Bind Fat Joe With Wife Lorena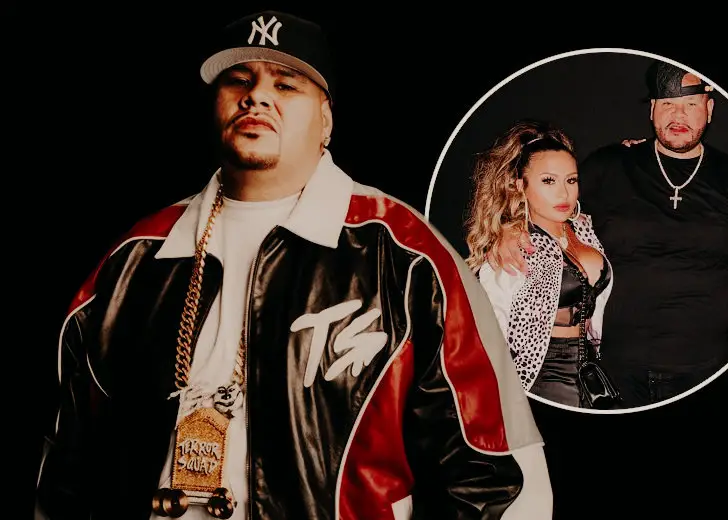 American rapper Fat Joe is married to his long-time partner, Lorena Cartagena.
The Bronx-native shares a daughter named Azaryah Cartagena, and two sons— Ryan and Joey Cartagena with her.
Many of their fans might not know this, but the couple's relationship is not the only thread tying them together. Read on to know about their parental heritage, ethnicity, and get acquainted with details on their relationship!
Fat Joe And Lorena Cartagena Bear Hispanic Ethnicity
Fat Joe, real name Joseph Antonio Cartagena, and his wife Lorena Cartagena are of Hispanic ethnicity.
Though the 'Hands On You' singer is of American nationality (born and raised in The Bronx) his parent's lineage lies outside of the United States. 
His father Ernesto Delgado is of Cuban ethnicity, while his mother Marie Cartagena is of Puerto Rican nationality.
While the rapper's parental roots serve as an obvious giveaway of his ethnicity, his wife's brother's identity helped clear the dust on Lorena's family heritage.
Her brother's name is Luis Miguel Rios. Couple the surname with the fact that she often uses the Spanish language on her social media posts, and there's no doubt that she has Hispanic ethnicity.
Fat Joe & Wife Have Been Married Since the '90s
Fans find Joe's commitment to his wife pretty impressive. The two have been married since 1995. They are parents to their 14-year-old daughter, Azaryah Cartagena. 
In addition to Azzy, the rapper also has two other sons: Joey Cartagena and Ryan Cartagena. The famous composer's oldest son, Joey, has Autism spectrum disorder (ASD). 
In a 2010 interview with Xappeal, the artiste opened up about Joey's condition. When the eldest son was born, the rapper was still quite young and somewhat reluctant to take responsibility. Joey's mom didn't stay around for long, and he had to raise little Joey with his parents.
He was a special needs child, I raised him with my parents. His mom couldn't handle him, and instead of him going to a center we raised him all of his life. I had to learn the responsibilities of being a parent the hard way.
Today, the father of three refers to his eldest son as god's angel and is immensely proud and happy for having such a brave child. 
All my blessings come from Joey he's gods angel, i worked my whole life to make sure he never has worry. God is great and everything is for a reason in this world of hard times, depression and anxiety he has none of these problems thank god.
Lorena Cartagena Is Grateful for Her Partner
Fat Joe and his wife are couple-goals! Despite being with each other for more than two decades, the pair's love for each other hasn't dwindled. In fact, it seems to be growing by the day if the numerous posts on Instagram are any indication.
On top of that, Joe's wife is pretty vocal about her love and respect for Joe. She pours her heart for hubby on every father's day. On Father's Day in 2019, she addressed him as her "soulmate and & one of the greatest fathers" to their children. Then, she thanked him for his sacrifices and hard work to ensure the family's happiness.
Owing to the love-filled posts, it is pretty clear that Joe and Lorena not only have the same ethnicity but the same level of love and respect for each other.
However, the pair has not been immune to the complications of marriage. Back in 2012, Yahoo! claimed that Lorena was filing for a divorce because she had found out that Joe was cheating on her.
Fortunately, that news didn't seem to progress further as the pair continue flaunting their family bliss through social media.