Randy Santel Is In A Relationship With Fellow Pro Eater, Katina
The American professional eater, Randy Santel, is in a relationship and relishes a lovely time with his girlfriend, Katina Eats Kilos. The duo has been together for over half a year after meeting each other during their 10-day Alaska collaboration tour. Though their love for each other has been spread all over their social media, it is still unsure that when will the duo tie the knots.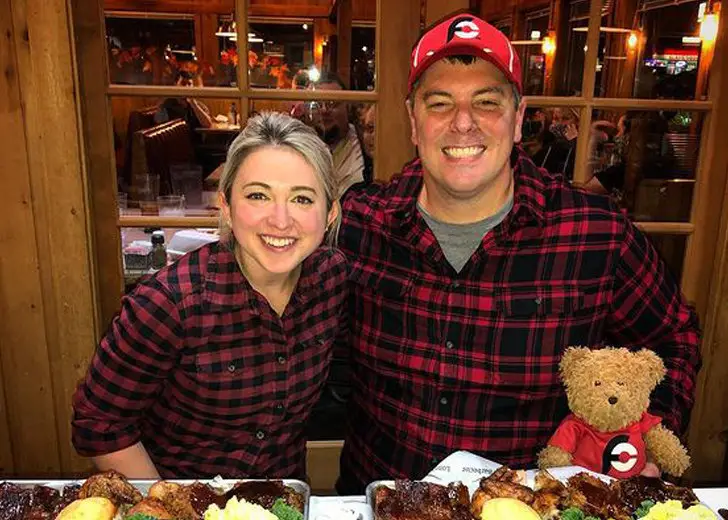 After living a single life for over half a decade, American professional eater Randy Santel has found the perfect partner to match his voracious appetite. Randy, who is also a dietitian, is currently in a relationship with a fellow professional eater, Katina Eats Kilos.
Despite being in a relationship for a while, the couple has yet to walk down the aisle, but judging by the lovely pictures they share on social media, the day might not be too far.
Let's learn about how and when they met each other, and if the FoodChallenges.com founder had a relationship before this.
Randy Met Katina During Alaskan Food Tour
It must be great to have a partner in crime with common interests and passions. In this regard, the 872-times plus food challenges winner, is quite lucky.
Known to the world as Katina Eats Kilos, her real name is hitherto unknown. Even boyfriend Randy doesn't bother to pronounce her last name, stating in one of his videos that it's a difficult French surname. 
The two professional eaters, first met each other during their 10-day Alaska collaboration tour back in July 2020. The time they spent together during the tour supposedly ignited a romantic relationship.
As Katina revealed via Instagram, the trip proved to be a turning point in her love life, as she got to meet, hang out and develop feelings for her fellow professional eater contemporary. 
As many of y'all guessed on our videos, @randysantel and I had a bit of a spark on the Alaskan tour together. What started as a fun collaboration of two eaters became the ultimate first-date, and I must say, I sure am smitten.
The St Louis-based pro eater and entrepreneur also introduced girlfriend, Katina to his legions of fans, dedicating an entire video on his popular YouTube channel.
In the video, the YouTuber gushes about Katina, saying that he too was very much impressed by her competitiveness and dedication towards food challenges.
The couple seem intent to take their relationship up a notch, as they have also met each other's parents, family, and friends.
Moreover, the pair celebrated different festivals—Halloween, Christmas—at each other's parents' home and visited several places in their hometown. Also, in his November 7, 2020 YouTube video, the food lover hinted at further collaborations and their plans to travel around the United States and other countries to compete in different food challenges during the first 6-7 months of 2021.
Well, with all of these plannings ahead of them, one thing is sure that Randy and Katina's fans will be seeing a lot of them in 2021. 
Randy Was Previously In A Relationship
Before the ongoing relationship with the Gonzaga University graduate, the Missouri native was in a relationship with another lady. The foodie has not spoken much about it, but it is known that he and his then-girlfriend dated back in 2012.
The only time the pro eater mentioned his ex was on May 17, 2012, during an interview with the River Front Times.  Elaborating on his future plans, the entrepreneur shared he had plans to move out west, but he didn't want to break up with his ex.
Not that I want to break up with my girlfriend or whatever, but I'd like to move out West.
While he never shared the reason behind their breakup, the Missourian is currently in a healthy, happy relationship with Katina, touring the country and downing kilos worth of delicacies.