David Ross' Professional Life Led Him To Divorce With Wife, Now Dating Torrey DeVitto
Former baseball player turned manager, David Ross, was a happily married man and a father of three. However, his relation with his wife and family deteriorated as he couldn't give them time due to his career, culminating in a divorce.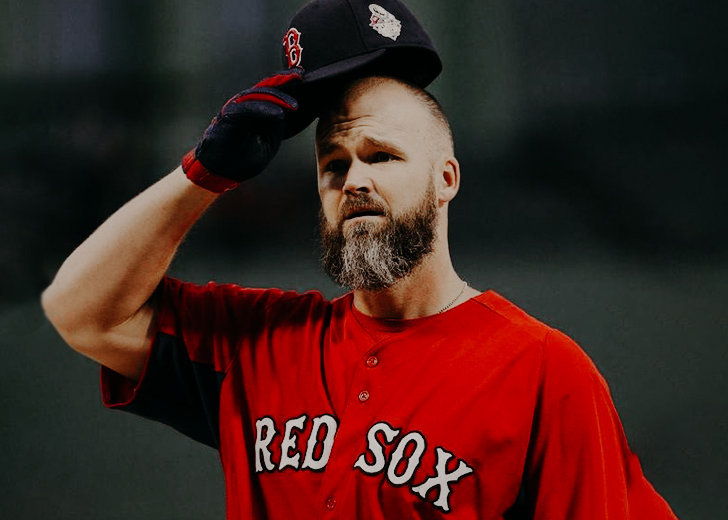 Major League Baseball (MLB) player-turned-manager David Wade Ross was a married man blessed with three children with his wife, Hyla Ross.
However, his hectic professional career made it challenging to spend time with his family. As a result, it caused a rift in his relationships, especially with his wife, which ended up in the pair getting a divorce.
A Not-So-Perfect Marital Relationship
The Bainbridge, Georgia native, and his ex-wife Hyla first met during their high school days. Soon, they became friends and later converted their friendship into a romantic relationship.
After dating each other for a while, the high school sweethearts shared their wedding vows on February 1, 2005.
However, their relationship was not perfect. The primary reason behind it was the former baseball player's career. He always remained preoccupied with his baseball responsibilities, to the detriment of his relationships.
Later, in 2016, after David bid farewell to his professional baseball career, he chose to spend more time with his family and strengthen their bond.
But that soon ended as he again got occupied with an ESPN gig, Dancing with the Stars, and his duties as a baseball manager. Because of that, things became more complicated in his already imperfect family life.
The last nail in the coffin came in early 2020 when the duo got divorced.
As part of their divorce settlement, their three children's responsibilities were handed over to Hyla, with a clause to let David visit his kids once in a while.
Details on the Former High School Sweethearts' Children
The former baseball player and his ex-wife are parents to three adorable children: a son, Cole, and two daughters, Landri and Harper. 
There were no complications during the birth of the first and second child, but their third born, Harper, was delivered in an emergency two months before the scheduled due date. The crisis arose after the licensed pediatric nurse suffered a partial abruption (when the placenta separates from the uterus).
Both the mother and child were in danger. Fortunately, the doctors successfully performed a C-section and delivered the baby.
After the birth, baby Harper was kept in the neonatal intensive care unit for almost a month and later released when she was breathing comfortably with no assistance.
Following that, the family of five was relishing their family time. Sadly, it did not last forever; the long-time pair ended their marital relationship.
Despite their separation, the two are working together to co-parent their kids.
Following his divorce, the Chicago Cubs' manager is working on his relationship with his kids. And when the COVID-19 lockdown took place, the father of three got the perfect opportunity to do so as he spent most of his time with them.
New Relationship With Actress Torrey DeVitto
After separating from his high school sweetheart, David has found a new love in actress Torrey DeVitto, famous for her role as Dr. Natalie Manning in the NBC series Chicago Med.
Their relationship was confirmed when the actress shared a black-and-white photo on her Instagram, where she kissed the Chicago Cubs manager on his cheek.
"Love him madly," DeVitto captioned her post with a red heart emoji.
The actress was spotted during a Cubs game in Cincinnati in the first week of May 2021 — and that had hinted many that the two were seeing each other.
However, the couple are yet to disclose how long they have been together.
Torrey, 36, was also previously married and later got separated, like her new lover David. She was married to The Vampire Diaries star Paul Wesley for two years, from 2011 to 2013.