Damaris Phillips DIY Wedding And Christmas Album With Husband Darrick Wood
Southern chef Damaris Phillips is happily married to husband Darrick Woods, a radio show host. Their 2015 wedding reception was reminiscent of a cooking show. The couple released their joint album in 2019. Five years into their marriage and the couple are still going strong.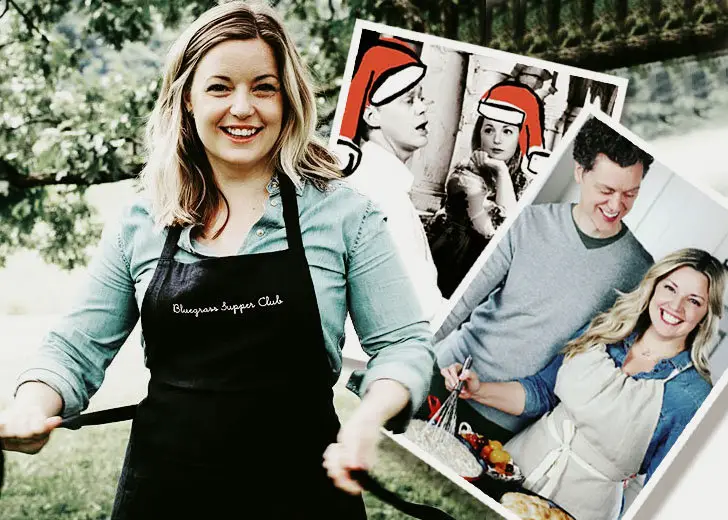 Southern chef Damaris Phillips is happily married. The celebrity chef, who won the Food Network Star in 2013, tied the knot with Darrick Woods in 2015.
Darrick is an educational consultant as well as a radio show producer and host. He hosts a show called 'Inside A Question' where he explores the mysteries of the universe one question at a time.
Here, we explore the journey of how Damaris Phillips and her husband made the most of a cooking-show style challenge for a remarkable wedding reception. We also take a look into the couple's Christmas album that showcases their bond.
Damaris Phillips and Darrick Woods Organized Their DIY Wedding in the Middle of City Street
As beautiful as Damaris' wedding was, planning it was a challenge in itself. Damaris and husband Darrick held the ceremony in the middle of a city street that included a different table setting for each guest.

Damaris Phillips southern wedding with husband Darrick Woods (Photo: Pinterest)
According to Food Network, the wedding reception was nothing short of a cooking challenge. Having won the Food Network Star herself, Damaris displayed her love for cooking by baking the 10-cake dessert buffet by herself, with the help of her husband. To complement the aesthetics, Damaris had an all-vegetarian menu, along with a parade-like procession, and mismatched vintage china for every table.
Food Network also reported that the challenge did not stop there because the weather forecast for the Southern chef's big day called for a thunderstorm. While that would have been a deterrent to many, Damaris took the challenge with stride and pulled off the reception with absolute grace— a feat made possible, probably, by her experiences as a cooking show contestant.
Damaris Had Never Thought About Her Wedding
In an interview with the Food Network in 2015, Damaris confessed that she had not really thought much about her big day before Darrick proposed to her.
At that point, she immediately started to worry about the function. But Darrick calmed his wife-to-be and suggested to allow themselves the night to just be engaged instead of worrying over the wedding. Later, after Damaris calmed down, the couple sat down and listed what each of them wanted for the big day.

Damaris Phillips wedding reception table set (Photo: Pinterest)
Damaris's wishlist began with an outdoor venue with a parade-like procession. And while she wanted to have tables with mismatched vintage china, Darrick wanted family-style dining with a single table for everyone. He also added an odd request for each guest to bring a fork for the couple to keep and use during their lifetime—an idea that  Darrick allegedly got from a dream.
I was so excited to marry Darrick, I would have gone to the courthouse. But this was more fun — and a lot prettier.
The Adorable Couple Made a Christmas Album
Six months after the couple took their vows for the fifth time, the winner of Food Network Star 2013 took to her Facebook page to announce that she, along with her husband, had been working on a Christmas album and invited fans to listen to it over at her Bandcamp page.
The announcement was accompanied by a heart-melting snap of Damaris gazing lovingly at her husband while he was busy playing the piano. The absolute gem of a monochrome snap also happens to be the cover of their album.
The album titled 'Christmas Hits, Volume 1' was released on December 6, 2019, and featured Damaris for vocals and embellishments; Darrick for vocals, guitars, keys, and glockenspiel; Brian Lueken for production, recording, mixing, mastering, bass, synth; and Elliot Lueken as an assistant engineer. 
The wonderful couple has been happily married for over five years now. And judging by their Instagram posts, their love can only grow stronger.