Cole the Cornstar's Girlfriend Found a Boyfriend and a Kindred Best Friend in One Person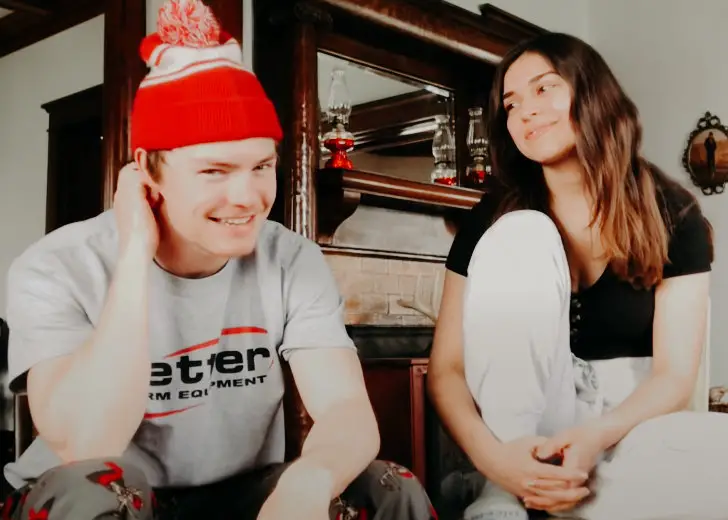 Every partner seeks a little bit of a lover and a best friend in their better half. Going by Cole The Cornstar's relationship status, the YouTuber looks like he just found his.
The YouTuber is in a relationship with a fellow Youtuber, Hneiva Uranga - Nave. Things between them seem to be going swell these days as the two often flaunt each other in their respective social media handles. 
Cole the Cornstar & his girlfriend Hneiva Uranga - Nave celebrating New Year's Eve 2022 (Source: Instagram)
Cole the Cornstar & Girlfriend Together for Almost 2 Years
Cole first met his girlfriend in late January 2019. Their first meeting was at the side of a road when Cole helped Nave rescue her car when it was stuck at a snowbank.
According to Cole, the first meet was enough for him to fall in love with her. A few hours after getting Nave's car out of the snowbank, he immediately followed her on Instagram and began sending her messages.
On the other hand, Nave wasn't interested in him at first. But as they slowly got to talking, she took a liking to him, and on February 5, 2019, they officially began dating. 
Since then, both of them have frequently been seen together. Cole and his girlfriend are both YouTubers. They often make appearances in each other's videos.
Understandably, the pair takes to social media to share wishes for each other on their birthdays and other special occasions.
Ten months into their relationship, on December 5, 2019, the girlfriend posted some memorable moments that she had shared with her doting boyfriend in the form of pictures and short clips. She accompanied the post with a heartfelt caption on the hard times they faced, the many things she learned with Cole's help, among others.
She concluded her caption by stating that she loved her bright and goofy best friend/boyfriend.
Nave Regards Cole the Cornstar Her Best Friend
Nave and Cole are not limited to being lovers; the Youtuber's girlfriend also sees him as her best friend.
For instance, on July 18, 2020, when she became a legal motorcycle driver in Iowa state, she took the opportunity to share a lovely picture of her kissing her boyfriend with their motorcycles in the frame. Also, through the caption, she credited her "best friend" for the achievement, stating that she could not wait to plan motorcycle trips with him.
In another Instagram post on September 3, 2020, she mentioned that when people asked her if Cole was her boyfriend or best friend, she replied that he was both. Nave has mentioned Cole as her best friend in several of her posts. 
With that said, it seems that the "best-friends" are not just going stronger but also becoming inseparable as time progresses.
Details On the Girlfriend
Hneiva Uranga - Nave is a 21-year-old girl from the suburbs of Iowa state. She is the only daughter of her French parents, who are pastors.
Apart from her parents, she also has two siblings: an older brother named Kevin and a younger brother named Braulio. Her older brother is a married man who works at a financial institution, whereas her younger brother is still completing his high school education.