Cody Jinks' Wife, His Toughest Critic, Helps Him Write Songs
Cody Jinks' Wife Rebecca Has Always Been A Harsh Critic Of His Songs.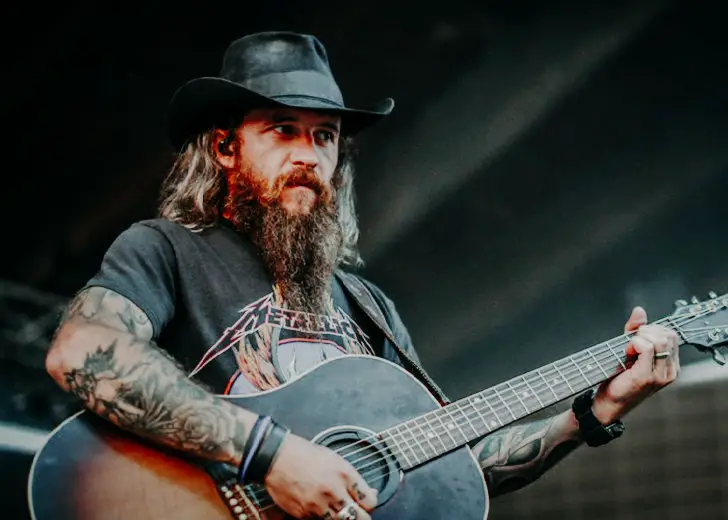 Former metal band frontman who transitioned to a country musician, Cody Jinks, is a devoted husband to his wife. The singer may have accomplished winning his fans' and critics' hearts, but there has always been one harsh critic in his life who is hard to please. And that is none other than his wife, Rebecca. 
She has been a significant inspiration for several of his love songs. To top it off, she has written a few songs with him as well.
Jinks' Wife Is a Harsh Critic of His Love Songs
Jinks' 2016 album 'I'm Not The Devil' impressed his fans and critics as it ranked top five on Billboard's Country Albums Chart. 
But in 2017, in an interview with Rolling Stone, he mentioned that there was one critic who was tougher to please, i.e. his wife. The singer had struggled to write a love song that she liked until he wrote 'She's All Mine,' a track in his 'I'm Not The Devil' album.
It's the first successful attempt at a love song ever that my wife has actually liked, which I've written a lot of them over the years for her. She really loves this one. It's a straight-up, just old school kind of country tune, talking about how awesome, you know she is anhow awesome I've been during the 19 years we've been together.
Later on, the singer took to his Facebook to clarify that he was being sarcastic when he made the statement mentioned above.

Cody Jinks' Facebook post, where he explained he was sarcastic when he spoke to Rolling Stone. (Photo: Cody Jinks' Facebook)
Dark Side of Being Married to a Musician
Jinks has been married to his wife Rebecca for a long time. They tied the wedding knots on October 1, 2013, and welcomed two kids: a son and a daughter. 
But their marriage hasn't always been about sunshine and rainbows.
In 2019, the singer released two consecutive albums under his label, the first one called 'After The Fire,' which includes a track 'Tell 'Em What It's Like,' written from his wife's perspective. The song explores the dark, unglamorous, and unflattering side of being married to a country music star.
Rebecca shared with Whiskey Riff how this song came into existence and said that one couldn't understand something unless they've lived it.
They ask starry eyed questions wanting to know about our life and what it is like to be married to Cody- usually because they have some fantastic ideas about the glamour of it all. But beyond the lights there is a dark side, a lonely side, a scary side, a very unglamorous and unflattering side to be married to a musician.
Co-writer of the song, Josh Morningstar, also shared his views and said, "Cody perfectly articulates what the fans don't see — the hardships that a relationship goes through when one person is gone a majority of the time."
Despite Being a Harsh Critic, Rebecca Is His Muse
Rebecca has always been the love and support in Cody's life. Not just that, she has also been a significant inspiration behind several songs on his album 'After The Fire.'
His song 'Yesterday Again' is about wanting to make up for lost time and amends for not always being there for his wife.
Another piece, 'Dreamed with One', is a sweet love ballad showing his deep affection for his wife, whereas 'Someone to You' depicts his wish to be someone to his wife rather than somebody to the rest of the world. Without a doubt, his songs illustrate his love and affection for his wife.
Rebecca Has Written Few Songs with Him
Jinks probably hit the jackpot when he met Rebecca. Why? Along with being a critic and a muse, she is also a co-writer of his few songs. 
'William and Wanda' is the first full song he wrote with his wife. It is a lovely song about his grandfather reuniting with his grandmother in heaven.
Another song, 'Never Alone Always Lonely,' written by the pair, offered an insight into Jinks' headspace regarding his life. His wife helped him write the song as she saw both of his sides — a family man and a musician.