Chris McNally Keeps Love Life with Girlfriend Private Despite Hinting at Details
Chris McNally, of 'When Calls The Heart' fame, prefers to keep his private life a secret, especially regarding his relationship status.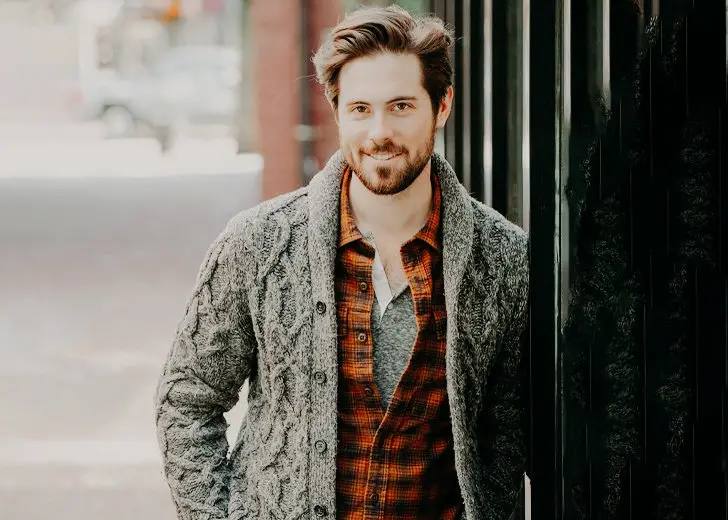 Chris McNally, best known for his role as Lucas Bouchard in the Hallmark Channel series When Calls the Heart, prefers to keep his private life a secret, especially regarding his relationship status.
However, time and again, the actor drops hints of having a girlfriend, and there have been speculations it is none other than his co-star Julie Gonzalo. 
McNally Revealed Having a Girlfriend
McNally is one of those celebrities who doesn't like to disclose much about his private matters. However, it isn't easy to keep romantic affairs a secret when you're a public figure and have a massive fan following all across the globe. 
There have been many instances when the Hallmark hero has talked about his girlfriend and his relationship, but he has never revealed her name. Not only that, McNally posts no pictures on his social media account that sheds light on his personal life.
But it is reported that he is in a happy relationship with Julie Gonzalo, who was his co-star in the 2018 Hallmark movie Sweetest Heart. However, neither of them has accepted nor denied it. 
In a 2019 interview with ET, when asked about when he feels the sexiest, the good-looking actor shied away and said if his girlfriend calls him handsome, it makes him feel good. He also revealed that the most romantic thing he has ever done is decorating their apartment, which hints towards them living together. 
If my girlfriend tells me I'm handsome, that'll make me feel good.
He and Gonzalo Share Pictures of Same Dogs
In an interview with LA Times in 2019, when he talked about spending his leisure time, McNally opened up about stretching a collapsible tent and laying down a kingsize mattress for four — the couple and their two adorable dogs, Charlie and Bowie — whenever they are on the campsite. 
Just months before the statement, he had shared with My Devotional Thoughts that he and his girlfriend had adopted a dog each. 
Now, Gonzalo has shared a couple of pictures of McNally's dogs on her Instagram handle. In September 2019, she took to Instagram to share her personalized birthday cake with Charlie and Bowie's fondant statues on top of an Argentian jersey.
And on March 2021, she could be seen taking a stroll in the snow with the dogs.
The fact that both of them share pictures of the same dogs could mean that the girlfriend McNally mentioned having adopted the dogs with is Gonzalo. 
Moreover, in a 2019 interaction with NS News, the Hallmark actor revealed he would dance with his girlfriend in their living room and disclosed that his partner is South American, so he wanted to learn a few Salsa moves. 
I waltzed her around the living room… but she's south American so now she wants me to learn to salsa.
The revelation of his girlfriend's identity being South American gave a hint that he is dating Gonzalo as she's also of South American descent. 
From Reel-life to Real-life Couple 
McNally and Gonzalo first met as co-stars in the sets of Hallmark's TV Show, The Sweetest Hearts. The first day they met, it was all about the camera, makeup, and hair testing. From day one itself, Gonzalo wanted to discuss the scenes and, most importantly, get to know each other. 
We took the time to just kind of chat and talk and get to know each other as much as we could in the little time that we had. And then throughout the film, we were able to get together after work and read some lines. And he's such a wonderful, wonderful person and a terrific actor so it was very easy with him.
In an interview with Fansided in 2018, the actress spilled beans on meeting the terrific actor for the first time.
When asked about how the two could craft the romantic chemistry, she replied they took time to chat with each other, and then throughout the movie, they would meet after work to read lines. She also added that she believed in the energy and space they shared and had great chemistry built organically. 
At the end of the day, chemistry is about feeling good about the person you're with and knowing their energy. I'm a true believer in energies and space and all that stuff.
Not only that, but she also shared a fun fact about how the pair shared cupcakes in between takes as Gonzalo's character had a cupcake business in the Hallmark movie.
However, neither McNally nor Gonzalo have ever opened up about their relationship publicly, and we respect the fact that the two want to maintain privacy.