CDNThe3rd keeps his wife away from the spotlight but often talks about her on his gaming videos
Twitch streamer CDNThe3rd is a happily married man who shares a marital bond of over five years with his wife, Christina. Although being married for such a long time, the gamer rarely shares any info about his wife and always keeps her away from the spotlight. Despite that, he occasionally mentions his wife in his gaming videos and shares some funny instances he had with her.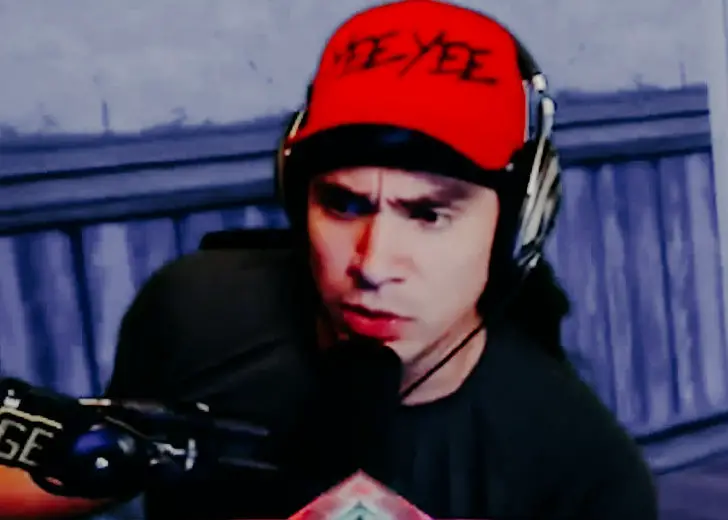 Twitch streamer Caesar David Noriega, popularly known as CDNThe3rd, is married and has a very supportive wife. Although he is married for a while now, the famous streamer has successfully managed to keep his wife out of the public eyes and away from the media.
CDNThe3rd & His Wife Have Been Married for over a Half Decade
Despite maintaining privacy over his marital life, it has been known that the YouTuber and his now-wife, Christina Maria Cerverizzo's relationship goes way back to 2010.
The first time someone mentioned CDNThe3rd's now-wife was on October 1, 2010, when his friend, Justin Wong, was interviewed by the Techland Time. Wong shared that he was rooting for CDNThe3rd to win the Ultimate Gamer 2 competition as he was going to propose Cerverizzo with the winning money. 
Later, in a tweet on December 18, 2010, CDNThe3rd himself mentioned having a girlfriend. He wrote that he was watching a movie, The Tourist, alongside his girlfriend and mother. But, after those two mentions, no follow-ups were seen about his girlfriend-turned-wife for a long time.
Nonetheless, in 2015, the two had shared the wedding vows in New Jersey. On December 12, 2015, through a Twitter post, the gamer finally shared a picture with his wife for the first time. In the photo, CDNThe3rd was holding an axe, whereas Cerverizzo was wearing a helmet as they posed in front of the H1Z1: Daybreak game's official launch poster.
The pair were also seen in another photo from the same event, where they posed alongside other gamers and their respective partners.
He Often Mentions His Wife in His Gaming Videos
After CDNThe3rd and Cerverizzo got married, the gamer continued to keep his girlfriend-turned-wife away from the limelight, much like he did before marrying her.
Nonetheless, he often talks about his wife while streaming his gameplay through his Twitch channel. For instance, on December 11, 2020, he shared a clip of his stream through Instagram in which he referred to the game's dragon by his wife's name, Christina, and said that she must be angry at him for not taking out the garbage.
Likewise, on December 20, 2020, the YouTuber posted a funny clip on Instagram when he was with his wife while streaming his gameplay on his Twitch channel. In the short clip, Cerverizzo explained the meaning of the word 'simp,' which gave the gamer a good laugh.
On January 3, 2021, CDNThe3rd once again shared a clip where he told his viewers that his wife was singing Christmas songs throughout December. In addition to that, he also gave his viewers a moment to laugh when he mentioned how funny his wife's voice sounded like when she sang those songs.