Bruce Springsteen Failed His First Wife as a Husband and Partner
American singer Bruce Springsteen's first marriage crumbled because of his commitment issues, distrust, and anxieties.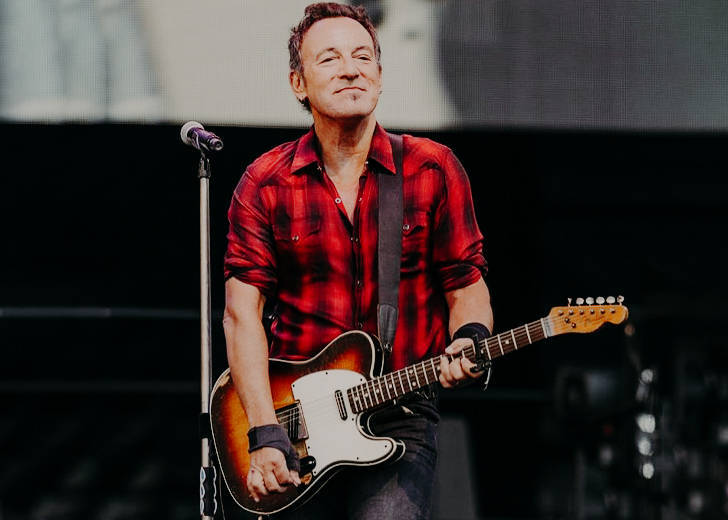 The leader of E Street Band Bruce Springsteen and first wife Julianne Phillips' marriage lasted from 1985 to 1989. Following their split, the singer was all praises for Phillips and confessed that his fear of commitment came in the way of his marriage. 
Springsteen had a thriving career from the very beginning. However, the singer had to struggle and wait to attain a successful love-life and marriage. 
When Backstreets singer married the actress/model, he was taken back by her from the first encounter. Springsteen defined Phillips as  "a 24-year-old, tall, blond, educated, talented, beautiful and charming young woman" from his first meeting with her. 
As smitten as he was with Phillips, Springsteen had a deep fear of commitment; thus he couldn't completely open up to his former wife. His previous short-lived relationships kept him from investing himself emotionally with her. 

Bruce Springsteen lifting Julianne Phillips (Source: CheatSheet)
The couple also faced a compatibility issue. While Springsteen was a popular celebrity who enjoyed the spotlight, his ex-wife preferred a low-key life. 
At the time of their divorce in 1989, Phillips demanded "a no-talk divorce settlement." 
In his autobiography Born to Run, Springsteen's veneration for his ex-wife is vivid. He further added how his first marriage suffered from anxieties and distrust. 
His reflection on his first marriage depicted his distrust and paranoia towards his wife. But, they were all completely wrong.  
...a part of me tried to convince myself that she was simply using me to further her career or to get... something. Nothing could've been farther from the truth. Julianne loved me and didn't have a malicious bone in her body.
The actor found comfort in his bandmate Patti Scialfa. He stated that he didn't have to pretend about anything with Scialfa because of their time together.
Eventually, the singer shifted farther from his first wife and closer towards Scialfa.
Springsteen revealed after realizing Scialfa was perhaps the one for him, he confronted his first wife right away. The singer/songwriter accepts his position in his failed marriage and how he hurt a decent young woman. 
I placed her (Phillips) in a terribly difficult position for a young girl and I failed her as a husband and partner. We handled the details as civilly and as graciously as possible, divorced, and went on about our lives.
Springsteen and Scialfa tied the knot in 1991 and are still together. They have 3 children: Evan James Springsteen, Jessica Rae Springsteen, and Samuel Ryan Springsteen. 
According to a video uploaded on August 18, 2020, on Youtube, Scialfa had opened up about her marriage and reported how they gross out her kids.
Springsteen's significant other said: 
They (Their kids) say, 'Please don't do that in front of us, I said, 'Hey, you're going to be happy one day when you look back and know your parents really loved each other.'